Dang! He's looking awesome.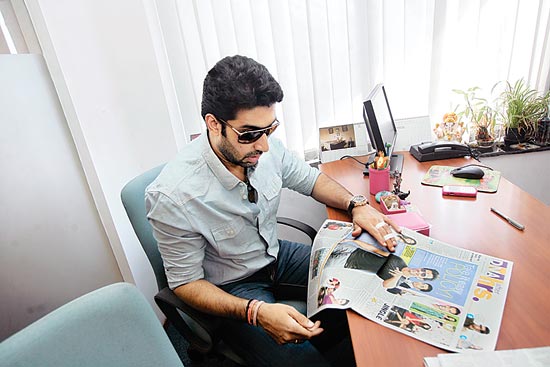 Abhishek Bachchan has a sense of humour that could be almost British in its understatement. Droll, quicksilver, subtle — if you don't catch it, you might think the actor to be a very intense young person indeed. In fact he uses the word 'intense' an awful lot, in describing many things — his craft especially. But don't let that fool you into believing he's all work and no play.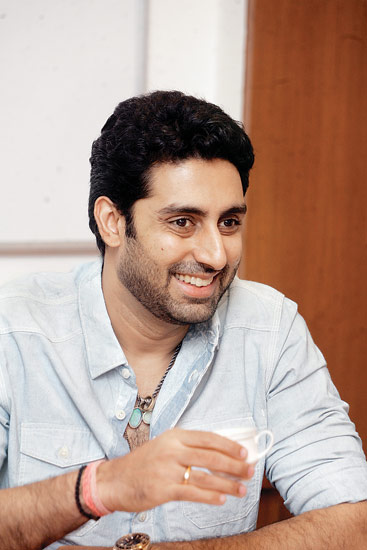 The play is part of the work. Though he does take offence at that on-the-sets label, 'prankster': "Oh God — you know that 'prankster' word — I am going to find the journalist. But you know I don't really play pranks. 'Prank' is what when you play a prank, I have fun. I love to have fun. You know making a film is very serious. You have to think about your responsibilities, it's a serious job. People tend to get very lost in their space but I think it will be very boring it's like going to school in the morning and sitting there and quiet you know? You should have fun, it's a creative process — it should be fun!"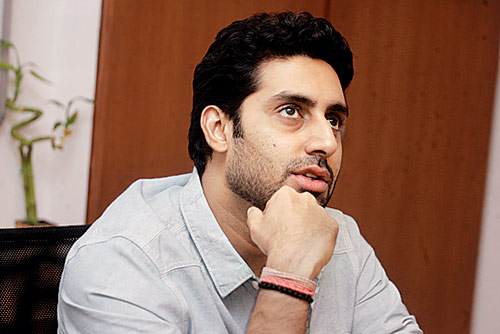 We get him. Moreover, being festive season, maybe fun should be first on the agenda. In fact, Abhishek has fond memories of Xmas: "Growing up as a kid, we celebrated everything. And who doesn't like presents?!" Though when asked to elaborate on the new stocking under the tree (representing his newborn daughter, welcomed Nov 16), he deftly sidesteps the question: "No, we don't use stockings, we just put it (presents) under the tree!" The new father fiercely guards his privacy as concerns his little one, but it is done tactfully, with elan. No pictures of her released, but we get a private view on his phone — she is angelic, and he cannot hide the pride.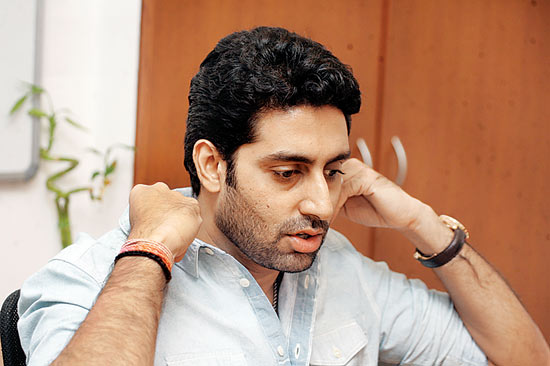 is less guarded speaking about that other family — B-Town: "You know it is family for me, I have grown up here. Your film unit becomes your family for those 6-8 months, you see them more often than your own family, and that's the nice thing about the Indian film industry. Despite it becoming very professional, which is nice, it still has retained the quality of family. I have seen many other film industries — they don't function like us, there is not much warmth as there is on our sets. I know the light man and all who have seen me as a kid when I used to go to my dad's sets, and I used to play with them, they remember that…"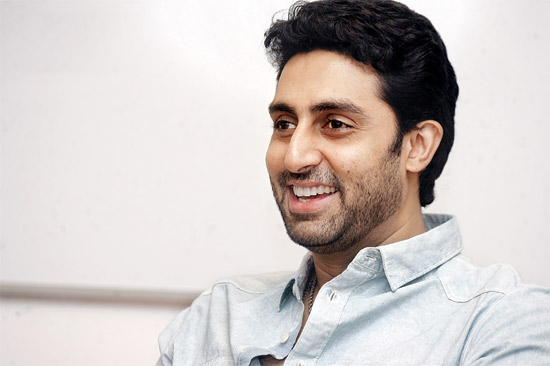 In celebratory season, there is indeed much for Abhishek to be excited about, apart from family time and baby — count the car sequence, in Players, apparently the official remake of the cult The Italian Job. "Michael Caine was just like a king in that film," he reminisces. Then, the droll side: "So we thought that in India if we do the film, instead of the minis we can do it with rickshaws. But Abbasji, Mustanji kept the minis, so...!"

Having spotted him with Kolaveri Di's Dhanush on the night Tom Cruise was in the city, we can't help asking if he's known Dhanush for long. And we glimpse the drollery yet again: "Yes, since he got married to Aishwarya. His Aishwarya."
At the INDIA TODAY summit
http://www.dnaindia.com/entertainment/slideshow_abhishek-bachchan-spreads-cheer_1625692-1