|~~Hema Chandra Fan Club~~|
Members of da club
SmarterDesikid
MrsPetLover
madhavir108
bhalej
jgreddy
nidhi23
mdroy
simranlaks_2005
amritha19
ab_srgmp
sarah.oamng
deepu_deepu
sweety001

vankas
ramfrmus
anika_357
mini59
sweetnclassy
amukta
Srianne
Arun8687
Autmother
Sima samuel
Raghav64
Kd286
booboo7
autmother
Keerin_Jay
khuran2mk
sexcy_brownchic
SuperGrl126301
pams309
BPS123
sonia kul
desimam
rach_nir
Harini_g
Enjoysgoodmusic
Gvnls
gv_rao
tuku
ramkee9
rage797
summercool
indiasrani19
twinkle44
pramod_10
chandu28
mk14
singboy
bangboy
ss_4003
bigb
sgmplover
sona_chandi
parineetha
red rose!
Farsana
planet2005
MusicIsDivine
hc_fan
svangipu AND Whole FAMily
aneesha_candy
skasuba
sapnokirani24
Jalapeno
chianti05
jaanum87
Dizzybanana21x
ShesTheBest.
Mona59
anadeep
makaveli313
lovelydovely
Hiral_lil_angel
smiley_face23
mudabid
Swar_Raj
Adwarakanath

Mars007
ng4khan
Mishtimoni
lilyrose
sp_2012
iiLOVEpanna
Iron
Chukkna
Charades
Sudha_rn
AbhayVakil_1992
Satya4Music
vinit_fan
galois311
indiandoll89



New Memebers are requested to join
I foget the names of others. Please if ur a Hema fan, tell me, so I can post ur name Up here
And Sorry if I miss spelt ur name
So..... here's the First Hema fan Club
Also. register at
www.HemaChandra.in
Hema Fan Club's Theme Song
http://mediamax.streamload.com/SDK/
DOWNLOAD HEMA'S SNGS HERE

http://rapidshare.de/files/19564207/Hemachandra.zip.html
Click Here To Download Sabse Alag by Nihira and Hema(DizzyBanana21x)

http://www.sendspace.com/file/sryl9d
Hema's Chicago Concert Videos(RealMusic)
http://www.india-forums.com/forum_posts.asp?TID=339723
Hema's Boston Concert Pics (SmarterDesiKid)
http://www.india-forums.com/forum_posts.asp?TID=342115
Hema's Concert Schedule
Hema Chandra Special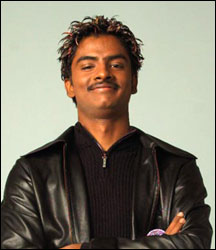 Hemachandra (18 years), was one of the selected finalists in Sa Re Ga Ma Pa Challenge 2005 and in fact is the only representation from South India. Born in a family of musicians and scholars, Hemachandra has given his first performance at tender age of 5. He won several awards at state and national competitions for his singing talent. Hemachandra gave numerous stage shows in the presence of eminent singers like Sri SP Balasubrahmanyam, Sri PB Srinivas, Smt. S Janaki, Sri Kumar Sanu, Sri AR Rahman and Sri Lata Mangeshkar. Hemachandra has also made a humble beginning in playback singing singing 2 songs in the recently released Telugu Movie - Vamsham and Premante Inthe.
Here is his US shows details .
Stoackton july 7th
Sacramento july8th
New jersy july22nd
Dallas july23rd(to be confirmed)
bayarea july29th
phoenix july30th
thanksgiving show aug7th
S. No
City
Date & Time
Venue
Contact
Admission
1
Sacramento,Stockton
Saturday, July 8, 2006
The Crest Theatre
1013 K Street
Sacramento, CA 95814
Telugu association in sacramento.
Doors open at 3:30PM for 4:30PM Show. Sat Tickets $25/Adult Lower Section or $15/Child Lower Section. $15/Adult Upper Section or $10/Child Upper Section
2
Chicago
Jul 15 2006 7:00PM
to
9:30PM
Performing Arts Center
Robert M. Collins Center (East campus)
Triton College
River Grove, Illinois
US/Canada
708-488-8639
708-267-4262
732-718-0484
$40, $30, $20
3
Boston
Jul 16 2006
2:00PM
(TELUGU CONCERT)
Jul 16 2006
6:00PM
(HINDI CONCERT)
Regent Theater
7 Medford St
Arlington, Massachusetts
US/Canada
Aap Ka Manorajan
978-681-5678
$ 20(Balcony), $ 30(Rows H to P) , $ 40(All Rows including Row G), Children 10 & under Pay Half Price
4
New Jersey
Jul 22 2006
Performing Arts Center
Middlesex County College
2600 Woodbridge Avenue
Edison, New Jersey
US/Canada
Sunil
732-718-0484
Tickets: Front Row: $50 $40, $30, $20 (Children 10 & under Pay Half Price)
5
Phoenix
Sunday, July 30th, 2006
4:00 PM
Mesquite Junior High School
130 West Mesquite, Gilbert, 85233
(South of Elliot Rd on Gilbert Rd)
Krishna Anantuni
[email protected]
(602)432-0479
Tickets *VIP Sponsor $100
Gold $25
Silver $10
Kids/Students** $5

*VIP Sponsor tickets include 3 Gold tickets.
**Kids Under 12. Students must present ID. Free for Kids of age 3 & below
Thanks Bhale
Activities
Let The Games Begin!
Songs That Suit Hema's Voice
Description: you must search the web for songs that would most likley suit Hema's voice, as if he sang the song himself.
How to play:
Search the web for songs (as described above) and either:
PM me the website
PM me the donwload link
Rules:
May NOT PM me any site or download link that gives me a song that Hema sang in C05. You may only send the link to the ORIGINAL song
Song, site, or Download link must NOT contain any unapropriate language, pictures, etc.
Each COntestant may PM me up to three songs
The given song must be a song that would suit Hema's voice
Winner: the one who wins is the one who gives the song that makes u feel like that Hema himself has sung it.
Prize: N/A currently
Helpful sites:
Raaga.com
Cooltoad.com
India MP3.com

Contest Starts on July 11th, 2006
Deadline of song = August 11th,2006
PM your Links to one of the following Judges:
SmarterDesiKid
Sp_2012
MAXIMUM PARTICIPATION REQUIRED!


Edited by SmarterDesiKid - 31 July 2006 at 11:30am