Definition of LOVE for anmol..
We can define anmol's love for ragini as pure..genuine..unconditional with lots of depth and intensity..
Aap ke liye mein kuch bhi karounga.mein sirf aap ki khushiyan chahata houn..
Aap meri zindagi ho..mein khudh se zydaa ragini se pyar kata houn..
Some of these dialogues showed the intensity of his love for ragini..
They say love is to be seen in the depth of the eyes of the one who is very special to you.so many scenes are there where anmol lost sight of the world gazing in the eyes of his ragini..
The true meaning of love for anmol...
Ragini was the one who filled the void in his life...he could not think life without her..he will do everything for her happiness without expecting anything in return..his love for ragini was forever and ever..the definition of love and true meaning of love for anmol was to give one look at his ragini.. there was nothing else that could define love for anmol and it was his ragini..
This siggy shows the pure genuine intense love of anmol for ragini..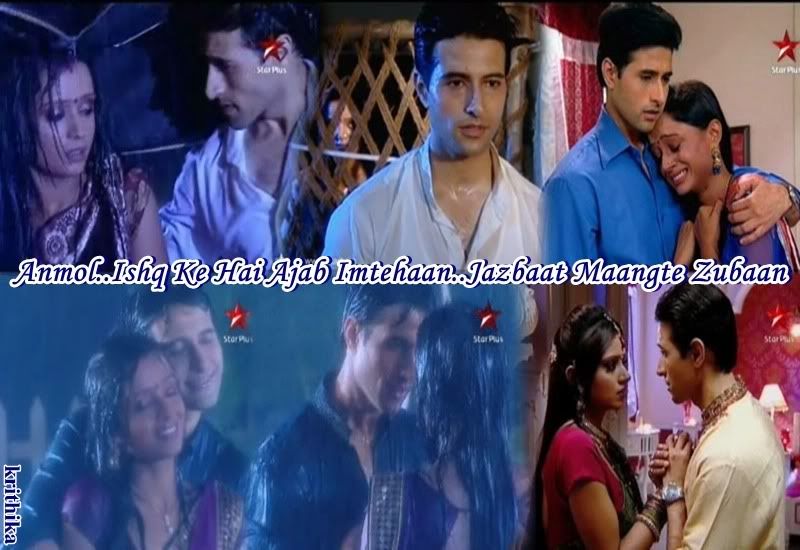 Going down memory lane ...
To show the intensity of this love i wrote an OS long time..my first attempt as i wanted to express in words what is anmol depth of love for ragini years later..a love which grew more deeper..
7 yrs ago after so much emotional moments of nearly parting ways anmol…ragini got married a second time…anmol darling daughter had some helpful hands in it to get her parents reunited as she could not bear to see them separated…
After that began a happy journey of angini..same goes for alekhshi .life was of total bliss..
yrs went by and today its their 10th wedding anniversary…a big event in the rajvansh house as both bros and their wives will celebrate their wedding anniversary… all this planned by none other tashi and vasu..
Yes tammy who is now nearly 18yrs old and khushi a few months older than her..the family has extended by now as a yr after their marriage ragini gave birth to their pyar ki nishani a baby boy whom they named ARAV rajvansh…yes they wanted to have the AR letter in their baby's name…as for alekhshi they named theirs SHAURYA rajvansh..a perfect family and very happy one..the girls dot on their bros and tammy was still her papa's angel and arav a complete mama's boy..The girls wanted it to be a grand affair and looked after every little matter so as everything gets as they planned..decoration.flowers..lights..menu etc..of course the main priority they wanted their parents to look the best for this special occasion..
8 pm guests started to arrive at the rajvansh house..vasu..inder..the sharma's welcoming all the guests …anmol and alekh too were already in the main hall to be with the guests.suddenly his eyes looked up the staircase and he was just lost in the beauty of his ragini..she was looking so gorgeous In the turquoise blue saree gifted by anmol ..the matching accessories with her saree which enhanced the beauty of ragini more.he could not take his eyes off her and its tammy who brought him back to reality ..
The party was in full swing..next came the wish of both girls their parents on the dance floor..a beautiful romantic song playing and this brought both in FB as it the same song they rehearsed for the dance competition yrs back."tumhi dekho nah tumhara houn mein"…dancing both were so lost in each other and did not even know when the song was over.they just heard the clapping and this somehow made them a bit embarrassed..tammy looking at them had tears in her eyes happy ones as she was always in awe of her parents love ..devotion for each other..yrs went by but their love for each other was more intense and passionate..
It was time for the surprised gifts of the girls for their parents and vasu helped them in this..yes it was a trip to some exotic island …at first angini esp ragini did not want to leave arav…vasu and tammy after so much of coaxing succeeded in making ragini accept to go. she was still all worried about leaving all of them but vasu assured her that she and tashi will take care of arav …shaurya..Back in their room that night anmol was watching ragini doing the packing as they had to take the flight at 8am..he already sensed it that ragini was not that eager to go..he went by her side and took her into his arms and said"ragini sirf dus din ki toh baat hein" aur waise mein apne khoobsurat biwi ke saath akele mein kuch waqt beetanaa chahata houn" please ragini giving her that cute smile of his..thats ragini's weak point everytime anmol says that "please" she just give in and says "yes" to anmol..
Morning it was all busy in the RH house..ragini on her usual self giving advice to the girls and to take good care of their bros etc..ragini hugging arav and telling him mama will be back soon and to be good with her sis and grandma…anmol too was a bit emotional now to leave tammy…arav..while hugging both his kids ,he got teary eyed…ragini's heart melts everytime she sees the love anmol showers on their children..all were ready to leave for airport but as anmol had to leave some documents at the office, he asked alekshi and vasu…kids to go first and they will join them soon..a few mins later anmol is done with the office work gets in the car for the airport..he took ragini's hand in his looking at her with so much love when suddenly only a deafening sound of a crash and could only hear anmol screaming raginiii and it was a complete silence..
In a few mins all the family were at the hospital except the children as vasu asked sakshi to take them home...both anmol …ragini were in the operation theater..Few hrs later anmol was brought out of the OPT..he had some bruises here and there and his left arm in plaster after the surgery..he was in a semi conscious state but still asking for ragini..no one had a reply for him as ragini was still under observation and not out of the operation theater..due to the anesthesia effect anmol fell asleep and next morning vasu was by his side..the first thing he asked her how is ragini…vasu not looking directly at him just tells him to not worry as ragini is fine but this is anmol and he already got it something wrong..he immeadiately got out of bed and was already at the door..vasu tried to stop him but no chance anmol was already in the corridor to look after his ragini..he met with alekh..mamaji.inder in the corridor and all of them perplexed how to tell this bad news to him..he went straight to alekh and asked him baiyya ragini kahan hein..alekh was dumbfounded and all in tears what to say to anmol…he asked him again bhaiya ragini kahan hein..just then the doctor arrived and not losing time ,he tells the doctor I'm anmol rajvansh and my wife ragini how is she?.
On much insistence ,the doctor asked anmol to come in his cabin ..alekh accompanied him..a few mins later ,anmol felt his world crashing down with what the doctor has told him..ragini his ragini was in coma…all went black in front of his eyes and next he was on his hospital bed..waking up anmol was so restless and his brain not working at all …he could only feel his tears on his cheeks…few moments later ,he just got up and asked for alekh .baiyya mujhe ghar janaa hein abhi issi waqt..alekh knew it was useless to make anmol understand in his state so agreed to take him home…arriving home tammy rushed to him and hugged him in tears….next came arav he too in tears…tammy his daughter always had a soothing effect on him and in full control of his emotion, he asked both his children to be brave …its testing time for them and nothing will happen to their mom…
Anmol went to his room close the door ..the void he could feel in there made him break down emotionally..moments later, he got back to his senses and went by the window …he looked up in the sky..anmol vehemently tells you have taken all my family members and its you who have sent ragini in my life as a ray of hope.. one thing I wont let you take my ragini back from my life and for this if I have to fight with destiny I will do it… I will not let you take her from me..next anmol was on his laptop browsing and his luck he got what he was looking for...he did heard once about a well known hospital in USA where such cases are treated .he emailed the concerned persons and next he was on video conference and all was settled..he is taking ragini to USA for her treatment.he did not want to waste any time for the treatment of ragini..he announced the news to the family .it was a hard decision as he had to leave his children and not knowing how much time he will be out of the country.he had to bear this separation with his children as anything for his ragini..few days later,it was time for him to leave .he hugged his kids tightly and tells them I promise you both I will bring back your mama home…mummyji take good care of them..alekh reassures him that he will be here for them not to worry ..before entering his car, he looked back and waved a last bye to his children with a heavy heart ..
During the whole flight, he did not leave ragini's hand at all..arriving there ,ragini immeadiately was taken into care.the doctor told anmol there is a minimum chance of ragini getting well ...little hope is there but cant pronounce on how much time it will take..anmol was ready to wait as much time it will take and money wise he had no problem at all..months went by and ragini's health was still the same but anmol was not losing hope at all..every day how much tired he would be ,he wont miss talking to his children.he will reassure them that ragini will be fine …it was a routine for him and everyone there knows him well by now..they will let him sit with ragini and he will talk with her relating to her about the kids.how arav is being mischievious as she is not there..he will keep on talking to her..its with great difficulty that the hospital staffs will make him go and have some rest..
Every night ,he will take ragini's and kids photoframe close to his heart and have some light sleep .he had this fear what if the hospital needs him .that night as he closed his eyes anmol saw ragini on the other side of the lake..she was smiling to him.anmol all happy to see his ragini all fine .he rushed to the other side of the lake to meet her …as soon as he reached there to touch her ,her image began to fade and she was gone.he screamed ragini's name and in a jiffy woke up …same time the bedside phone was ringing..looking at the ID his heart did skip and with shaking hand answered the call.. next anmol covering his face with both hands was crying out loud..few mins later, he was at the hospital and not wasting time ,he barged in the room and what he saw left him rooted on the spot.he could not move nor say anything..its only when the doctor said mr rajvansh its a miracle your wife is better now..he thanked the doctors and he was at ragini's side both teary eyed ..ragini was advised to more rest and some more observation before leaving to india..
One week later..
All were happy at the RH as today anmol…ragini are coming back..they were restless and finally the wait was over.. alekh coming with angini..tammy ran to anmol hugging him and saying "papa aap aa gaye"he kissed her forehead and looked at his princess so grown up now.she hugged ragini and same goes for arav..both so happy to see their parents back home..it was a happy memorable moment in the family after so many months...
At last in their room alone..anmol could not stop gazing at ragini..her eyes welled up with tears seeing so much love and devotion for her from anmol.he wiped her tears and embraced her in a tight hug.. I missed you so much..life without you is nothing...i prefer to die first because I wont be able to bear it if something happens to you."maar jaoungaa ragini aap ke bina"..i will die without you ragini..he just heard ragini say "toh phir ragini bhi maar jayegee aap ke bina"..he pulled ragini close to him ..after so many months he could feel her warmth next to him ….soon he drifted in a peaceful sleep with this thought in his mind and heart that his ragini is safe and sound close to him…
Fate brought them together though late..they were destined for each other and to live an eternal love..


Edited by saveeta24 - 28 September 2011 at 10:59pm