Emotional side of anmol.
From his entry scene we always saw him as a very down to earth guy..always so understanding..always there to bring a smile on every member of his family's face..still this emotional side of anmol was so unexpected for us..
We got a few of these emotional moments of anmol and he made these scenes so real that we have cried along with him..afterall what apu does is always zara hatke.in style as we say ..he looks to drool on in romantic..angry or emotional scenes..
I will pick one of his emotional scene which was quite unexpected for us..the day alekh refused to talk to him and disheartened he came in his room.. that was one biggest surprise for us and ragini too..she never saw anmol breaking down emotionally ever.her anxiety was so visible on her face seeing anmol in tears..
Anmol who felt he has failed in keeping his promise to ragini and his friend to keep the happiness in the family.he who always wiped the tears of ragini and support her in her emotional moments needed her support this time..i think this picture says it all..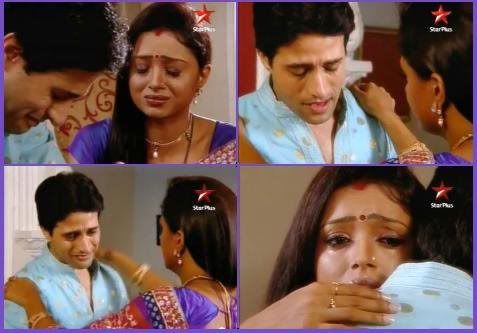 Here such a captivating siggy so beautifully done by our friend krithika showing how angini supporting and consoling each other in their emotional moments.
Both apu-parul were at their best in these scenes..
Apu was flawless in his acting and thats why he captured viewer's heart in such a less span of time..so many shades in his character as anmol and he was the best in all performance wise...terrific.brilliant actor and RS was so right on his choice as noone could have portrayed anmol with such ease and confidence..apu made anmol a believable character ...unique in itself and not to be easily forgotten..
I dedicate this song for this particular scene..ragini consoling her anmol...agar mujh se mohabat hein toh mujhe apne sare ghum dedo..a very beautiful song sung by the golden voice of india..lataji...


Edited by saveeta24 - 08 December 2011 at 5:36am