Angini an unexpected jodi who created such magic on screen in just 4 months and they became our most adorable couple..
Our appreciation goes to apoorva the great performer and talented parul..
A post i made long back..
Apoorva the absolute performer..
Be it an emotional scene.romantic..light moment..he just make me glued to my screen..
I have watched once more a few scenes of him as armaan..dev..shekar..he is just wow..perfect..
all these three avatars blended the attitude of armaan.. angry.. romantic...emotional dev..shy shekar..I got my adorable character anmol..
a bit of attitude as anmol sareen..angry guy with shivani..romantic ...emotional silent lover..husband of ragini..adorable doting father of tammy...
all I can say he is a complete package of talent..a perfectionist to the T..
apoorva excels in every role given to him.as anmol he is still making me adore him much much more after watching his scenes in bidaai..
though some injustice done to him by axing the show but I must say he took the right decision to portray the character anmol..
As I always say this character is unique and apoorva has the attribute of a professional..take a risk but do your job with dedication and make the viewers accept you..thats wat apoorva did he made a place for him first in a show of nearly two and half yrs..second blended well with the character anmol.third he became a household name...
apoorva has a very good personality that definitely attracts so his screenpresence is instantly felt in any scene .. he is very choosy about his roles but he has always hit the bull's eyes and got more fame and popularity..he definitely has left his mark for viewers to remember him..example just 4 months in bidaai and he made a place in the viewers heart..
not to forget its all credit to apoorva today that I have started to appreciate the acting skills of parul..she is a combination of beauty and lots of talent ..
I know parul did feel lucky to have apoorva as her costar in bidaai and both have mesmerized us in their scenes ..chemistrywise perfect and in certain scenes must say apoorva did brought the best out of parul..
..rajan sir knew who will be perfect for ragini after the leap...parul as ragini had to portray a mature woman with two kids and apoorva as anmol her lifepartner in leap was the right choice..today we have angini the magical adorable couple..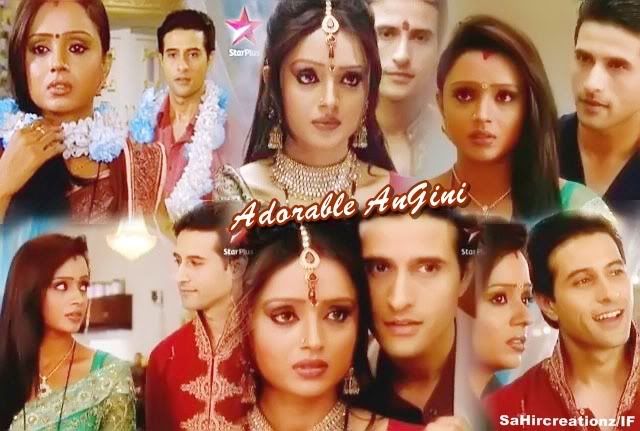 Edited by saveeta24 - 06 November 2011 at 9:42pm