D i w a l i * D i v a l i * D e e p a v a l i
| | S h u b h D e e p a v a l i | |
*^* Let the Celebrations Begin...Festival of Lights *^*
26th October 2011

Dunes of vapors from crackers rise, Engulf, as odorous airs resound
Effusing joys to all abound, Pearls of gleams in these autumn nights
Adorn our lives else trite, With sparklers that motley skies
As soaring spirits of powder wander, Let us thank the heavenly might,
In this festive season of lights...!!!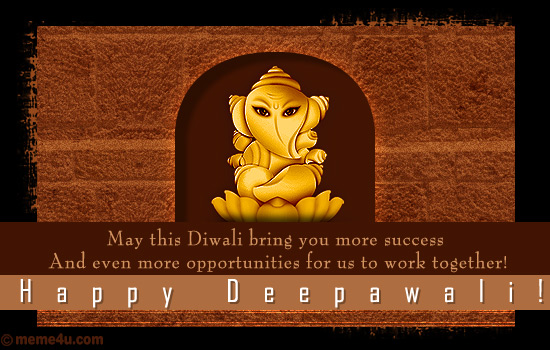 Hello Guyz & my best wishes to all my lovely lovely Friends from all over the WORLD.Festival of Lights, Diwali is just around the corner & before our Freinds away from Home, their City, Land leave in for their homes lets wish each other a very very Happy Diwali & a Prosperous New Year (according to Hindi calender) ...so a very very Happy Diwali to you & your Family...!!! Play Safe with all your dear oness... enjoy to the fullest !!
Many of us know all n all about how Diwali is celebrated, why, when, where ? etc..etc..etc.. so to make it post a lil more intrstin' & elaborate a mch..lolz** we are here with all the information about How, When, Where, Why about Diwali / Deepavali / Divali !!! Hope you all will enjoy readin' this... so India-Forumswishin' all its Members a VEry Very Bright & a Prosperous Diwali...God Bless All !!
Also Called
; Translation : Row of Lights, Deepavali, Festival of Lights
Observed By : Religiously by Hindus, Jains & Sikhs.
Other Indians celebrate the cultural aspects.
Type : Religious, India & Nepal
Significance ; Celebration of the victory of good over evil;
the uplifting of spiritual darkness.
Date ; Decided by the Lunar Calender
2010 Date : 5th November '10
2011 Date : 26th October '11
The exact day of the festival is decided by the position of the moon. According to the Hindu calendar, Amavasya or 'no moon day' is considered as the perfect day to celebrate Diwali. This dark night comes after every fortnight and in the month of Kartik, it marks this festival of lights and diyas. As per the English calendar, the festival generally comes in the month of November and December. For all Hindu people, the festival holds an imperative meaning since the festival is reckoned with Lord Rama's victory as the King of Ayodhya after his return to the kingdom from 14 years of exile along with his wife Sita & brother Laxman after killing the demon, King Ravana. The festival is celebrated by lighting diyas and candles to drive away the darkness of Amavasya.
Celebrations : Decorating homes with lights, Fireworks, distributing sweets and gifts.
Observance : Prayers, Religious rituals
Tu jagmagaaye teraa deep jagamagaaye,
Saare jahaan ki khushiya tere bhee ghar ko aaye
Ganga aur Yamuna sa nirmal ho tera man
Ambar our dhara sa swachh ho tera tan
Is nagar me teri jyoti chamchamaaaye
Tu jagmagaaye teraa deep jagamagaaye

Achchhe karmo se jag me naam hogaa tera
Teri aahat se buraiya lengi nahi basera
Tere marane ke baad bhee log tera naam gaaye
Tu jagmagaaye teraa deep jagamagaaye

Mit jaaye andhera jo teri dagar me aaye
Aaye kabhi na gam jo deti chintaaye
Naam amar ho tera ek taaraa timtimaaye
Tu jagmagaaye teraa deep jagamagaaye

Door karna chhuachoot mandir masjid ka jhagara
Koi mare na bhookha koi rahe na kangala
Aane waalaa kal tera naam gungunaaye
Tu jagmagaaye teraa deep jagamagaaye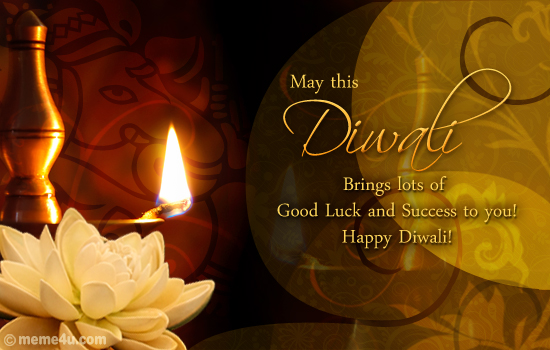 It is popularly known as the Festival of Lights. It is an important five-day festival in Hinduism, Sikhism & Jainism, occurring between mid-October and mid-November. Diwali is an official holiday in India, Guyana, Trinidad & Todago,Mauritius, Malaysia, Nepal, Singapore, Sri Lanka, Fiji and Surinam.
The name Diwali is itself a contraction of the word Deepavali (Dipavali), which translates into row of lamps (in Sanskrit). Diwali involves the lighting of small clay lamps (diyas) (or Deep in Sanskrit) filled with oil to signify the triumph of good over evil. During Diwali celebrants wear new clothes and share sweets and snacks with family members and friends. Some Indian business communities begin the financial year on the first day of Diwali, hoping for prosperity the following year.
In Hinduism, Diwali marks the return of Lord Rama to his kingdom of Ayodhya after defeating (the demon king) Ravana, the ruler of Lanka, in the epic Ramayana.
In Jainism, Diwali marks the attainment of Moksha by Mahavira in 527 BC.

In Sikhism, Diwali commemorates the return of Guru Har Gobind Ji to Amritsar after freeing 52 Hindu kings imprisoned in Fort Gwalior by Emperor Jahangir; the people lit candles and diyas to celebrate his return. This is the reason Sikhs also refer to Diwali as Bandi Chhorh Divas, "the day of release of detainees". Diwali is considered a national festival in India and Nepal. They never start Dewali in debt.