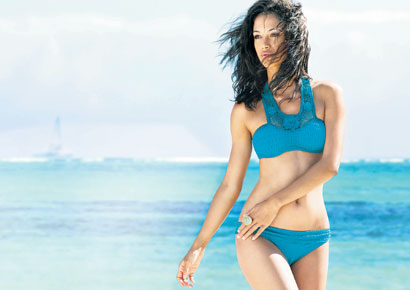 Angela Jonsson
It's the curious case of Angela Jonsson. First there will be a rumour and it will rule the cyberspace for a week or two and then will come the clarification. Whether it's her personal or professional life, there seems to be a single pattern for the swimsuit model.
"There is no movie in the pipeline with actor Salman Khan, but I would love to work with him in future. And as soon as I will sign any film you guys will know," said Angela, who is yet to sign any film in Bollywood.
A quick check confirmed that the rumour that Angela was confirmed for the Sohail Khan's home production titled Sher Khan came from a publicist who insisted that she has made the cut above every newcomer.
"She has been finalised for the role. It's just a matter of time before she makes it. Angela won't be able to comment on that till she signs on the dotted line," said the publicist when in reality Angela was not on the verge in being signed but perhaps was merely contacted for a screen test.
Going back a little, what was the thing that brought Angela in the limelight? Well! It was an alleged affair with actor Ranbir Kapoor that she clarified never happened. Angela was coy and shy about the whole Ranbir thing and said that she only went on a dinner date.
Recently, when she was asked about Ranbir, she again reiterated that, "I don't want to comment on Ranbir because whatever is being said is just a rumour."
The publicity pattern was the same – first a rumour was floating around, then Angela kept her lips sealed about it and then she comes out in the open to deny that. Every time it's about that established hero in Bollywood who's picture is invariably flashed with Angela in gossip columns.
"She tells us that she doesn't know what is happening around her and people are talking too much about things that are not there," says a close friend of the swimsuit model.