Originally posted by --SONEE--
 Hi Pooja
... wish u a many many happy returns of d day
...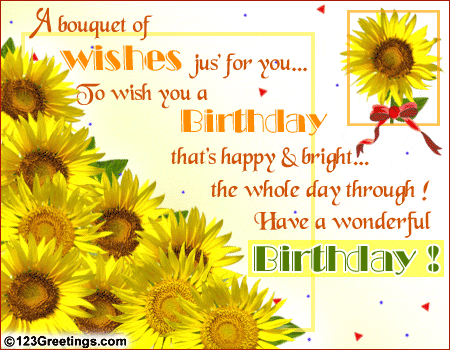 That's a really beautiful card,made my birthday all the more brighter
arre khali haath nahin aayi hun dekh ,..white flowers for a beautiful b'day gal
Wow kya mast flowers hai aur saath me teddy bhi kitna cute hai
& he wants to say something to me,how nice
aur ye strawberry cake tere liye nahin
...hum forum ki lady gangsteron ke liye
Mujhe pata tha
isliye maine pehle hi saari strawberries kha li
ab tum log sirf cream wala cake khao
aur chocalate wala mujhe pasand hain naa isiliye
chalo bahot hua khana pina...waise shrush ne kaafi accha intezaam kiya hain
...errmmm waise kitne saalon se belan chala rahi hain aap??
...arree tauba tauba
...ye kya pooch liya
...ladkiyon se umar nahin poochte
chalo chodo ye toh batao belanwali bai party kahan hain??
jaldi batao ready nahin hona hai kya??
...arre mujhe
...aapke liye toh **ahen ahen**unhone saare intejaam kar diye honge naa
nahin batooge???
errm chal main kuch shortcut intezaam kar deti hun meri taraf se... chalo i know kaafi acchi dress mili hongi
..ye bhi nahi bataoge k...kya diya??
chalo after d party wil see
.. ab jaldi ready ho jao... here ur make up kit...
ok ..errmm ab jewellery
...n i dont like bhari barkum so here is simple jewellery
it wil suit on indian attire i think
...waise im not gud in it
so try it if u lik .
n here is bracelate..Srush called u mum naa?? dats y dis mum 1 wala
n here another simple pearl 1
aur kuch errmmm arre haan
anklets yaane payal D ne di thi na N ko
...waise i dont lik payal's ...so tere liye bhi its optional
..
bas hua yaa aur kuch baaki hai??
ohh yes ...perfume
OMG,it felt like rain of gifts
arre mujhe koi bahar bhi toh nikalo
main inn sab gift ke niche hoon
Thanks for all these lovely gifts,specially payal,they are my fav.
& the mum wala bracelet,will always remind me that i have shaitan bachchi like Srush
ok done
...*phew* chalo dekh ab costume chodke maine sab laake diya
...ab tu jewellery dekhke costume laana
...warna meri mehanat pe paani
ok agar fir bhi kuch bhool gayi toh kyaa???...toh kya yaar baacchi ki jaan looge??
... khud lekar aana ye baithe hain naa humari saari lady gangster inhe bhehjana
...naa maane toh belan utha lena
once again
waise i wish ...k main tujhe Tasha vm gift kar paaati
but im so sorry im in all mess...n guest r here so i don't have time
...so im really very sorry for dis Pooja...
oyy no saddd mood aj ke din wil disscuss dis later
chalo ab mera favorite wala time pass...gaana baajana
...song for B'day gal...sorry ye chote par hai?
par chalega isihi bajao...nachna hain naa??
aur ab party eshhhtttaaarttt
ENJOOOYYY
with luv & best wishes
Sonee
Thanks for making my birthday so special & memorable.