I HAVE REPLIED TO ALL COMMENT PLZ READ THAT FIRST ITS UNDER THE UPDATE. I WOULD APRCIATE IT. THANKS
Chapter 19
Sharon was shocked to see the house in front her eyes: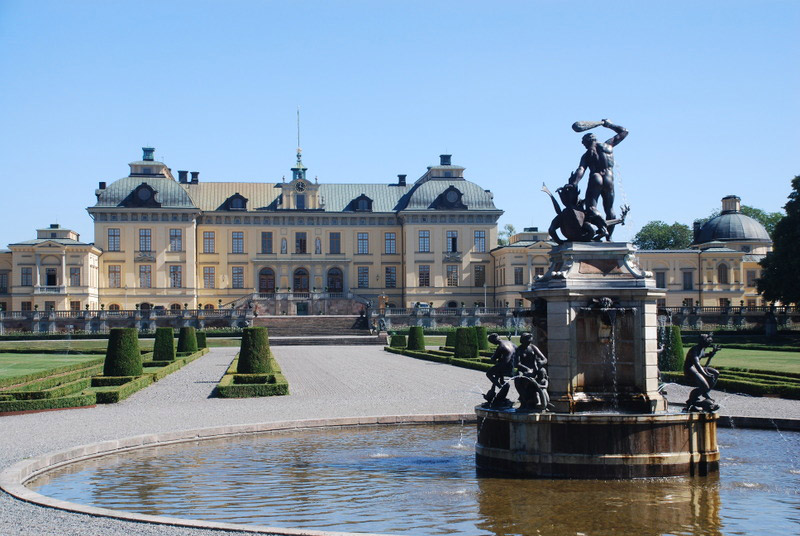 SH:- S..Sw...Swa..Swayam do...do you live here? She said gaping at the house no no not house no mansion no no palace;
SW:- Hmm yeah. Could you please close your mouth. Swayam aid with a smrik on his face.
He cycled in the watch man open the the gates.
W:- Sir your daadima has come.
W:- REALLY DM HAS COME WOW. Sound excited like a kid. That he and Sharon almost fell from the cycle.
W:- Sir you better go in its raining heavily.
SW:- And you should go back so you don't either get wet, and ill.
W:- But sir I am on duty.
SW:- that doesn't mean you should get wet and you can still have a look over the house. Don't worry.
Sharon looked him confused still being so rich he was behaving so nice with people who was working for him, and if it had been her she had not cared. She felt somewhere little in front of this guy. Who always cared for her any situation, and she always showed him "his place" but the truth was she was in that place not him.
They came in the house he was shocked to see the living:
(Just imagine it bigger a I couldn't get a better snap)
And one of the servant came with towels for them. Swayam took one towel where Sharon was quit and didn't know what to do. Were Swayam showed with his eyes to take one of the towel. She did it.
SW: Ramu kaka ( the servant) please show Sharon the guest room.
R: Yes baba, but which one? Should I show the one which I near your room or Vidya and Sagar or the near Chote baba's room?
SW: The near Vidya and Sagar's room.
Sharon was about to go with Ramu kaka, when she realize she was all wet. So she got back to Swayam and asked. He said don't worry she will find everything in the room. She nodded went away.
she got with him up stairs:
She came into the room. The only word which came out from her mouth was wow:
She got in the bathroom which was also amazing beautiful.
She got to the wardrobe and opened it but when she opened she got a bigger shock because you could walk in to the too too it:
She opened the doors to the one of the wardrobe's where she found Salwaar suits and other Indian outfits. She opened next ad found nightgown's, Next was a she found dresses which was long and not short, she couldn't find a dress like she wore in the whole wardrobe.
All where simply dresses. Not any dresses in her taste but still beautiful. She took a dress which had straps and was V ringed:
She got out of the room and heard voices from the room next door. She opened the door and found a small kitty and a puppy:
with Swayam. He looked sad and looked like he was asking the dog to forgive him.
She walked. When Swayam got up from the floor and started running behind the puppy who looked angry at him.
SW:- Yaar Sagar stop it na I am sorry, I am really sorry. Look I brought the milk for Vidya na. Can't you forgive me?
Sagar (The dog) looked angry at him and walked away. Swayam got up tot he cat and widespread something in her ear. But she gave him a look you-solve-it-with-him look. Which made him sigh and looked towards the door. And saw Sharon there and staring at him weirdly.
SW:- Hey Sharon.
She gave him a confused look.
SW:- oh he is Sagar and She is Vidya my cat and dog.
SH:- Sagar and Vidya??
SW:- Well my daadima is very found of TV serials and she saw a show called Banoo main teri dulhan on Zee TV and at that time she told me if I ever got a cat or dog she will name them by these characters names so yeah. I know its weird but just love my DM very much so I named them after that serials hero heroine. Well Sagar is a bit angry at me first I am late home ad that I almost forgot to bye milk for Vidya. Well both of them get a well good with each other not like normal cats and dogs.
SH:- But you could ask some servant to bring milk for her na?
SW:- No she drinks only the milk I have brought for her or some other person.
SH:- Other person?
Just then Swayam phone rang and went away to attend it.
SW:- Yeah.
SW:- Ok, got it will tell everyone. BTW DM I here. Sharon was looking at Swayam. The person on the phone sounded also excited about it, like Swayam did before. She could see the by looking how excited Swayam''s face, after awhile he ened the call and asked Sharon to follow me. Before she got out from the room saw how the room was decorated it had a bed. And looked like a child's room which was specially built for Saya (Vidya Sagar)
Both got down ate dinner, Swayam wanted to meet his DM but Ramu kaka told him that she was sleeping. Swayam didn't want to distribute her. Both ate and went to sleep.
...
Kriya woke up next morning and saw Rey's first thing. She thought that she was dreaming. She smiled and said
K:- Good morning Rey.
R:- Good morning, who had woke up first and stared at her in till she woke up. She hugged him and then understood that she was not dreaming.
K:- Rey kya aap sach much main hoon yahan.
Which Rey smiled and and pinched her. Kriya yelped. And asked
K:- Aap ne mhuje pinch kyun kiya?
R:- to give you a reality check. And kissed her lips.
The broke the kiss after five min as the needed air. Kriya shied and looked down after awhile she said
K:- Rey aap fresh hoon jae main breakfast banati hoon.
R:- Theek hain. And kissed her back jumped of the bed ran into the bathroom.
Kriya shacked her head went in to the other room she opened the the wardrobe and sighed as she found small dresses she saw a beautiful white dress:
she took it and went in to the bathroom. She changed, Kriya went in to Rey's room too ask him what he wanted to eat. She got up to the door to the washroom
K:- Rey kya bano.
R:- What ever you like.
K:- OK.
R:- Kriya, kya tum mujhe mera towel de sakti hoon? I forgot it.
K:- Wait she went to his wardrobe opened it took out the towel went to the door knocked on it and asked him to take it. Instead of taking the towel from her he took her in to the bathroom:
She screamed as he did it.
K:- Rey chodiye mujhe.
R:- Chodiye ke liye nahi pakra hain. He was a bit wet but not much as he hadn't take his shower yet as he was shaving.
K:- Rey aap bheege hoon aur mujhe bhi bhega diya. Chodiye.
R:- OK ek Shaart par agar tum mere saat yahan rahogi toh pura din, manzzor?
K:- Aur college?
R:- No collage today, just you and me
K:- Aur gang ko kon samjhaga?
R:- Main.
K:- Theek hain aur mom?
R:- woh bhi main handle karoga.
K:- Then haan.
Rey let go off her, she gave him a smile kissed him on his cheek ran out.
Kriya changed her dress:
Came to the kitchen and tarted cooking.
Rey came after awhile and asked her if she need some help she told him to fixed the table which he did.
She came out from the kitchen and looked angry. As the table wasn't et.
K:- Rey what is this you haven't se the table.
R:- Yes I have
K:- Where is it I can't see it?
R:- Well as I haven't done it here its outside. Lets take the things and move outside.
Kriya and Rey took the things and went out where she was a simple table with a parasol over it with two chairs. It was beautiful and yet simple: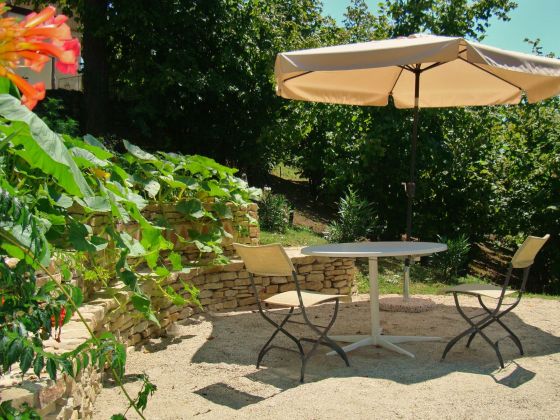 They put the things on the table and got seated.
Kriya gave him a plate and gave him the breakfastw hich was nonother than hes favorite Aloo ke pharate with achar.
He looked at Kriya with a big smile. She gave him a mischievous smile back. And winked at him.
He started eat. After awhile Kriya asked him.
K:- Rey room kiska ab toh bata do.
Rey how was bust with is SIXT paratha
(Gosh I wonder how he can be so thin still eating so many pharats)
Gluped down which he had in his mouth and said.
R:- Its my sister room.
K:- Really? I didn't know that you had a sister.
R:- That's because you never asked. Which she slapped him on his arm.
K:- Where is she I have never seen her.
R:- Well she is in Australia and studying to fashion designer. You could see it by the room her cloths and the other house. I always wanted to have a black and white house. So she designed it to me. I didn't want her to study outside but Daadi ma gave her permission.
Kriya was about to ask something when Rey got a call.
He got up and picked it up.
R:- Hello
R:- KYA??
...'......
Precap:- A twist comming up
Vaisu, Shivs, Krtizz please let me live some more days
Phew finally finished. I didn't want to write today. As didn't feel like it so I don't know how this came pout hope you all liked it. Sorry for updating late. I cooked for the first time for all in my family that's why it got let. I thought doing it as no one was at home if they had been home they wouldn't let me do it. Next part will be on pg 80
All who wants pm add MaaneetAminapm to your pm list


Edited by Kriyanshlover - 28 April 2012 at 3:08pm