Just like everyday it was a really lovely morning, where you can hear the birds chirping as in trying to wake u up
Amma: radhika oh radhika aj medical college nahin jana kya 8 baj gayein (radhika, radhika don't u have to go medical college today) but there was no respond she tried to call her again but still no response so then she decided to go to radhika room.
As soon as she opened the door she saw a 20 years girl sleeping on her big bed hugging a teddy with a sweet smile on her face she went and opened the curtain which made radhika to turn her face. Amma smiled at her, then went and sat on her bed and caressed radhika hair lovingly.
Ammo: bitto rani wake up or u will get late for college I still have to wake barkha up beta. Radhika who was sleeping peacefully got disturbed by the sun coming through her balcony and ammo voice near her. She opened her eyes slowly and saw her lovely ammo face.
Radhika: kya ammo u always have a problem with my sleeping and y do u always wake me up first instead of barkha she said stretching her arms.
Amma: how many times I told u call me amma and not ammo, and if I wake barkha up then I dont know how long it will take me because u know how hard it is to wake her up. Now stop arguing and get ready and come to the dining table mohini will be coming soon ok. Radhika smiled at ammo walking posture and then turned her face to her parent's picture which was on the side desk she bought it near her heart and hugged it, love u guys. And went to have a shower
Radhika top: Green top and trouser
As radhika was heading towards the dining table she saw barkha who was ready but still kind of yawning
Radhika: looks like someone slept late
Barkha: yaar radhuu stop na already im tired and I haven't got any energy to argue back until I dnt eat anything. Radhika laughed the way barkha was making face and both sat at the dining table where mohini and ammo was. They started to eat their breakfast.
Radhika: di what happened u seemed to be tensed? Mohini came out of her thought when she heard radhika speak.
Mohini: radhika the thing is that I have got a meeting today I just hope we get the deal.
Radhika: dw di I know u will but to wonder who is the meeting with.
Mohini: virat Purohit she said looking at ammo.
Amma: arrien then y worry everything will be fine I don't know y u don't like virat he is a good person, mohini made a face and started to eat.
Mohini: amma in business it's a different case and by the way where is arohi she should be here by now.
Barkha: mohini di she said she is gone meet us at college as she might be a bit late, then looks at her watch. Oyee radhika look at the time lets go to college. Both took their things and said bye to the others.
They reached to their medical college and on the way met arohi. While barkha went to return some books.
Arohi: what took u guys so long.
Radhika: arohi chill we are 10 mins early so need to worry.
Arohi: radhs I aint worrying I mean like I have been waiting here for u guys for 30 mins and u r coming now. Radhika went near arohi and slowly spoke
Radhika: looks like someone not in a good mood coz they didn't see Arjun she said with a lop side smile, arohi shot her an angry glare.
Arohi: radhikaaa.
Radhika: no arohi u shouldn't be saying radhika u should be saying Arjun. Arohi gave her warning look which made radhika to run from there coz arohi was not gone leave her… soon lesson started and they went to their class.
Meanwhile in Purohit mansion
Padma: arrien ramu kaka have the kids woken up.
Ramu kaka: haan madam they have they will be down in a short time till then ill set the plates, padma nodded and walked towards the hall where dadi was sitting who was talking on the phone.
Dadi: gopi ill talk to u later ok
Padma: what did gopi kaki say ma
Dadi: nothing she said she is bored and feels lonely at home sometimes so I told her to come here but she said she will see. Padma smiled and then turned towards the stairs where she saw virat coming first talking on the phone he took the blessing of both dadi and padma and then went and sat on the dining table. Suddenly padma heard a voice
Voice: maa, maa I cant find my fav shirt where is it.
Padma: maa ill just be back till the you sit at the dining table. She walked to the room where the voice was coming from and saw her son standing there with jeans on with a black vest.
Voice: ma y u looking at me like that help me find it na.
Padma: Dev u r grown up but sometimes become a child, she went to his wardrobe and took out his fav shirt, what is this she said raising her eyebrows. Dev gave a boyish smile and wore the shirt on.
Dev: ok ma aim getting late for college so ill eat something from there ok bye and he ran from there before padma could stop him dev was running down the stairs and by the time rohan arrived to.
Dadi: dev y r u in a rush come and have breakfast
Dev: dadi im getting late for college ill much something from college u don't worry.
Virat: but dev have something.
Dev: no bro im getting late ok bye guys oh rohan r u coming now or later

rohan: later dev u carry on bye

Arjun was waiting for dev outside and both went to college. In the car
Dev: whats up Arjun y do u seem to be upset.
Arjun: yaar I aint upset its just that I told arohi that ill drop her at college and also spend some time with her but since I woke up late I was not able to pick her so I sent her a message and she got angry now I need to think how I could pacify her. Dev started to laugh.
Dev: haha Arjun ur too much feel sorry for u how u gone make up to her.
Arjun: bachuu dnt worry one day when u have a gf and when u have to pacify her u will know how I feel he said in a dramatic way
Dev: like I will have one.
Arjun: y r u gay he said with a lopsided smile.
Dev: very funny he said in a sarcastic tone, well I will have someone who is gone be special to me, she will know every bit about me, and love me but also love my family not those type who will just like the way u look and went into his thoughts when she comes to my life then she will come like a princess just looking like a angel who will be sweet and innocent
Arjun: god knows where that girl will be and soon they reached to college.

meanwhile at medical college
Barkha: hey guys look at that guy he is hot na.
Radhika/arohi: barkha
Barkha: oye hello aint I allowed to look at guys or do u want me to look at girls only, both arohi and radhika rolled their eyes.
Arohi: barkha when will u be serious I mean cant u just find one guys and stick to him.
Barkha: that's the problem na I cant find the person that I would like. Radhika y don't u go out with samrat he seems to ask u out so many times.
Radhika: barkha I only consider him as my friend nothing else that y I keep saying no to him.
Barkha: hmm like u think ur prince charming will come and take u away I mean don't tell me u believe in dat. Radhika smiled and said
Radhika: barkha I only believe that in stories in real life its just a bit different coz they wont come on horse and take u away to some place
Arohi: then tell us na what kind of guys u r waiting for she said with excitement in her voice
Radhika: my prince charming wont be someone who comes on a horse but it will be someone who will change my life and make it even better by his love, he will love my family and accept me the way I am. I don't want him to love me because im beautiful I want him to love me the way I am, and I will love him the same way and take care of each and everything that is part of his life
Barkha: wow this seems to be like a dream and finally radhika spoke about how she would want her life partner to be. Arrien guys tomorrow we finish early right lets go out arohi y don't u tell Arjun to cme.
Arohi: no need
Radhika: arohi if u don't call him then we will and if u pretend to be angry on him then god knows what will happen now call him
Arohi: ok ok hold on ill call him u guys r too much. Ill be bck ok
Till the barkha and radhika were talking
Arjun: hey arohi how r u sorry I couldn't make it in the morning plx forgive me I promise ill do anything u say.
Arohi: its ok well if u will do anything I say then come out with us girls tomorrow it will be fun.
Arjun: WHAT? He shouted which made dev look at him in confusion
Arohi: what happened y u shouting and u r coming na.
Arjun: of course I will be coming but em em yh don't u think I will be the only boy.
Arohi: so what if u want u can bring ur other friend ok tomorrow see u at 11am at the ******* mall ok anyways I have to go bye love u take care
Arjun: ok luv u to. After putting the phone down he made a face as if he is gone cry.
Dev: what happened Arjun
Arjun: yaar I said to arohi that I will do anything she says and u know what she said
Dev: what ?
Arjun: she said I will have to go out with her tomorrow with her friends.
Dev: and
Arjun: dev dude going out with girls mean shopping an shopping means spending too much time buying things u know how girls are talking their own lovely time
Dev: loool enjoy till then
Arjun: dev can u do me a favor.
Dev: haan tell me
Arjun: promise.
Dev: promise yaar tell me
Arjun: you have to come with me arohi said I could bring my friends along. Dev was shocked.
Dev: arjunnn
Arjun: haan I know my name is Arjun come on dude for our friendship give me company and u will get to meet arohi and also her friends they r really nice plz
Dev: ok ok stop I will come. And on the other side arohi was happy that Arjun will be coming both radhika and dev smiling to see their friend happy.

(sonali (palak13) had pictures as well and I guess this picture is for this part where radev are smiling at the end coz she saved it as part 1)
here is the pic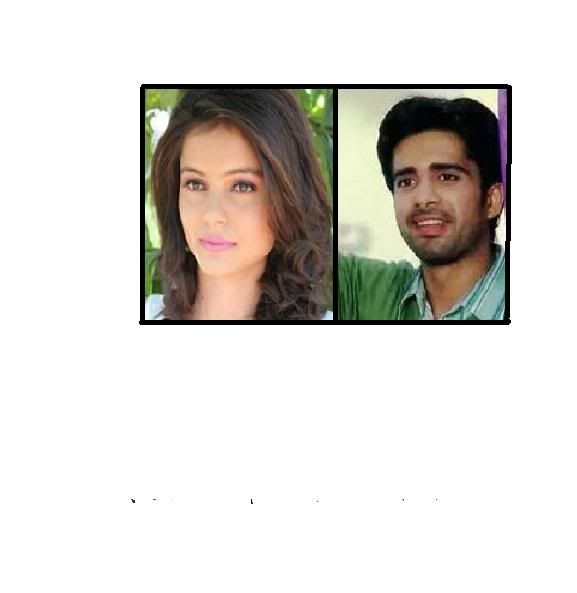 Precap: will they meet?
Ok guys here is the first part. God I had to copy this from palak13 notebook. How can my sister write so much gosh. Hope u liked her first part, its strange she still doesn't know about me updating this ff but anyways don't forget to press the like button and do leave a comment. K im glad I went to her house again and saw some file on her computer names as for radev new ff so I secretly sent it to my email lool I know im very naughty so don't think that I created the pics its all her work
Love u all and plz do leave a comment and don't forget to press the like button