[QUOTE=Nazmaa]
Hey Guys...
As You May Have Noticed Gurmeet Waas Not Shown In Today's Episode Apart From The Beginning ... And Also Drashti Voice Was Not Right... Both Have Not Been Feeling Well And Have A Cold!! :)
So I'd Like Everyone Who Is Their Fans Take A Little Bit Of Time Out So They Can Pass On Their Get Well Soon Messages...
I Think They Deserve Our Concern Since They Have Been Working Soo Hard Day And Night To Give Us Such Wonderful Episodes...
Drashti And Gurmeet..
Get Well Soon... Hope You Feel Better Soon And Can't Wait To HaveYou Back On Screen... Your Health Is The Most Important Thing So Hope You Rest And Get Well Real Quick!!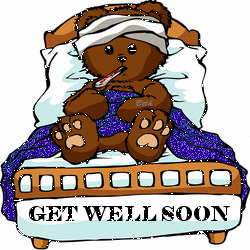 GURMEET & DRASHTI. ...GET WELL SOON...Health comes first. You both have to work day & night. so plzzz take care of urself... Really speaking we are missing both of u a lot ... but still u both should be cautious bout ur healthy. If needed take a break...Take care...love uuu