The Birthday Girl needs no Introduction, since she has had many introduction throughout her journey on India-forums.com.
She is none other than our
Global Moderator, Aahaana

Many know her to be:

Loving and Caring


Friendly and Approachable


Helpful and Dedicated


Strict and No-Non-sense Person


But only few know Meli as an ACTIVIST on SOCIAL MEDIA
One needs not buy newspaper or waste data on Google News! Simply Follow Aahaana (aka MeliKutty) to find out the latest news and happening around the world! She in fact regularly wishes her followers on various festivals and even the celebrities during special occasions.


As can be seen above, she is an avid follower of almost all kinds of sports, politics, and world issues. She even has been named as the Ambassador of the Royal Family! Because it's through her that we find out when a new baby has arrived in the Royal Family
!

Of course she seems very outspoken over social media, but when you speak to her in person:
"Verum Kaathu thaan varunga
" (only air comes out her vocal cord)
She giggles for hours and hours and only will say one line "NEE PEESU
" aka "YOU SPEAK"!
Other than that, years continue to go by, yet the baby in her still remains within her. She is still scared of nights and being alone in the dark
. Ghosts are her most hated spirits at night times
!

Just like Supercool3, she yearns to be a 'Virgin Casanova'
and loves Coke and Pizza. She is very POSSESSIVE and HIGH MAINTENANCE
(Feeling sorry for her future husband
). She LOVES to RANT about anything and everything, i.e. even if it does not revolve around her and is happening to a celebrity some thousands of miles away
! She loses sleep over the MOST SMALLEST matter and on those rare days, she will SKIP her practicals
.

She LOVES shopping and SAVES her money to do her shopping, but here and there she will LOVINGLY DEMAND goods from her siblings and parents
.
At the end of the day, everyone relies on her and hence cherish her a lot
!

Here is WISHING OUR BELOVED SISTER A HAPPY BIRTHDAY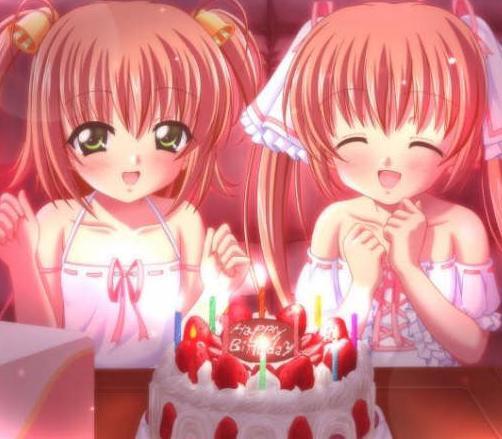 A sister is someone who loves you from the heart,
No matter how much you argue you cannot be drawn apart.
She is a joy that cannot be taken away,
Once she enters your life, she is there to stay.

A friend who helps you through difficult times,
Her comforting words are worth much more than dimes.
A partner who fills your life with laughs and smile,
These memories last for miles and miles.

When she is by your side, the world is filled with life,
When she is not around, your days are full of strife.
A sister is a blessing, who fills your heart with love,
She flies with you in life with the beauty of a dove.

A companion to whom you can express your feelings,
She doesn't let you get bored at family dealings.
Whether you are having your ups or downs,
She always helps you with a smile and never frowns.

With a sister you cannot have a grudge,
She is as sweet as chocolate and as smooth as fudge.
Having a sister is not just a trend,
It is knowing you can always turn to her, your best friend.
- shiv sharma

HAPPY BIRTHDAY MELI
!



Edited by Riyasaatha - 26 November 2015 at 9:16pm