Is Salman Khan blessing Kareena Kapoor?
Published: Tuesday, Jun 14, 2011, 12:50 IST
By Priya Sugathan | Place: Mumbai | Agency: DNA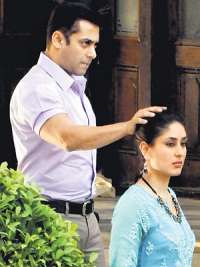 One really can't blame you if you really thought that actress Kareena Kapoor is seeking actor Salman Khan's blessing in this picture, considering Salman's renewed status as the box-office king following his latest hit.But it's just a photograph taken during a scene being shot for film Bodyguard in Patiala. However, considering that the actor is being called the Rajinikanth of Bollywood, it won't be a surprise if people really do line up for Bhai's (as he's fondly called)blessings in the coming days. He's really riding a success wave and it seems can do no wrong. Whether it's in giving hit films with record-breaking collections (Wanted, Dabangg and Ready), anchoring successful reality shows (Dus Ka Dum, Bigg Boss) or introducing sensations (Katrina Kaif and Sonakshi Sinha). The latter reason, one should say, can actually not be a bad reason if Kareena does seek Salman's blessing. But what the picture really does is reveal the heroine's look for the film, which is traditional and close to her look in film Jab We Met.
As for Salman, the actor who was once dropped off endorsements at the slightest scandal or fisticuffs and replaced by contemporaries like Akshay Kumar is considered 'solid wicket' this time around. The actor, himself, apparently seems amused by people's reaction to his success. "Ya doing well, a friend of mine said that Ready is like HAHK on steroids hehehe. Thought it was funny," he tweets. For those in the dark, the HAHK that he mentions is Hum Aapke Hain Koun, a phenomenal success to his credit in the nineties. If one recalls, he had apparently told one of his heroines in the nineties, "I'll still be playing the hero while you may go on to do older roles." Guess, no one predicted his success better than him!http://www.dnaindia.com/entertainment/report_is-salman-khan-blessing-kareena-kapoor_1554823