Salman Khan not happy about his cricket team losing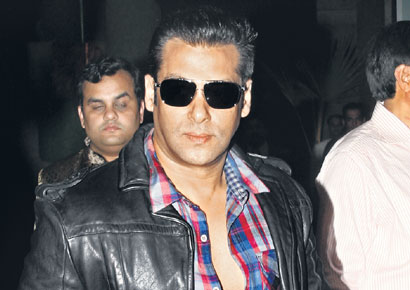 Bollywood actor Salman Khan doesn't like to lose. The top actor, who owns the Bollywood cricket team Mumbai Heroes in the Celebrity Cricket League, was livid after his team lost their second successive match. And now, he's getting involved in figuring out the flaws in the team as well as making sure he's present to see the team play Vizag.
A source, close to Khan, says, "Bhai was not present in Chennai since his film had just released. But he was upset seeing how his team gave away a match that they were winning. He felt that the team needed some young blood, since he saw actors Aftab Shivdasani and Riteish Deshmukh stand out in the game, when compared to some of the senior actors on the side."
In fact, the Mumbai team even went into depression after losing their match against the Telugu Warriors, where they discussed their strengths and weaknesses in a closed room session. Khan has promised to be there for the third match in Vizag to ensure that the team has all the required moral support with him by their side.
The Mumbai Heroes team, when launched, had a line up of quite a few young actors, though they failed to make it to the team's first few matches. "The team included actors like Kunal Khemu, Shreyas Talpade and Harman Baweja. Salman is currently looking at their availability for the final game against Chennai," says the source.
Incidentally, Riteish Deshmukh, the vice captain, was on his way to London to shoot for Housefull 2. Khan then requested the films makers, Sajid Khan and Sajid Nadiadwala, that they allow him to stay back for the match. "Riteish was one of the few players who played well. Salman wants him to be part of the team and ensure that the team wins this time," the source adds.
Khan is also planning for more changes in the next season, it is learnt, where he plans on keeping young blood in his team. There are also hints that Suniel Shetty, the captain of the team, may make way for a younger face to lead their charge.http://www.dnaindia.com/entertainment/report_salman-khan-not-happy-about-his-cricket-team-losing_1552893