M&G... Lambi Judaai... Part 32
Maan sat in the garden, listening to the birds tweet as he waited for Geet to come. (This is Maan's garden)
Maan (self thought): I hope she liked the surprise I gave her. And the saree. This is the first time I have got a saree for anyone; I hope I got it right. Anyways, where is she? She is taking her time; I thought she would be here by now.
Maan decided to go in and look for Geet, but was stunned to see her standing by the door. Maan stood frozen, mesmerised by her appearance. He couldn't believe his eyes. Geet looked absolutely beautiful. She looked like a goddess. Geet's face shone in the light as the sun radiated of her face making her cheeks glow. Her minimal make up was perfect, highlighting her natural beauty. The saree suited Geet perfectly, as it clung to her petite frame. Her brown hair blew softly in the light breeze. Maan could stand there all day looking at Geet's beauty. There was no better place for him than where he was now. He couldn't believe that he had never noticed before.
Just then Geet cleared her throat which awakened Maan from his dreamland.
Geet: How do I look?
Maan: You look beautiful
Geet: Thanks
Maan (self-thought): Maan is that the best you can do. There she looking absolutely stunning, gorgeous, sensational, words can't sum it up and all you can say is she looks beautiful. Come on Maan you can think of something better.
Geet looked at Maan and saw him puzzled in a deep thought.
Geet: Maan are you alright?
Maan: Umm... yeah Geet I'm fine
Maan (self-thought): Maan, why are you lying for? Why don't you just tell her what is on your mind
Maan: Shut up, I can think for myself
Geet: Did you just say something?
Maan realised that Geet heard what he said and decided to change the subject.
Maan: Come, I want to show you something
Maan led Geet towards the back of the garden, watching her expression as he saw excitement spread across her face once they had reached the place. Maan had taken Geet to the depth of the garden, surrounded by luscious grass and flowers where a white swing bench was hidden beneath tall trees. The sun crept through the small yet wide gaps on the trees; blossoms silently fell as the bench swayed slowly in the wind. Geet had never seen anything more beautiful, it was so peaceful and serene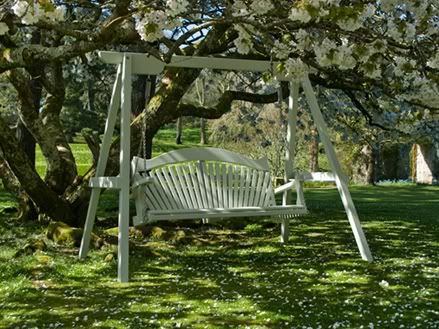 Geet: Wow Maan this area is so beautiful, I love it
Maan: I knew you would like it. Let's go and sit on the bench
Maan took hold of Geet's hand as they made their way towards the bench. Geet could feel the warmth from Maan's touch passing through her. She tried to control herself as her heart started beating faster. Maan struggled to suppress himself as well as the currents from Geet's hand raced round his body driving him crazy.
They sat there in silence for what seemed like hours, not wanted to disturb the calm and quiet that encircled them. They couldn't have wished for anything better. Just then Maan thought of asking Geet something.
Maan: Why don't ... we... go out sometime. You know there are some good places around here. We could watch a movie, get something to eat, what do you think?
Geet: What you mean like on a date?
Maan: Well it doesn't have to be
Geet: Are you asking me out?
Maan: Well... umm... yeah
Geet: Hmm' I'm not sure
Maan: Why, do you have a problem going out with me
Geet: Maan I don't have a problem going out with you, it's just that how can I be sure that what you feel for me isn't the same as you have felt for all those other girls you've gone out with. What if you dump me as well after a few days?
Maan's face dipped. He thought Geet would have easily agreed. But now it didn't seem to be as easy as he thought. He knew why geet was saying this, and he knew her doubts were justified but he was determined to make her believe him.
Maan: Geet, I would never do that to you, you're' you're special
Geet: Really? How can I be sure?
Maan: Geet, I swear I would never hurt you, believe me
Geet liked the way her plan was going, as it looked like Maan wouldn't give up easily. Not until he proved himself to her. That was exactly what geet wanted. She wanted to make sure maan was serious about this, she wanted him to be sure of what he felt for her, and this was the only way he would realize.
Geet: Well, if you really want to go out with me then you have to prove it
Maan: Prove it?
Geet: Prove that you have changed and you really do you want to be with me without dumping me. Prove to me that I'm different form all those other girls. Prove your love
Geet stood up and made her way back inside, with a smile on her face. She couldn't wait to see what plan Maan would come up with.
Geet words rang in his ear.
'Prove your love'
'Love' was he really in love with her he thought. He wanted to be sure before he took his next step; he needed to find out if it really was love, but how.
Either way he thought, it didn't stop him proving himself to her, it just meant he had to slow down and maybe first prove to himself that he loved her and then prove to her.
Maan: Don't you worry Geet, I will prove to you that what I feel for you is special, and it's different from how I felt for all the girls. That's my promise.
Please comment and let us know what you think. It really motivates us a lot. We send out 86 PMs but not all of them comment. Don't forget to hit the like button. Enjoy!
Love Saba and Hiraa xxx


Edited by XMaanxGeetX - 08 August 2011 at 12:15pm