M&G…Lambi Judaai…Part 29
Geet had managed to make maan eat the aloo paratha even if it meant literally shoving them in his mouth; she just couldn't help but laugh at how he looked when she was doing so.
Maan really didn't enjoy the aloo paratha but seeing the smile on geets face just made him forget what he was eating, at that time he didn't care how oily the paratha was all he could see was that geet was happy and that was what mattered to him the most.
As it was a Saturday both of them had a weekend to themselves, maan knew geet had faced so many problems in the last two days and he wanted to make up for it, so he decided to take geet out on a tour of the area. As surrey was a very beautiful place it wasn't going to be too hard to find a nice place to go to.
Geet was ecstatic hearing that they were going out, since she had been here all she had faced was pain and trouble, but when maan said they were going out she was so happy, this was probably the first time she had been so happy after so many days.
Maan showed geet a few places where they could visit on Google maps and after much thought both came on an agreement of going to Virginia waters which was probably only a ten minute drive from where they lived, and then they would go shopping. E They both thought that it would be nice to have a picnic so geet started preparing a few items which they could eat there and maan helped her every now and then.
When everything was ready they put the food in a picnic basket and set off to fully planned day out.
The whole of the ride to Virginia waters, geet had talked and maan just stared at her and couldn't help smiling at the way she animatedly explained thing. Maan just loved the way she would smile at something she said or giggle if there was something that could make a bad day good was her laughter, her smile. He then looked at her beautiful hazel eyes which he thought were so deep that he could drown in them, he never had noticed that she was this beautiful everything about her was just perfect, her hair which would some time come in front of her face, her eyes that sparkled when she laughed, her nose that would crinkle when she didn't like something, her lips that would just chatter away all day. Maan broke out of his daze when he heard beeping of cars telling him to move forward as the traffic lights had turned green. Maan couldn't believe he had noticed so much about her in a matter of minutes and how he felt the time stopped when he saw her angelic face. Maan shook all those thoughts out his mind and carried on driving trying hard not to think about those eyes that would make him lose him himself.
Geet failed to notice how maan was staring at her and observing every movement, she was too busy talking and when it came to talking (which all of you know is her favourite hobby lol)he would fail to realize what was around her and she would only focus on what she was talking about.
A few minutes later they arrived at their destination and maan found a place to park his car and both came out of the car to find a beautiful place surround them.
Geet had seen such place in India but she never knew that there would be such place in England aswell. The whole atmosphere was just beautiful, everything was green and natural, and a bit further was lake which had ducks swimming in it, it was spring time so everything looked fresh and blooming.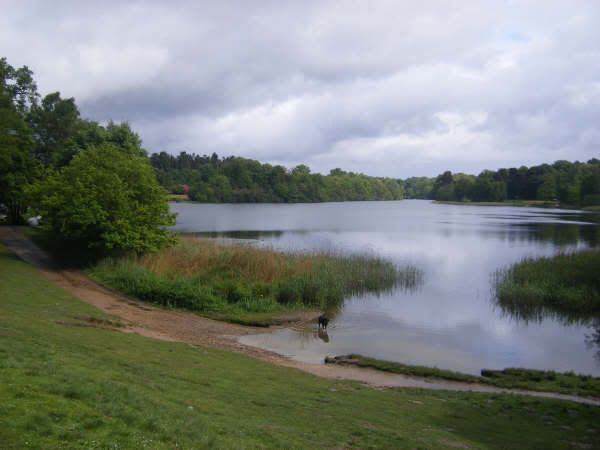 Maan looked at geet who was obviously in love with the place already, he knew geet loved nature and such serene areas and to be honest so did he, he often came down her and sat by the lake, he found peace sitting by there and thinking about life.
Maan: geet you're already so in love with this place wait till you see more, chalo.
Geet just smiled and nodded and walked forwards with maan.
Both were so lost in their own worlds, geet lost in the surroundings and maan was lost in geet (Surprisingly) that they failed to realize that somewhere along this walk they had entwined their hands with each other. If anyone saw them they would definitely think that maan and geet were a couple, with the way maan was looking at geet lovingly and both had held each other's hands, but of course that was not the case.
Maan didn't know why he couldn't stop staring at geet, it wasn't as if this was the first time they met so then why was he acting like this. Somewhere he started realizing that he had some kind of feelings for geet and he knew it was much stronger than how he had ever felt for any other girl he had dated, in fact he never felt anything for them it was just this thing he thought he needed to show the world that he had the looks and every girls died for those looks, he had changed a lot since he had come here everything was fake, he would go out with a girl but never feel anything, and what was more annoying was that he would dump a girl and then the next day see that same girl with someone else which made his ego go more higher and to prove to that girl he would move on to some other girl too, and eventually this had become normal, which was why when geet had said that what he was doing was wrong he didn't want to believe it although he knew he was wrong.
Geet and maan had chosen a nice spot near the lake and laid their stuff down on to a mat.
Geet: maan ye jagah kitni kubsoorat hai, haina.
Maan: hmm
Geet: waise tum yahan aksar aate ho?
Maan: hmm
Geet: Maan! Main kab se boli jaa rahi hoon aur tum ho ke sirf 'hmm,hmm' kar rahe ho.
Maan was again lost in her eyes that he couldn't understand anything that geet was saying, thus he just said hmm, maan was brought out of his daze when geet smaked him on his arm
Maan: huh… kya hua?
Geet: kya hua?! Maan this ridiculous I've been speaking to you for ages and you, you're lost in your own little dream world, some girl I'm sure.
Geet had decided that she wouldn't cry anymore about the fact that maan didn't feel anything for her, in fact she would act as if it didn't matter to her because she knew one day or another maan will realize the true meaning of love, and she was determined to make him understand that what he was doing was wrong, but what she wouldn't do was break down and act as if she was a lost love sick puppy (courtesy: Anemari)
Maan couldn't help but blush a little at the fact that geet had caught him like that, yes he was thinking about a girl, and that girl was geet, the girl that had beautiful eyes that could make anyone lose themselves like this.
Maan(self-thought): uff ye mujhe kya ho raha hai, zaroor yeh ladki mujhe pagal kar degi (courtesy: GHSP)
Maan looked at geet and just gave an uncomfortable smile. Geet couldn't help but laugh at his smile, he looked so cute when he smiles like that, it was if a small kid being caught of doing something wrong. Maan couldn't feel any happier seeing geet laugh like that; it filled his heart with satisfaction.
So sorry for such a late update
, hope you guys like it, please do comment and dont forget to hit the like button