M&G...Lambi Judaai...Part 18
Geet woke up with a very heavy head, maybe because of the thoughts she had all through the night or maybe because of the lack of sleep she had last night. She still didn't know how she would cope without seeing maan everyday but she had to be strong for maan so that he could fulfil his father's dream.
She got out of bed, stretched herself and made her way downstairs, as she reached the last step she felt a bit dizzy and closed her eyes in the fear of falling down and hitting the hard ground but before that could happen two strong arms held her close towards him, she slowly opened her eyes realizing she was safe only to see none other than her guardian angel holding her with great concern in his eyes.
Maan was sat in the hall talking to mohinder about his decision of going to London, when his eyes fell on geet who was making her way down the stairs lost in some thoughts and suddenly he saw her fall and quickly made his way towards her making sure she was safe.
Maan: tum teekh toh ho na?
Geet was too lost in the pair of mesmerizing eyes in front of her, she didn't even realize that maan was talking to her she only realized when maan slightly shook her.
Geet: huh?
Maan: main tum se kuch pooch raha hoon, kahan koi hui ho?
Geet: woh' main.. teekh hoon don't worry
Maan slowly brought her up to a standing position, he was feeling a bit conscious as mohinder was standing right there.
Mohinder noticed the look in geet's eyes and knew it wasn't right he was just glad that maan was off to London as he knew it would only complicate things further than it already was.
Mohinder: geet puttar, tu teekh toh hai na, kya hua tujhe?
Geet: woh bus thore se chakar aayge the
Mohinder: teri tabiyat toh teekh hai na
Geet: haan woh actually raat koh sahi neendh nahi aaye
Maan knew the reason behind geet not being able to sleep; he knew she was probably as troubled as he was last night. He thought maybe staying away from her would be best, as he knew she was becoming too used to him being around her, which wasn't right because she wouldn't be able to cope without him otherwise.
Maan kept avoiding geet the whole day, which didn't go unnoticed by geet, she found maans behaviour rather weird, whenever she would try to talk to him he would be busy in something else or come up with an excuse to busy himself. She just couldn't understand why he avoiding her, she feared that maan had read her eyes and understood the feelings she had for him.
Geet(self-thought): haye babaji, kahin maan ko samjh toh nahi aaygaye mere feelings. Kahin ussi kai wajah se toh woh mujhe avoid nahi kar raha, issi liye toh main uss ko kuch batana nahi chahti thi. Mujhe pata karna hoga kai akhir kya wajah hai uss ka mujhe aise avoid karne ka.
Geet looked for maan the whole day trying to find out why he was avoiding her like that but maan was nowhere to be seen, when she was fed up going from here to there she decided to ask daadi ma.
Geet: daadi ma aapne maan koh kahin dekha kya?
Daadi: beta woh toh arjun kai saath kahin gaaye huye hain, unhone aap ko nahin bataaya kya?
Geet: nahin daadi ma, main toh usko subha se doondh rahi thi lekin mila hi nahin, khair main chalti hoon daadi ma.
Daadi: teekh hai beta khayal rakhna apna
Geet made her way to her house; she was just too tired to do anything so she told her mum that she was going to her room to rest.
Geet kept rolling on her bed thinking why maan could possibly be avoiding her, she couldn't think straight she just wanted to see maan or at least hear his voice, so she decided to call maan, she picked up her mobile and called maan, the phone kept ringing but maan was not picking it up, she kept trying his number but no one would pick up, which troubled her even more, all sorts if thoughts went through her mind, what if something had happened to maan? Was he ok? Why wasn't he picking her phone? She was going crazy by the thoughts, so without any more thought she changed into a white churidar suit and made her way out of the house, it was quite dark probably around 10:00 at night but she didn't care, she hadn't even informed anyone at home. Geet ran and ran, she didn't know where she was going but she was just too afraid thinking maan might be in some sort of danger,
she was looking around everywhere trying to see if maan was around when a baba approached her and told her to come into the dargah she would find all her answers there, geet just went inside hoping she would find some peace there.
Maan was just too disturbed and confused to think straight it had been 2 hours since arjun had left to his own house and maan was supposed to as well, but he just wasn't in the right mind to go home yet hence he had been roaming round the empty streets of Delhi thinking about what had taken place throughout these few days. That's when he came across the dargah and decided to go there, thinking maybe he would find some peace there.
Maan was praying with his eyes closed and on the other hand so was geet, when a thread came flying towards her, she looked around to find whose it could be as there wasn't anyone there but then her eyes fell on someone, he had his back towards geet,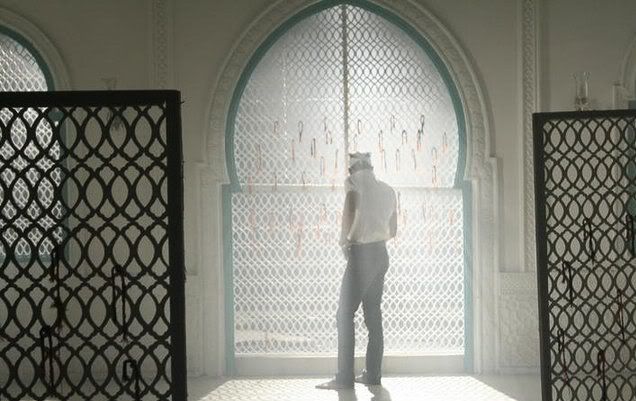 so she wasn't able to recognise who it was, she started walking towards the person to return his thread.
Geet: jee, yeh shayad aap ka hai
The person turned around, geet's eyes widened seeing a familiar face. The face she had been dying to see all day.
Geet had tears of happiness seeing him in front of her; she couldn't explain how happy and relieved she felt seeing him safe and sound. That person was none other than maan.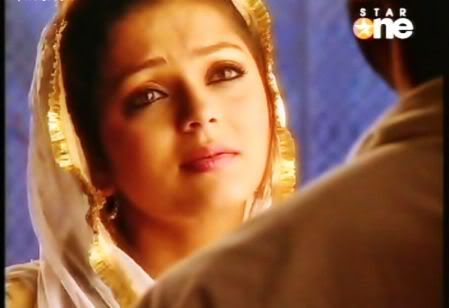 Maan looked into geet's hazel eyes and saw tears threatening to fall, which disturbed him, why was she crying, but then soon after he saw a smile forming on her rosy lips which confused him even more. Before he could comprehend anything her arms went round his neck bringing him into her embrace, he didn't know why but he just felt so content having her in his arms as if all his worries had vanished.
Geet was just so happy seeing him that she couldn't stop herself from hugging him making sure he was safe and would never leave her like that, as soon as she felt his touch a current went through her which brought her back from her dream world breaking apart from him abruptly leaving him confused.
Geet: kahan chalegaye the tum? Tum apne aap koh samjhte kya ho? Aur aap apna phone kyun nahin utha rahe the?
Geet was nowhere near stopping; she kept on shooting her question at maan.
Maan was taken aback from her sudden outburst, her voice was clearly worried, disturbed and concerned, he couldn't understand why she was reacting like this, he had had enough of her question so put his finger over her lips to stop her speaking.
Maan: chup bilkul chup!
Geet just fluttered her eyes in response to the contact his finger made with her lips and instantly became quiet.
Maan: pehle baat toh yeh hai kai maine apna phone silent par rakha tha, and secondly I was out with arjun all day and after that I just wanted to be on my own, I had a lot to think about. Lekin geet tum itni pareshan kyun ho.
Geet was relieved hearing that maan was ok and nothing had happened but now she was confused as what she would say to him, why was she so disturbed.
Maan: geet bolo, main tum se baat kar raha hoon, tum itne raat gaye yahaan kya kar rahi ho? tumme kuch ho jaata toh
Geet: woh' main
Maan: tum ghar main batake kai toh aayi ho na?
Geet innocently nodded no and made a baby face clearly showing she was sorry
Maan: geet what are you saying? agar kisi ko pata chal gaya kai tum ghar par nahin ho toh kitne pareshan ho jaayenge.
Geet just looked down ashamed of her act, she knew he was right she shouldn't have come like that, but what could she do she was just so worried for him, for his safety that she forgot the whole world.
Maan: ab chalo, isse pehle kai kisi koh pata chal jaaye
Maan called his driver and told him to come pick them up.
Maan dropped geet home and told her to never do that again and also told her that he would talk to her tomorrow as to why she did this.
Please comment and let us know what you think. Don't forget to hit the like button. Enjoy!!!
Love from Saba and Hiraa xxx