Hello frnds. I have tried my level best to make this rain sequence special and I really hope u will enjoy this part. Guys I really want to know ur views regarding today's update this is really very imp for me. This is a sincere request to all d silent readers n d ones who just press d like button pls frnds atleast aaj ke update pe comment zaroor karna'
Love ' piya
PART 17
Geet: ( self talk)Ye scooty rukh kyun nahi rahi hai
Maan: Geet ye kaisa shortcut hain pechle 3 ghanto se tum yaha waha mujhe gumaye ja rahi ho' aakhir tum batati kyun nahi ke humhe jaana kaha hai?
Geet: Maan ye shortcut hi hai' tum phikar mat karo main tumhe sahi jagah lekar jaa rahi hoon
Maan: Geet jald hi raat honewali hai aunty fikar kar rahi hogi
Geet: Maan mumma tho mausi k yaha gayi hai' ab wo direct kal shaam ko hi aayengi
Maan: Geet wais eek baat tho hai adi ne tumhari scooty ka kaam badi acche tareke se karwaya hai dekho ek baar bhi rukhi nahi
Geet: ( thinking) Issliye main sochu ke aaj meri scooty rukh kyun nahi rahi' Adi bhi na kya zarurat thi scooty ko repair karne ki
Maan: Geet lagta hain ke bearish honewali hai chalo ghar chalte hain
Geet: (suddenly stops her bike)
Maan: Kya hua geet ye kaha rokh diya
Geet: Maan maine kuch nahi kiya bike khud b khud rukh gayi
Maan: Ok let me see what happened
Geet: (immediately removes the key n places it in her purse) nahi maan ab iska kuch nahi ho sakta
Maan: geet mujhe ek baar tho dekh lene do
Geet: Maan this is my scooty aur mujhe iske baare mein tumse zyaada pata hain'
Maan: But...
Just then it starts raining
Maan runs and takes shelter beneath a tree
Geet : Maan tum waha kyun chale gaye... yaha aao
Maan: Geet mujhe beemar girne ka koi shauk nahi hai
Geet: ofho tumna bilkul bhi enjoy nahi karsakte jaante ho pehli bearish mein bheegne ka maaza hi kuch aur hota hai. Tum wahi baitho mujhe tho bearish mein bheegna hai.
Song starts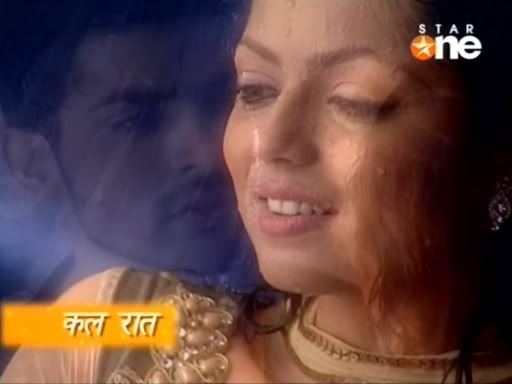 Hmm' hmm' ye ye ye'.hmm'hmm' aa aa'.
Geet is enjoying the rain
Music starts
Maan is admiring geet. He is completely bowled by her innocence and charm.
Maan starts walking towards geet. Today he doesn't wish to control his emotions
Saanson Ko Saanson Mein Dalne Do Zara
(Maan places his hand on geet's stomach . Geet didn't expect maan to b this close and hence she is somewhat surprised)
Hmm'hmm' hmm' hmm' la la la la la la'
Saanson Ko Saanson Mein Dalne Do Zara
( Maan slowly opens geet's hair )
Dheemi Si Dhadkan Ko Badne Do Zara
( geet turns to face maan she tries to say something but maan places his finger on her beautiful lips and doesn't allow her to speak)
Lamho Ki Guzarish Hai Yeh Paas Aa Jaaye
( geet's heart beat starts increasing. She tries to go away from maan)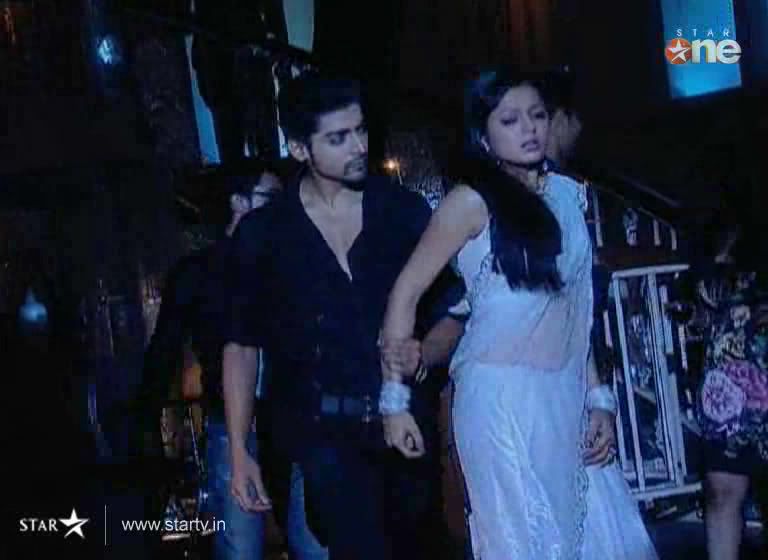 Hum'. Hum tum'.
(Maan holds geet's hand and doesn't allow her to go)
Tum'. Hum tum'..
( maan again gets close to geet)
Aankhon Mein Humko Utharne Do Zara
( This time geet starts responding and looks lovingly at maan)
Baahon Mein Humko Pighalne Do Zara
(She places her hand on maan's shoulder)