26/5/2011
Previous Episode
http://www.india-forums.com/forum_posts.asp?TID=1691371
Next Episode
http://www.india-forums.com/forum_posts.asp?TID=1693114
As the story of the day opens, Minoo Tai tells Naina that Vibha and she are going to fast , and asks her to prepare some Maharashtrian food to be had for the fast - vadas made from potatoes and sago.. Abhi offers to help, but his mother stops him, and tells that she asked Naina to do it.
The family sits for prayers and from where they are, we can see Naina, fumbling with the ingredients, unaware of the recipe. She was a girl brought up in a wealthy family in Sikkim, in the north, and with a step mother, who hardly was seen in the kitchen, and the child was looked after by a maid. In the boarding house too, she was quite independent. This is the first time she has come to Maharashtra, and Abhi's mother wants a girl, well versed in the traditions and customs of her family. This individualistic woman, had indeed a tough time in bringing up this son of hers. She feels hurt, that her son did not consult her, and is bent upon proving to others, that Naina is not a fit person to fill the esteemed shoes of a daughter in law of her family.
As Naina is trying to figure it out the method of preparing the snacks Daksh sends her an SMS recipe to prepare it, and she follows it, and makes tasty vadas. The future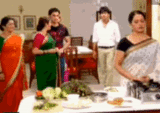 mother in law goes to the kitchen table, to examine the work, and with her comes the effusive Vibha too. The latter is all in smiles, thinking her favorite Naina has managed the job well, and Naina asks Minoo Tai, to taste the vadas. Rohini in the rear, is waiting to see something to go wrong, and peering through the people in front, and then the autocrat, comes with the verdict. She finds fault in the kadai, (frying pan). According to her, one has to use new frying pan, for the breaking of the fast. Rituals supersede humanity. She chastises Vibha for not showing the traditions of her people to this girl, who has spent five months, according to the reliable proof offered by the devoted daughter in law, Rohini. Minoo walks off, without tasting the vadas, and all sycophants go behind her. Rohini stays back, and wants to taste the vadas which appear very appealing. She takes a bite and finds them good and offers to Sanket, who refuses her 'generosity'.
Naina rushes out of the place to her room, with her head bowed down, and tears gushing from her eyes. Daksh excuses himself from the rest, and goes to see Naina. In the meantime, in another part of the house, Abhi is being questioned by his mother, who is very cut up, because she has found a son for whom she devoted her whole life, has fallen for the charms of a girl, whom he knew only for a few days. Vibha is kept out of the discussion, and the control-freak decides that Naina is not a fit person to be a member of her household. She is angry with her sister for not correcting her son. The matter ends there as far as she is concerned, as she has already found a respectable Marathi girl to be her worthy daughter in law, to tie the knot with her son. -
SSBN fans must be breathing a sigh of relief !
Kaka is packing up, to leave the house, and tells Shyamal to take care of the children and herself. He will be away for some time.
Is he running away from Bakshi?
In Naina's room, Daksh finds her sobbing and wants to console her, but she tells him that she does not want to speak to any one at the moment. Daksh quietly takes a chair and sits by himself, watching Naina. After a long time, she looks up and finds Daksh and asks if he has been there all the time. She gets up, and holds his hand and says "Thank you", and he asks for what. She tells for being with her when she wanted someone. Naina confides that she never had any one to groom her in the traditions of any one, not even her family. She does not tell him much, but she tells him, that when she is a girl who has no idea of the customs, who will marry her.
Daksh finds his courage and says, "I will marry you." Then he adds, "Will you, marry me, Naina?" We have to wait for the answer tomorrow.


Edited by walquest2000 - 27 May 2011 at 3:47am