Originally posted by desigal90
Originally posted by Pulwasha
Originally posted by TallyHo
takes desu to a corner and psssttt...
" saifu is da best""
takes BB to a corner and psssttt...
"bhai is the best"
all dance together happily to "dhinka chika dhinka chika..."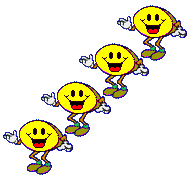 Saifu's the best for desu and Salman's the best for billa and (mee too)
do taali tally ho..
And clearly no one paid attention to the topic of the debate, which was focusing on acting.
This is perhaps the worst forum to debate on. No point investing any energy here. Just a waste of time.
Am glad you all were entertained with this nonsense for the past half hour or so. Please exit to the right and throw the the trash in the bins on the way out
desu i gave my explanation.. i said we cannot compare both..
u guys are too serious..i dnt really care about these actorss.. wat does it take away or ad to my life if they know how to act or if their movies work.. if i like to watch them on screen i will watch it and forget..
aur loo tv pe bhi dhinka chika aaraha hai..