24/5/2011
Previous Episode
http://www.india-forums.com/forum_posts.asp?TID=1689701
Next Episode
http://www.india-forums.com/forum_posts.asp?TID=1691371
Naina is trying to explain to Abhi, that from the first time, his mother set her eyes on Naina, she took a dislike to her. She says, that first impressions are lasting impressions. Abhi has his own views on how to influence his mother, and convince her to change her mind. Naina has no hopes. Daksh has been watching them, and when Abhi's eyes fall on him, he tells Naina, that if she does not believe him, she can always ask his cousin Daksh, who is non-committal. Naina sees him, and calls his name, in recognition of his presence. Just then, from downstairs, Minoo Tai, calls Abhimanyu down, and he tells her that he is coming. When Abhi is gone, Daksh tries to make Naina comfortable, by telling her not to be afraid of his aunt. When Naina asks him, why there is so much difference between his mother and his aunt, and Daksh tells her of her background, as how when Abhi was 3 years old, his father had died, and she struggled alone to bring him up, and that has formed her nature.
In the meantime, Rohini is gloating in her room, as she is combing her hair, and chatters with Sanket, about how his aunt dislikes Naina, and she thinks that his aunt is a good judge of character. Hope she has not rushed too soon, to praise her in the game of winning scores against Naina.
Abhi goes down when his mother calls him, and finds her doing her yoga, and is made to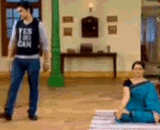 wait. He is jittery, and wants to speak to her, and she lets him do it. He starts asking her if she liked Naina, and that sets her bells ringing. She stares at him, and wants to know what interest he has in her. The mother runs down Naina's upbringing, and blames her parents for allowing her to talk to elders without respect. Abhi wants to explain, but before he can open his mouth, he has to shut it, as the mail train, can not halt. She says, that she has news which will make him happy. She tells that on the following day, they will leave for Amravati. He asks her, why? And she tells him, about a beautiful girl, with tradition and culture ingrained in her, and she has made up her mind, to make her a daughter in law, and that on seeing her, she knows her son will love her. When Abhi sees, Naina standing on the steps, he stares at her and his mother asks at whom he is staring. Naina has heard enough of the mother of Abhimanyu Kulkarni, and walks back wondering why always, it happens to her.
In a dingy place, Kaka Shridar, is negotiating with the debt collectors, who are counting money, and tell him to get the house papers, ready, and vacate the house in fifteen days. He walks home, and sees his family, and without speaking to any one, tells his wife that he is hungry, and wants food. Then a call comes, and senior Patwardhan, takes the telephone, and one Bakshi is talking from the other end, and then on hearing his name, Shridar takes the call, and tells him, that he will talk to him later. He tells his brother that it was a painter, and the brother says, the house was painted for Gudi Padwa, and he says, if he wants he will paint and he need not bother.
Naina, is walking up and down in the corridor thinking of the abusive way Abhi's mother
has characterized her, as a result, she can not sleep, and Daksh meets her and sees her weeping. Naina tells him, that she was very happy and after Abhi decided to propose to her, her whole life has turned upside down. He offers her his handkerchief, and consoles her. Naina tells him, that she has been trying all her life, to please others, and every time, it has ended badly. She then relates to him, what happened with her mother, but then she stops. Daksh tells her, the past may have been bad, but the future will be better. He tells her to go and try to get some sleep.
In Rohini's bedroom, she has been pressing her electric bell switch, again and again, and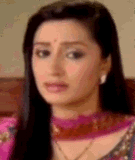 annoyed her mother in law has not brought food for her. Her husband Sanket tells her that his mother may be busy, and that he will go down and bring the food, but in the meantime, the mother comes hurriedly, with a plate full of food, and apologizes profusely, to Rohini for the delay. Sanket tells his mother that he was about to come down. Then we see a turn around. The aunt comes from the temple with the prasad, and offers first to her sister and then to Sanket and lastly to Rohini. She notices that the young pregnant woman, has been making her mother in law dance to her tune, as soon as she rings the bell ! She gives her a long lecture, and chastises her sister as well, and her sissy son, for losing his backbone, ever since he got married. Rohini, is raising her eyebrows, and fanning herself. The aunt has a thing or two for her, on the well being of women in pregnancy. She tells her that she should walk around, and to come from breakfast downstairs from now on. She also has to come down for the pooja, as God will not come up, on her ringing her bell ! Rohini now discovers that the Aunt is not so good after all. How can she find fault with her, Rohini !
As Minoo Tai goes out, Akruti dashes her, and a flower drops, and Akruti has a fainting fit again, and Minoo Tai remarks that Rohini is getting dizziness, due to pregnancy, but what about Akruti? The girl looks at her aunt, with self doubt. Her mother and Aunty Vibha too are amazed.
Abhi tries to keep Naina interested in him with all his dramatic gesticulations, but she has lost all hope and has decided that she is no longer able to go on pleasing others, just because they want it.
In the pre cap, Abhi asks Daksh to put in a word for him with his mother. Daksh turns round and gives him a fiat. "You say that you love her, and you want me to do the job for you? Do it yourself, and take some responsibility" and he walks off. Abhi tells himself, that he has to do something to get his mother round.


Edited by walquest2000 - 07 June 2011 at 6:17pm