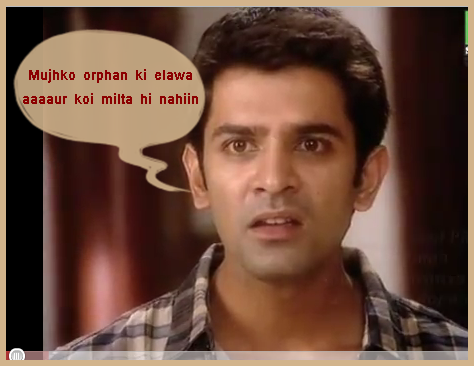 Shravan,Arnav-----"Hey Bagwan!! kyon aap, mujhe hamesha anaath ladkiyon se jodthe hain?"
Bagwan-----"Kya karen, Thumara chahne walen toh bahut zyada hai is IF mein. Isiliye meine socha, agar thume anaath ladki milega, thum thoda sudhar jayega"
Shravan,Arnav------(in under his breath)--"Oh ! This god is cruel.Spoilsport! saddling me with one girl, when I have hazar ladies drooling over me."
Bagwan-" -----I heard it!! But look at the bright side. You will still have more ladies drooling and rolling on the floor over you. Any which ways you look at it, you are like the 'king bee' attracting and charming everyone"
Shravan,Arnav----" Thankyou. Now that Saachi is with me hamesha ke liye,hope in my new avatar Kushi dosent unkushi me"
Bagwan----" you think so? Wait and watch bachha! You have lots to undergo before I myself figure out, Is pyar ko kya naam dun."