23/5/2011
Previous Episode
http://www.india-forums.com/forum_posts.asp?TID=1687921
Next Episode
http://www.india-forums.com/forum_posts.asp?TID=1690506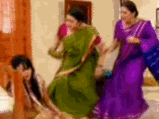 As Ayee and Shyamal are coming home, Akruti is in her room, with a fainting fit, and resting along her bed. They enter the house, and discuss, as to who will be the first to let her sister know that Abhi has proposed to Naina, and Vibha says, that let her son do the job. Then they hear a shriek from Akruti, and they rush to her room, and come to know that she has kept a fast, and is feeling weak. They ask her to rest, but she has to meet a client. The mother tells her to take her telephone.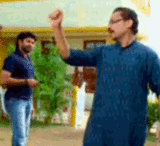 Naina is on the line to Daksh and telling him, of her anxiety regarding Abhi's mother, but he gives her courage. He asks if she informed Abhi, but she feels more at home with him, so she has called him, and Daksh feels better, and rushes home to come to her help. Shridar Kaka, is discussing a deal for the sale of the house with one of the henchmen of the money lender, and as he is showing off 'his' property, Daksh enters the compound, and looks at him sternly, and does not say anything, and Kaka feels out of place and sends his buyer away, and Daksh is told that he came to give a quotation for painting the house. Daksh walks in to his house, and Kaka goes his way.
Daksh meets Naina. She tells him, all that went before she met his aunt, and he promises to set things right. Then they go to the kitchen, and prepare tea, and Daksh
helps her. Minoo Tai, is in the hall, and the ladies of the house are trying to humor her. Naina comes with the tea, and the aunt, tells she does not want it, but her sister persuades her to have. When she sips she finds it with sugar, and as she has given up having tea with sugar for the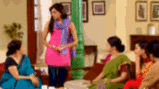 last two months, tells Naina to take the tea back, and she is hurt. Daksh is cutting some fruits, and his aunt tells him the correct way of doing the job, and when her sister tells her that it is fine the way her son does, she points out her fault of compromising with everything. She had been telling her from childhood, that it is not good to compromise, but she never could agree. She feels, that her inflexible ways have led her up the ladder, and she points out to her that her son, Abhi is like her, with compromises, and fun and frolic. But her son Daksh is more like her serious. She asks him, how is work goes on, and she tells him that he should have taken up the criminal lawyer field. Sanket and Rohini pop in, and Rohini starts her flattery of her aunt, and the latter feels great. As the topic of Naina gets going, she asks whether she met her sister for the first time at the joggers' park. Before Naina could answer, Rohini butts in and says, that she met, she came, and she is becoming a daughter...
Abhi is rushing with a packet in his hand, and accosts his aunt Vibha and asks her if the saree he has bought for Naina will suit her on her being presented to his mother. But she has to tell him something, and Abhi says that it can wait, and holds her hand and drags her into the house. As Rohini is continuing her story of the Jogger's park, and her interpretation of the event, she is interrupted by her son. Abhi comes in and calls Naina and tells her what he wanted to show her. He rushes in and gushes to Naina telling her, what he has brought, and the Mother looks at him, and Abhi is stopped in his tracks; He is stunned to see his mother sitting there amidst them. The mother is watching him with concern. She wanted to know what he wanted to show Naina.
On his mother's persisting questioning, he changes his story, and tells that the saree was a gift for his aunt for her anniversary. They all look at his face, with unbelief. Later, he tries to ease Naina, and tells her that he will see to winning over his mother, but in the pre-cap, we see what is in store for him.
Akruti is meeting a client, and during the meeting she feels sick, and her client points out that her sister too had the same feeling when she became pregnant, and the color from Akruti's face drains and the client notices it and says, that she did not say that she was pregnant, to make her feel at ease.
Naina explains to Abhi that from the first time his mother set her eyes on her in the market, she has made up her mind, and does not like her. But Abhi tries to have the best of the two worlds, that of his mother and that of his liking Naina. Daksh is watching him with impatience. Abhi still wants to keep Naina on his side, and he gives her all sorts of hopes, but Naina is too smart fo fall for him.
In the pre-cap: The mother tells him, to get ready to go to Amravati, to see a girl, whom she has selected for him. Abhi is dumb and silent,.


Edited by walquest2000 - 24 May 2011 at 3:38am