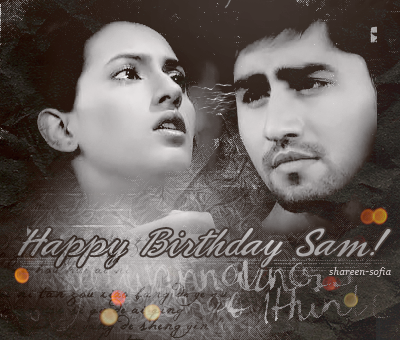 M E S S A G E S
-Dimple-
Wish you a very Happy Birthday Sammy!!
God Bless You
Have a rocking day!!
Love
Dimple
NaDzGirl
sammy, i wish u all da very best for a faaabulous b day honey bunch!!!!
haaappy birthday sweetheart
keep smiling, keep blooming smiles on our faces with ur gorgeous creations!!!
i luv u heaps mwaaah...
here's little gift for u from my side... hope u like it...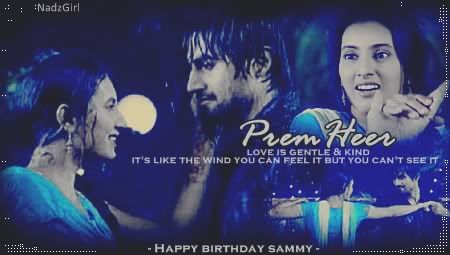 Jyotix
Happy b'day Samia God bless you thanks for all Premeer VMS and pictures. Love u

priya.harshiti

||*$*|| A very Happy birthday to u samia
Hope your day turns out to be as awesome as you are and May all your dreams and wishes come true
Sending you smiles for every moment of your special day?Have a wonderful time and a very happy birthday ||*$*||
And Many many happy returns of the day
Sukurtha

I hope you enjoy your birthday,
All the pleasures it has in store,
And because I appreciate you,
I hope you have many more!

Mazka
HEy Sammy Baby..
..wishing you a bery bery happy birthday!!so phinally ure 19..yeayyy!!!hope to see you soon here in Hyd..you're taking alot of time to come her,please do it soon..
...wishing you all the best for your college and studies...keep rocking!!


Liana
Hey Shona
happy birthday!!!

wishing u a very happy birthday
On your birthday,May allah bless u,may ur all dreams come true.
I wish you a year with loads of fun,
excitement and beautiful memories.
Have a wonderful bday!!



wishes k bad kuch meetha hojaye
premeer928
Sammy!!!
It's your special day and I am here to say many many happy returns of the day.
May your day be filled with surprises, laughter, and lots of gifts. Don't forget to make loads of wishes when blowing those candles on your cake.
May all your dreams and wishes come true. May this day be as special as you are'.Happy Birthday Samia, or should I say sumera'hehe.
Enjoy your birthday, have fun, and once again, a many many happy returns of the the day. '.love you loads.
On your birthday I wish you much pleasure and joy;
I hope all of your wishes come true.
May each hour and minute be filled with delight,
And your birthday be perfect for you!
After the greetings...here comes the cake!!!
Enjoy...and save some for me too...
Next time for your gifts...guess whats in each box...hehe
Once again...just want to say...
Lots of love
Afreen
Athisdagrh
Happy Birthday Samia
You're a fab siggie maker, awesome vm maker, and helpful person.
Enjoyed your creations as fan and had fun being a friend.
It's lovely to remember and celebrate birthday of a phroolicious PH phan
Have a rocking birthday and a fab time on your party.
Wish you all the best for the year ahead!
Athisda

*~Anjali~*
-----------------------------------------------------------------------------------
Done


Edited by shareen - 22 May 2011 at 2:12am