20/5/2011
Previous Episode
http://www.india-forums.com/forum_posts.asp?TID=1687044
Next Episode
http://www.india-forums.com/forum_posts.asp?TID=1689701
As we saw in the pre-cap of the yesterday, Daksh is being confronted by Akruti, and extracts from him a confession, that the washed out card which he had snatched from her, and tore it to pieces, had been prepared by him for Naina, and that indeed he loves her. Since he is too self conscious, and can not convey his feelings, he makes Akruti take an oath, to hide this truth from Naina. He wishes away his responsibility, by saying that Naina accepted Abhi's proposal, before he could tell her anything. Akruti can not be bought in with his lame excuse, and she still insists he could have told her, as she took a long time, before she said yes to him. Just as they are arguing, and with her hand on his head to take an oath, they are interrupted by Naina, who enters unannounced, and asks them what the oath was about. Akruti is adept at telling lies, and says, "I made a promise not to wind up the business, after you are married." Naina, says that it is not a big thing, and in any case, she did not want to stop working and they will still be doing it even if she were to get married. She tells them that marriage is a relationship, and a new relationship, does not stop other older ones, that easily. Akruti and Naina go to their rooms, as it is turning late in the night.
As Naina is entering her room, Akruti stops her and asks if she loves Abhi. She answers in her own obtuse way. She is surprised how she answered Abhi so quickly. She gives the credit to the encouragement she received from Daksh. When Akruti asks if she is happy with the decision, and if she loves Abhi, she tells her that Abhi loves her, and she knows it. As for her, she believes, that being with the one who cares for her, will give her a steady companion in the long journey of life. Love will blossom eventually. She tells Akruti that she knows more about love, as she is in love with Ayush. Akruti now knows that Naina does not love Abhi, and she has to do something about it. Can she?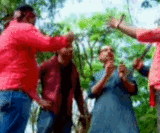 At this very moment, on a lonely road, Kaka is walking with the phone glued to his ear, and assuring someone, that he will settle the account before the end of the month. He tells him, that he had given him time in the past, and he will not fail him this time too. As he is sauntering along, the debt collectors' gang follow him, and one places his hand on the shoulder of Shridar Patwardan, and they terrorize him into paying the amount. Shridar's purse is snatched, and out comes his money, ten rupees in all, and the gang tell him with a smirk on their face, that the chap who talks about returning his loan, has only ten rupees in his expensive purse ! As they wrestle with him, Kaka falls down, and he gets an idea, and tells them that the house belongs to him, and he will sell it and pay them. They let him go saying to sell and pay to their Boss.
Next morning, Daksh and Naina are going to their work and Abhi too joins them, and says that he has to go for a training camp.
Next we see Naina in the road-side crowded market, buying some things from a
hawker. Before she could collect her bags, commotion is set in motion, with the warning that the police are on their way, and all the hawkers pack up and go, and with it go the bags of merchandise which Naina bought. She is very disappointed, for the waste of time. With the fear of being caught, all the hawkers are rushing from the scene, and the one with Naina's bags, falls in front of the taxi carrying this blue sareed, lady.
In the market, the well dressed lady in a blue saree, had taken a taxi and asked the driver to take her to her destination, but he takes a short cut and enters a one way street, where entry is forbidden, but the taxi driver has
violated a law. All the people get round the taxi driver, and start beating him up, and the majestic visitor to Mumbai, steps out of her car, and yells at the crowd, as to why they are beating the driver. It was not his fault she says. As she is trying to take control of the crowd, and show her power, which incidentally, she must be taking with her everywhere, as she is used to showing off, due to her unique position in her home town. She is a woman, to be reckoned with, and all tremble when Mrs Kulkarni walks around. To her chagrin, a young girl with salwar khameez, is looking at her concerned that the man who had fallen down, was the trader with whom she had just concluded business. The young girl, (you might have guessed is our brave Naina), questions the lady in blue. "Where is the justice?", Naina defends the trader, and she gets it back from the lady in blue. Hawking on roads is against the law, and the crowd should blame the man who fell in front of the taxi, and not blame the driver. Naina points the "No Entry: board to the lady in blue, and tells her that her driver too has violated a law. The lady, tells her that she can not understand, why she is defending the hawker. and when she hears she is on the side of humanity and justice, she takes is as an insult to her, as if she does not have it. Naina tells her that she does can not decide her moral position, but what she promotes here is absolutely unjust. The fault is on the part of the driver, and then the lady tells her that she is not interested in her opinion. When she tells her that she has no time for her, Naina too tells her the same, that she too thinks it is a waste of time to talk to her.
The sirens blare and the police come and arrest the driver,for entering a one way street, and when the mighty woman asks the police how will she go if the driver is arrested, they tell her, that it is a big city, and she can hire another taxi,but she is in a one way street, and there are no taxis there. She decides to walk it out, and takes her bags from the taxi and starts trudging along the road, dragging her bags. Naina watches and worries, "Who will pay the bail amount?" Before leaving, the lady, has a good look at Naina, and angrily leaves her and walks away to go to her sister's house, and they receive her, and make her comfortable and shower a lot of attention to the attention seeking woman.
There is a knock on the main door of the Patwardan house, and Vibha goes to open it, and as the door opens she sees her Naina, all upset, and as she starts telling her about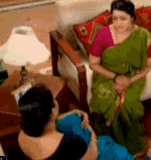 what happened in the market, Vibha tells her that all that can wait, but now she should meet her mother in law to be.
In the living room, the lady in blue is resting on the couch, and massaging her thighs, as she is tired of carrying her bags and Shyamal is attending on her, apparently with great obsequiousness. and giving a patient ear to the non stop condemnation of a girl she met, and confronted her - obviously for the first time, and she was not able to put her in her place. She attributes the girl's behavior to the upbringing given to her by her parents, as she has descended from a noble line of people who were given to high moral values. She is the autocratic sister of Vibha as once Kaka had told them.
Vibha gingerly walks in with Naina, thinking that her sister will be pleased to see her
daughter in law, about whom she had spoken to her on the phone, but as their eyes meet, Minoo Tai, flares. She does not look too much older than Vibha, but just the fact that she might have been born a year or two before, gives her the upper hand and the power to dictate to every one, and these people have to kow-tow to her. When Naina tries to explain, the haughty lady in blue is not prepared to listen, and she blames her upbringing and her parents, and has already made up her mind. (All the viewers may be jumping for joy ! - at last, their favorite Naina is out of a bind.) Vibha as effusive as ever is not able to see the tense atmosphere and glows to her sister about Naina and all her good attributes, but her sister has no intention of listening to her, and has decided to go for a wash, and take her rest. Vibha tells Naina to prepare a hot tea for her sister, and she angrily looks back at her sister, and tersely tells her: "No need for it".
Akruti receives a call from a client, and she is hunting for some papers, which she does not remember, where she has kept. She looks every where, and then takes a file from the cup board, and opens it, and panics. She is getting a fainting fit and sinks to her knees, and telling the client that she will call him later, she struggles to her bed. The reason of her indisposition is not known, but possibly may have to do with yer association with Ayush.
In the pre-cap: Naina is perturbed and worried at the behavior of Abhi's mother, and turns to the only person she can think of. She calls Daksh. She tells him, that she is afraid, and he assures her to be there in a moment - (Tere Naina, plays in the background). He asks her if he has informed Abhi, but where has Naina been ever confiding in him? It has to be Daksh, and she is waiting for him, to take her out of this mess. Better days ahead?


Edited by walquest2000 - 23 May 2011 at 3:38am