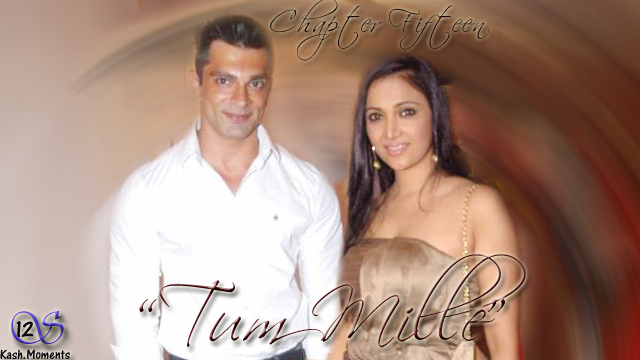 As the sun rose, birds started chirping loudly in the morning... The cool breeze hit the glass windows making them cold as ice... Winter days were welcoming everyone...
The sun rays peeped inside a small room through curtains and disturbed her beauty sleep...
"Ahhh..." Making a sleepy sound Shilpa slowly opened her eyes... Blinking them slowly again and again she let her hand out from the comforter and felt cold... "Sardi ho gai hai..." She mumbled and again put her hand inside the comforter... As soon as her brain woke up properly she realized that she was wearing the same lehnga she was wearing last Night at Karwachauth function.. Its just that her chunari was missing and she was covered with Armaan and the comforter that is why she was not feeling cold... He was lying down beside her but was protectively hugging her from the back... She smiled and slowly removing his arm rested her back against the bed post... moving her eyes away from him, she looked up and shouted..."Armaaan!!!!!"
"Huh kya hua?????" He woke up with a jerk looking here and there and then at her...
"Hum kahan hain???? yeh humara room nahi hai..." Shilpa looked all over the room again...
"Ufff... dara diya tumne mujhe Shilpa..." Armaan took a sigh of relief and again lied down moving the comforter up to his neck...
"Hum kahan hain???" She nudged him...
"Hum lonavla mein hain..." Armaan replied again closing his eyes...
"Lonavla??? yeh kaun si jagah hai???" She moved the comforter away from him and again made him open his eyes...
"Arre meri maa... Lonavla, ek hill station hai India mein... jahan hum abhi hain... ab isse pehle k agay tum poocho mein khud he bata dun... mujhe yahan kaam tha aur mujhe yeh bhi pata hai k yeh jagah tumhe bohat pasand ane wali hai isiliye hum yahan aye hain... secondly yeh hill station zyaada door nahi hai isiliye meine poori raat drive kiya hai aur ab hum yahan hain... Tum so rahi thi isliye tumhe uthaya nahi aur ab mujhe sone... mein poori raat ka jaga hua hun..." Armaan pouted and again pulled back his comforter...
"Arre aise thodi hota hai... mere kapre??? aur.. shopaw bhi ghar pe hai... aur yeh hum kahan thaire hain??? Aur aisa achanak kya kaam agaya??" Shilpa started rapid firing...
"Tum kuch zyaada he nahi bolne lagi ho???" Armaan's eyes pooped out at one back to back questions...
"Arre..." She glared at him...
"Lonavla mein sanjivani ka ek orphanage hai aur hum iss waqt wahin hain... wo saamne jo bag hai uss mein tumhare aur mere kapre hain aur wo uss basket mein tumhara kutta shayad abhi tak so raha hai... Actually kya haina... k kal meine socha k tumhe kya dun?? phir socha tumhi se pooch lun yaad hai meine tumse phone pe kaha tha k apni ankhein bund karo aur batao k kya dikha??? aur tumne kaha tha k ek khobsurat si jagah k beech mein jalta hua ek diya... Diye ka to pata nahi lekin yeh jagah kaafi khoobsorat hai... so enjoy!!!" Armaan giggled at the way she was looking at her with her big eyes...
"Armaaan..." Shilpa whined and leaving him again with the comforter went out of the bed... She went towards the small table kept on the side of the room and opened her bag to see what Armaan has packed... She was not surprised to see everything she needs was available there.. Subsiding her jewelery she wore last night which Armaan kept inside the bag, she took her necessary things and went inside the washroom...
Armaan turned his side and covering his head with the pillow again went to sleep... he was hell tired... He again woke up when he heard Shilpa shouting and beating the bathroom door...
"Kya hua???" He asked in a loud voice...
"Yeh khul nahi raha..." Her tensed voice came out...
"Acha wait... relax!!!" Saying so Armaan got out of the bed and went towards the washroom... twisting the lock he pulled it harder and the door opened up... Shilpa came out and just hugged him, she was wrapped in a towel and was shivering due to cold...
"U ok????" He rubbed her back to calm her down and took her towards the bed...He made her sat down there and then gave her some water to drink...
"Hojata hai kabhi kabhi... relax!!!" He said sitting down beside her and gave her a side hug...
"Pata nahi kyun Armaan mujhe kuch bohat ajeeb sa lag raha hai..." She hugged him tightly...
"Ajeeb sa???" He passed a confuse look at her...
"Haan... sardi lag rahi hai mujhe..." She made a sad face and a smile appeared on his face...
"Acha... wase normally agar koi tahnde mausam mein, naha kar aye gaa aur aise towel mein betha rahe gaa to usse sardi he lagay gii..." He looked at her hiding his smile...
"Tum naa..." She hit him playfully and stood up to get some clothes but landed on the bed again this time over him as he pulled her back...
"Wase sardi bhagane ka alternate ilaag bhi hai mere paas..." He winked at her...
She looked down blushing a bit and he smiled at her reaction... Turning her upside down on the bed, he kissed her cheeks one by one which turned red immediately after that...Hiding his face in the crook of her neck, he kissed her there leaving wet patterns of it everywhere and entwined his fingers with hers... She moaned out his name as he proceeded further which made him more crazy... He looked at her once again only to find her with close eyes feeling the moment... They both were high in passion, feeling each others love... Without even letting her know he slowly opened the knot of her towel and covered both of them with the comforter... Moving further he caressed her back whereas her body started responding to his touch and moved in the rhythm with his fingers...She can feel his warm breath against her body... Indeed the atmosphere inside was turning hot, full of love and romance...
Kissing her shoulders and neck, he came down to her navel and stopped...She opened her eyes as she stopped feeling his kisses... And passed him a confused look to which he smiled and again went up to her face saying... "Sardi to nahi lag rahi naa ab???? mein thuk gaya hun i am tired.." He hide his smile...
"You are such a torture sometimes..." She gave him an irritated looked and then pulled him into a passionate kiss... He responded back equally and with this torture and tease they didn't knew when they went into a different world which was of only and only their love...
Shilpa woke up after sometime...it was still 8:00 in the morning... she smiled remembering the past few moments and stroking his hairs lovingly just stared at him... he was looking so cute while sleeping peacefully... she can actually sense how tired he must be...She plated a soft kiss on his forehead and whispered.."I Love You!!"

After getting ready she looked inside the basket for shopaw, who was now looking all around with confused eyes...But as it saw Shilpa... It climbed up the basket and Shilpa took it in her arms...
"Good Morning!!! I know.. aj ki subha thodi ajeeb hai... hum ek nai jagah par hain..." She talked sweetly with shopaw ruffling its white fluffy hairs...
She got out of the room to explore the whole orphanage and saw so many kids running here and there... who were actually gawping at her, shopaw was in her hands and some kids were afraid of him while others were thinking how cute it was...
"Tum kaun ho???" A fat boy came forward actually pushed forward and asked...
"Mein Dr Shilpa hun!!! aur tum???" Shilpa asked in a friendly way...
"Mein gappu hun... tum isse pehle to kabhi yahan nahi i??? " He inquired...
"Gappu!!!! Tumne phirse apni inquiry shuru kardi??? Arre yeh Sanjivani se i hain... " The old caretaker called as Bua announced...
"Arre baapre... yaani phirse injections????" The kids shouted and ran outside...
"Bachon... shor nahi..." Bua shouted...
"Tum... Nai(new) ho sanjivani mein???" Bua asked...
"Jee..." Shilpa smiled...
"Yahan bache kuch zyaada he shareer hain... aur injections se inhe bohat darr lagta hai bus isiliye..." Bua explained Shilpa about kids behavior...
"Hota hai... injections se sabhi bachon ko bohat darr lagta hai... " Shilpa smiled again and thought to help Bua out in breakfast so she returned back to her room and putting Shopaw again inside the basket went back to find a bowl so that she can give shopaw something to eat...
...
All the kids got really happy to know that shilpa is there for some other work not for giving them injections or any other medicines.. Even they all found her very friendly and kind...
Even Bua liked shilpa as a person... the biggest twist was that they all were unaware of Armaan's presence and have almost lost all hopes to see him again... After Riddhima and Sid's marriage when Gappu came to know about it he got really depressed... He loved Armaan and now misses him really much.
"Arre Shilpa!! mujhe to kaha gaya tha k do doctors aein gay sanjiani se... aur office se bhi yehi news i thi k aj yahan do doctors aye hain subha.. to phir??" Bua asked shilpa about the other doctor...
"Ummm wo actually usne poori raat drive kiya naa?? to abhi so aha hai..." Shilpa smiled..
"Oh Acha..." Bua smiled back and the started calling kids for the breakfast... Bua even asked Shilpa to join but she refused saying that she is not feeling hungry... Shilpa was one of those people who can not eat immediately in the morning after waking up... she takes for about one or two hours to make her self ready for breakfast... till then she usually complete her house chores and waits for Armaan to get up and then his tantrums in waking up but Shilpa loves it... Sometimes she even feels she can not just live without these small small things...

After the breakfast all the kids got ready for their school and left whereas Shilpa went out in the lawn to get a clear view of the whole place.. It was all very beautiful especially the area where different colored flowers were present and the butterflies were flying over them... A smile appeared on her face, she was so much mesmerized by this beauty of nature...
Bua was busy in preparing lunch when Shilpa asked her if she can help a little... Bua agreed at this and the fun started for Shilpa... She was learning new things to cook which she never tasted before but here kids love them so bua was preparing it for them...
"Shilpa!!" Shilpa and Bua both turn around hearing Armaan's voice...
Bua's jaw dropped down seeing him standing at the kitchen door...
"Armaan???" His name came out from her mouth...
"Oh! Hi Aunty!!" Armaan greeted her with a smile...
"Mujhe to laga tha phir kabhi milna he nahi hoga tumse..." Bua hugged him, she was extremely shocked with his presence...
"Arre kyun nahi hota?? mein apka kuch leke bhaaga thodi tha k wapas na ata..." Armaan joked...
"Bhaage to ho tum... sab bachon ka dill le kar... jo purane bache hain yahan wo tumhe yaad karte nahi thakte aur jo aye hain wo sochte rehte hai k akhir unke doston ka Armaan Bhaiya hai kaun??? jisse itna yaad kiya jaata hai??" Bua ruffled his hairs...
"Seriously... mein unhe abhi bhi yaad hun???" Armaan passed a surprised look...
"Lo... tum koi bhoolne wali cheez ho?? aur pata hai gappu to bohat he chup hogaya hai jab se usse tumhare goli lagne, Riddhim aur Siddhant ki shaadi aur tumhare kabhi wapas na ane k baare mein pata chala hai..." Bua's smile faded away...
"Gappu kahan hai???" Armaan looked down and then asked passing a light smile at Bua...
"School gaya hua hai... aye gaa to dekhna kitna khush ho jaye gaa..." Bua again smiled...
"Hmmm tab tak mujhe kuch naashta mile ga??? tum to hawaa pe zinda ho isliye poochna he bekaar hai..." Armaan taunted Shilpa..
"Very funny!!!" Shilpa made a face...
"Tum chalo... mein laati tumhara naashta..." Shilpa turned around pressing her lips together...
"Yeh????" Bua passed a suspecious look to Armaan and then looked at Shilpa...
"Arre biwi hai meri...isliye itna to bol he sakta hun..." Armaan cleared Bua's confusion...
"Huh???" Bua's jaw agai dropped down while Armaan left and Shilpa followed him with the Breakfast tray in her hands...
...
"Arre yaar tumhe batana bhool gaya... yahan tum khaali masti karne nahi i ho, tumhe... yahan bachon ka na sirf routine checkup karna hai bale unhe sardiyun mein flu wagera se bachne k liye vaccination bhi deni hai... gadi mein saara samaan mojood hai..." Armaan told shilpa as he took the bite of his toast and Shilpa sipped her juice...
"Kya??? mein kyun???" Shilpa pouted...
"Arre yaar Abhi ane wala tha iss sab k liye.. aur bachon k checkup k liye Atul phir wohi masla k project aur delay ho jata aur wagera wagera... to mein project k kaam k liye agaya aur tum free thi to i thought k tum yeh kaam nipta do..." Armaan told her more...
"Hmmm ok.." Shilpa took a deep breath and rested her back on the chair...
"Lekin haan... yahan k bachon ko itna shareef mat samajhna... shaitaanow ki toli hai poori.. aur mein to wase he bhaag raha hun warna office bund ho jaye gaa... so i'll see you in the evening..." Kissing her cheek he put his wallet inside his pocket and picking up the car keys starts to leave...
"Aur tum jo mujhe ghumane wale thai lonavla wo???" Shilpa pouted...
"Kaam to pehle nipta lun phir jitna chaho ghoomti rehna..." He passed her a flying kiss from the door and went out...
She smiled at his act when her cell started ringing... she frowned at seeing his name flashing...
She picked it up and heard him from the other side...
"I Just felt like saying it again..." He said while sitting inside the car...
"Kya???" She asked again with that frown on her face...
"Yehi k... I Love You!!" He smiled biting his lower lip...
"Hhh... I Love You Too!!!" A smile appeared on her face as well, tucking the hairs beside her ear which came on her face due to wind, she bit her lower lip and replied...

"App ne to kaha tha k injection nahi lagao gii... phir???" The kids pouted at Shilpa...
"Aree mujhe subha tak khud bhi nahi pata tha... lekin un karwi karwi dawaoon ko baar baar peene se to acha hai na k yeh ek injection le lo abhi..." Shilpa tried to cheer up kids...
"Nahiii" All shouted in chorus...
"Ufff!!!" Shilpa put her head down on the table with a sigh...
"Aunty app se ek baat poochon???" Shilpa asked Bua with a pout...
"Kya??" Bua smiled...
"Last time inhe kisne injections diye thai jo yeh sab itna bhaagte hain injections se???" Shilpa asked, she was pissed of by these tantrums till now and wanted to find out its reason now...
"Anjali ne..." Bua tried to hide her smile...
"Ohhh.. yaani bohat mushkil hai inhe manana abhi..." Shilpa breathed deeply...
"Tum chor so yeh aur baaki ka jo kaam hai wo karlo... in bachon ko Armaan sambhal le ga... balke usse dekh kar kaafi khush ho jaein gay saare..." Bua told shilpa a solution and went inside...
"Hmmm yeh baat to hai... Armaan ka haath kaafi halka hai injections pe jabhi wo injection laga bhi deta hai aur mehsoos bhi nahi hota..." Shilpa silently praised Armaan...
...
The kids were playing in the lawn and Shilpa was finished with her work so, she came and sat down outside taking a chair...
"Didi!! Aap humare saath khelo naa..." A cute 5 year old girl came and asked shilpa to play with them... She asked her in such a sweet way that shilpa was unable to say no to her...
"Chalo... kya khele gay???" Shilpa asked taking her in her arms...
"App ko basket ball khelna ata hai???" Another kid asked...
"Hmmm basket ball??? chalo basket ball khelte hain..." Shilpa happily agreed for the sake of kids and the game started...
She was teaching kids how to dribble the ball ad how to aim and basket...It took almost half an hour to teach them a little and then all got tired as well...
"Ab baaki kal???" Shilpa promised to teach them more the other day and threw the ball away but turned around immediately with the kids as the ball got inside the basket once again...
"Armaan bhaiyya???" The kids who knew him got shocked to see him and shouted whereas Shilpa just smiled... It was Armaan who did the basket this time..
"Arre wah!! mein yaad hun tum logon ko???" Armaan winked at them..
"Tum bhoolne wali cheez kab se hogaye???" Gappu came running, hugged him and started crying... Shilpa was a little surprised to see this close attachment of gappu with Armaan...
"Tu kuch dubla nahi hoagaya???" Armaan joked as he parted him away and wiped away his tears...
"Mujhe laga tum kabhi wapas ao gay he nahi..." Gappu cried more...
"Tumhare saamne khara hun.." Armaan ruffled his hairs..
Shilpa came forward and stood next to Armaan... She was amazed by seeing this much bonding between Armaan and kids... now all the kids were gathered around him asking him different questions...
"Acha.. wait yaar, mujhe pata tum logon k paas sawal he sawal hain.. jihe mein zaroor answer karun gaa..." Armaan said dramatically...
"Filhaal mujhe bohat bhook lagi hai... mein lunch kar lun???" He acted more ad then started laughing...
"Theek hai.." Kids agreed after which he looked at shilpa who smiled at him and went inside get ready with the lunch for Armaan and herself..
"Kaun hai yeh?? sweet hai.." Gappu commented...
"Biwi hai meri.." Armaan stretched his lips and replied passing a stern look at gappu...
"Kya??? Tumne bhi shaadi karli??? aur wahan Riddhima didi ne kisi doctor sidhant se shaadi karli... yeh chakar kya hai???" Gappu asked with confusion...
"Yeh bohat zyaada hogaya..." Armaan glared at Gappu...
"Oh..zaroor kuch serious hua hoga..." Gappu shook his head while narrowing his eyes...
"Abay chup!!" Armaan scolded him...
"Gussa kyun kar rahe ho??? baad mei bata dena..." Gappu pressed her tongue between his teeth and ran inside..

After lunch, Shilpa gave Armaan another headache by informing him about kids tantrums against injections...
"Matlab, ab yeh kaam bhi mein he karun???" Armaan looked at Shilpa with a pout...
"To mein kya karun?? koshish ki thi naa meine.. agar sab bache tumse injection lagwaa chahte hain to mein kya karun???" Shilpa raised er shoulders...
"Arre yaar injections pe tumhara haath bhi to halka hai...tum ijection deti ho to mehsoos nahi hota hai.. yeh bachee naa.." Armaan shook his head..
"Acha theek hai, i'll deal with them aur.. parson subha yahan se wapsi.." Armaa told Shilpa about his plans...
"Great!" Shilpa blinked her eyes with a giggle..
"Aur??? tumhara shopaw kahan hai??? nazar nahi a raha... dekh bhaal k rakho bhaag wag gaya to mujhe mat bolna phi.." Armaan warned Shilpa...
"Nahi bhaage gaa.." Shilpa frowned at him...
...
After a small nap in the evening, Armaan woke up only to find shilpa outside... He knew she loves kids like anything so she must be with them.. He got up and taking out his cloths from the bag went for a quick shower after which he had plans for that injection session and the taking shilpa out somewhere or he knew her taunts will not let him sleep tonight..
He was about to leave the room when Gappu came inside...
"Kahin ja rahe ho???" Gappu asked raising his eye brow...
"Haan socha haathon haath tum logon ki injections se thodi khatir tawazo kar di jaye..." Armaan stretched his lips while passing a sarcastic comment..
"Kya Armaan bhaiya?? hum masoon bachon k peeche par gaye ho tum sab sanjivani wale.." Gappu pouted...
"Ab kya karein agar tum log beemaar par gaye to tum log sajivani walon k peeche par jao gay... isliye karna parta hai..." Armaan made fun of gappu while combing his hairs...
"Ek baat poochon?" Gappu asked sitting down on the bed...
"Kya???" Armaan cocked his eyes...
"Yeh Riddhima di ki shaadi aur ab tumhari???" Gappu asked what was disturbing him...
"Gappu..." Armaan sighed and sat dow beside him...
"Dekho zaroori nahi hota k hum zindagii se jo kuch bhi chahein wo humay mil jaye...mere aur Riddhima k baare mein tum sab kuch jaante ho, lekin phir tum yeh bhi jaante ho uss terrorist attack ki wajah se mere saath kya hua..jab tak mein theek ho kar wapas aya Riddhima ki Sid se shaadi ho chuki thi... Mein wapas chala gaya aur phir Shilpa meri life mein i... Buss isse zyaada kuch nahi... Riddhima ka chapter close ho gaya au Shilpaaa to close hone wala chapter hai nahi..kyun??? biwi kabhi peecha chorti hai kya???" Armaan laughed... he very carefully made Gappu clear his all confusions...
"Hmmm biwi peecha kabhi nahi chorti... lekinn bhi bohat achi hai..." Gappu laughed and praised Shilpa...
"Wo to hai!! after all meri choice hai!!!" Armaan giggled and got up to go when he saw shopaw pulling his shoes...
"Arre wah! app yahan hain???" He took it in his hands...
"Aahhh kutta!!!" Gappu shouted...
"Chup bay... sunn liya naa ussne to bataye gii..." Armaan reffered about Shilpa...
So what Armaan say things about Shopaw which Shilpa never liked but it was just to irritate her... he loves her expressions at that moments but in reality he was also very much attached to it...
Flash Back...
It was raining and Armaan was returnig back home late night from the hospital when he saw a little boy sitting on the dark side on the road and crying...
"Iti raat ko... wo bhi iss tarah akele??? yeh bacha yahan kya kar raha hai??" Armaan thought and got out of the car to see...
"What happend young boy???" Armaan asked...
The boy looked at Armaan with teary eyes and again started crying with hiccups...
"What happened??? Why are you crying???" Armaan asked coering the boy with his jacket...
" I am from Iran... My family is shifting back to Iran forever... My uncle gifted me these two on my birthday now i have to leave them...I don't want them to go to pet shop again... they are very dear to me and i love them..." The boy pointed towards the
two very cute little puppies
.
"They are very cute..." Armaan smiled looking at them...
"I know no one will care about them like the way i do...Kiara loves to play with water and Jack has a little problem in his leg... he can not run... i know no body will take him..." The boy again started crying...
"Hhh i wish i could help you.." Armaan sighed, he can see so may emotions of a little kid for his pets...
"Will you take them with you??? you seems to be a nice person..." After a long gap the boy spoke to Armaan...
"Me???" Armaan jumped up... " And what makes you think that i will take a good care of them as you do..." Armaan questioned looking at the puppies...
"I don't know... its my gut feeling..." The boy said innocently... he said it the way that it straightly touched Armaan's heart...
"But i don't know anything about them..." Armaan tried to make the boy understand...
"I'll tell you!!!" The boy replied excitedly with the hope in his eyes that Armaan will take them with him... Th boy told him that they are from which breed and they will remain of same size, their names, likes dislikes and what not... This actually amazed Armaan as how much this little boy know about these dogs.. It was liked the boy was now pleading Armaan which melted his heart and he took them with him...
...
When he came back home along with Kiara and Jack.. Shilpa saw them and got over excited like a kid... Shilpa was happy so Armaan didn't said anything more and told her everything about his interaction with that boy...
Later after few months three puppies were born and the one which was cutest and very dearest to Shilpa... she named that Shopaw. So its kind of side business Armaan thought he was doing of these dogs.. He actually hired a caretaker for them and Shilpa allocated a portion for them outside their house in the lawn where they can play and have fun... But shopaw was something else.. he was allowed to roam around both inside and outside the house...
Flash Back Ends...

It was decided that they both will do dinner outside so tey both left fo some enjoyment... Armaan took Shilpa for some shopping where she bought almost eveything she loved and found different... On one shop she saw Indian meenakari Jhumkas which were never available in New York, she loved him so much that she bought almost the whole shop.. there was so much variety available that she can not just simply avoid one...
"Shilpa!! tum abhi bhi bachi he ho..." Armaan commented...
"You want me to change???" She asked knowing the answer...
"Nah!!! aisi he rehna humaisha..." He gave her a side hug...
"Then shut up! and let me do what i want... mujhe pata hai yeh sab mujhe dobara enjoy karne ko nahi mile gaa..." She smiled at him and he simply smiled back... She was looking so happy that he didn't even dare to stop her... He knew she will stop shopping when it will get out of her so called budget.. She has a habit of recording about all the important and expensive stuff she buy in a diary...
"Oh no!!! ab raat ko yeh kaam bhi kare gi.." Armaan slapped his head remembering that she will not even let him sleep till she will be done with recording about all the stuff she is buying..
"Ek kaam karte hain.. aj mein bohat ache mood mein hun... to bill mein pay kar deta hun... tum apna purse bund he rehne do..." Armaan thought of a way.. it was obvious that he will ever do such thing like memorizing what he paid against which thing...
"Lo... tumhe kya laga iss sab ka bill mein pay karne wali hun??? mein to paise lay kar he nahi i.. remember app mujhe sote hue laye thai yahan lonavla..." Shilpa giggled..
"Thank God!!!" Armaan looked up in the sky thanking God...
...
After shopping he took her to different places, he knew she should love to visit... Roaming around like this was fun for them and that too in such a cold... "Chalo aj tumhe kulfi khilata hun... kya yaad karogi tumbhi... meine khilai thi..." Armaan said in a dramatic way...
"Oh Really????" Shilpa cocked her eyes folding he arms against he chest...
"Haan... kyunki you eat too much of hygienic food... actually not too much kyunki tum to hawa pe zinda ho lekin phir bhi jitna khati ho uta bhi hygenic he hota hai... Aur ab jo mein khilaoo gaa wo tumhare hisaab se toda unhygienic hoga lekin trust mein taste mein bohat outstanding hoga..." Armaan winked at her...
"Armaaan..." Shilpa glared at him...
"Laughing out loudly he asked her to stay where they were and went towards a kulfi stall and brought two from there...
Now he was having it nicely and she was a little hesitant to eat... All her entire life Shilpa never ever visited India before... She was in New York from the beginning and even traveled a lot but never visited India before... plus what can you expect from a doctor from a region other than Asia who was always taught from the beginning about having all hygienic and healthy food all their life...
"Khalo... kuch nahi hoga..." Armaan forcefully put the kulfi inside her mouth...
"Ummm..." She frowned but ate it up... When he was finished with his kulfi he looked at her and laughed at her as she was now enjoying it alot...
"Mujhe ek aur khani hai..." she demanded more...
"Kyun?? Unhygienic ho jaye gaa naa..." He teased her...
"Shut up!!! mujhe khani hai..." She pushed him away to go and bring more or her...
...
"Arre bus karo yaar!! tum paanch kulfiyaan kha chuki ho... Agar khaane ka itna he shawk charha hua hai to ao.. kuch aur naya try karo..." He pulled her by her hand and took her towards the street food corner.. To his surprise now she was not hesitant to try anything...Pani puri, bhel puri, she ate all he was thinking she will not even try once in her life...
It was about 9 at night and they were now over with their street dinner and returned back to orphanage where some kids were watching tv, some were playing and some girls were busy in making soap bubbles.. Gappu was playing with shopaw as he did got friendly with it...
It was very peaceful and positive everywhere, life was fun and they both were enjoying it to its fullest... His life was miserable till he met her and her life??? it was still a mystery for others...no one knew anything about shilpa except for a fact that she is Armaan Mallik's wife... one chapter of her life was already disclosed in front of everyone that she is Padma's daughter but how she entered in Armaan's life.. how she became Mrs Shilpa Armaan Mallik was still a mystery...
As of now they belong to each other!!
http://www.youtube.com/watch?v=vPx0IliKYjE

Hogaya part complete... I hope you guys will like it...
Waiting for your comments...
Love.
Sameera