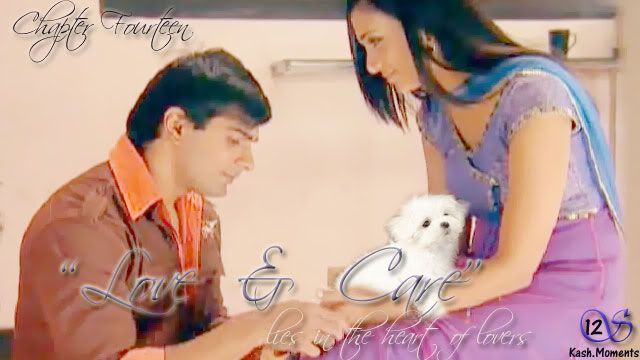 "Abay !! yeh kya cheez kya hai Armaan???" Abhi threw the papers in front of the gang in anger which made others shock but it was hard for Rahul to control his laugh...
"Kyun Abhi??? kya hua??" Nikki asked in a concerned voice..
"Kya hua??? ussne doctors ki jo team humne iss project k liye tayyar ki thi usse short list kar diya... Iss project see usne mujhe, Dr Atul, Dr J.P aur Dr Muskaan ko nikaal diya...How dare he??" Abhi blasted on others...
"Dr Modi!!" Armaan knocked his cabin...
"Jee.. aiye app he ki kami thi... iss faisle ki wajah jaan sakta hun??" Abhi asked angrily...
"Well... nahi!!" Armaan said straight away which made others drop down their jaws...
"Well actually problem yeh hai k yeh jo bhi app ko acha nahi lag raha hai, yeh app ko handle karna pare gaa... aur jahan tak mere kisi bhi sawal ka jawab dene ki baat hai to wo mein app ko isiliye nahi de sakta kyun app he ne to choose kiya tha k you want to work with me Total Professionally..."
"And this is the way it should be professional only... Meine pehle he warn kiya tha... Now deal with it!!" Armaan smirked and left the room...
"Huhhh yeh ab sab ki band bajaye ga.." Rahul knew this would be coming up as Armaan has already discussed this before with him...
"Wase... mujhe nahi lagta k Armaan ne... i mean Dr Armaan ne jo bhi kaha uss mein kuch ghalat hai... kyunki ussne pehle he kaha tha k we can work in a friendly environment, with slightly professionalism aur tab hum uski jaise help chahein hasil kar sakte thai... but as you have decided that he should behave total professionally so that is exactly what he is doing... and we can not argue with him... we are forgetting Right now for this project he is our boss!!!" Rahul put his thought forward..
"Tum..." Abhi looked at him angrily but then stayed quiet as Rahul was right!
"Armaan mein ghar mein bore hojati hun aj kal, tumhara yeh project kab khatam hoga??" Shilpa came and hugged him from the side...
"Bus teen chaar hafte aur... " He replied pulling her closer in the bed..
"Huh!! teen chaar hafte??" Shilpa whined...
"Arre yaar yeh kaam do hafte mein ho jana tha lekin uss idiot modi aur Dr shashank ki wajah se ab deir lag rahi hai, aur jinhe meine iss project se hataya hai unhe bhi kitna bura lag raha hoga... Lekin nahi meri baat to manni nahi hai kisi ne.." Armaan made a face...
"Hmmm... mein kuch help karun??" She asked resting her head on his chest...
"Haan bilkul... steve ka mu bund karado... boht chapar chapar karne laga hai.." Armaan laughed...
"Very Funny!!" Shilpa spoke sarcastically hitting his chest...
"Armaan mazak nahi karo..." Shilpa made a face...
"Ok jokes a part, wo jo saamne file dikh rahi hai naa... you have to work on that...Goldwater board of directors ka decision hai k iss project finance department ko tum tackle karogi India mein... So its like not much work and we will be able to leave for NewYork in a month..." Armaan told her about the new plans...
"You mean... i have to be there in Sanjivani???" Shilpa asked with widn eyes..
"Nahhh... you can sit at home and prepare no big deal!!" Armaan pushed away her tension..
"Cool!!! Acha maa ka phone aya tha aj.." Shilpa told Armaan with a smile..
"What???" Armaan sat down on the bed with a jerk...
"Kya hua???" Shilpa asked..
"Mere kaan kharab ho gaye hain shayad..." kept his hand on his ears...
"Shut up!! wo keh rahi thi k karwachauth a raha hai aur... unke ghar pe..." Shilpa left her sentence incomplete...
"Trust me.. its hard to fast... forget it!! " Armaan laughed..
"Chh nahi!!! i wana keep this fast for you!! aur wase bhi mujhe iss pooja k baare mein kuch zyaada pata nahi hai so ... i wana experience it.." Shilpa told Armaan her intentions...
"Seriously???" Armaan passed shocked expressions..
"Haan seriously!!!" Shilpa replied pressing her lips together...
"Cool!! go ahead.." Armaan smiled at her...
"Lekin you know naa??? k iss k liye tumhe Gupta House bhi jana pare gaa..." Armaan again asked he was still not believing that Shilpa is talking about Guptas..
"Haan... lekin... thodi deir k liye, chalta hai aur phir tum bhi to hoge naa wahan mere saath???" Now she glared at him...
"Sahi hai... ego problem!!" Armaan mumbled..
"Kya kaha???" Shilpa frowned...
"Kuch nahi, chalo as you wish... aur kab hai yeh karwachauth??" He asked..
"Parson.." She replied again lying down on the bed...
"Itna change ek dum se kaise a gaya?? Khair, jo bhi hai acha hai, atleast usse aunty ko maa to manna shuru kiya... I just hope shilpa k tumhari zindagii mein humaisha se jo ek maa k na hone ki wajah se kami rahi hai, wo ab poori hojaye..." Armaan prayed silently smiling at shilpa...

"Oh shoot!!! ek problem ho gai hai!" Sid hit his head against his palm...
"Kya??" Atul who was putting his files in his locker asked...
"Yaar wo, project file Armaan k paas hai aur wo ghar chala gaya hai...chhh mujhe chahiye warna kal sab k saamne bezti karde gaa agar presentation ready nahi hui to..." Sid got tensed...
"Abay haan... i wish humne usse professionally work karne k liye alag se nahi kaha hota... ab dekho naa iss chakar mein , mein bhi iss project se out hogaya.. khair hota hai... I am going for a surgeory.. see you!!" Atul closed his file and went out...
"Sid chalein??" Riddhima came along with Anjali and asked...
"Arre kahan chalein yaar??? wo Armaan... wo kal sab k saamne meri band baja dega..." Sid sat down on the bench with a sad face...
"Kyun????" Anjali narrowed her eyes...
"Kya kyun??? tumhare dad ki wajah se unhun ne he kaha tha naa usse total professionally behave karne k liye...wo to keh k chale gaye aur bhugat hum rahe hain... I am sure wo apne tareeqe se kaam karwata to iss project mein jin jin ko nikala hai sab mojood hote... project complete bhi ho jata aur pata bhi nahi chalta lekin nahi... ab kaam samajh mein aye ya na aye yeh usska tension nahi hai humara tension hai humay har haal mein karna hai aur naa karo ya ghalti karo to bezti pakki... Kyunki professionlism mein dosti nahi ati..." Sid mimiked...
"Haww tum papa ko blame kar rahe ho???" Riddhima narrowed her eyes..
"Sahi keh raha hai wo..." Anjali also sat down on the bench with a sad face..
"Atul ko bhi project se nikalna para usse... aur ussne kyun nikala yeh reason bhi mein jaanti hun.." Anjali said firmly...
"Mujhe bhi wo reason pata hai... aur mein to yeh bhi bata sakta hun k kal agar meine wo presentation nahi di to mein bhi out honga..bab re baap he is very strict about his work.. aur usse hona bhi chahiye itni bari responsibility hai uske sir pe and he has to answer the higher authorities..." Sid defended Armaan...
"Right!!!" Anjali pressed her lips together..
"To ek kaam karte hain naa.. Hum wo file Armaan ke ghar se pick kar lete hain, phir di ko drop karke ghar chale jaein gay aur tum presentation par kaam karte rehna phir..." Riddhima suggested..
"Kyun?? Tum atul k saath ghar nahi ja rahi??" sid asked anjali..
"Nahi... usse emergency a gai hai naa... late ho jaye gaa usse.. lekin you guys go mein taxi karlungi.." Anjali tried to save sid's time..
"uski zaroorat nahi hai... tumhara gharwase bhi raaste mein parta hai.." Sid smiled...
...
"Armaan kab tak aye gaa yaar???" Sid asked shilpa for the third time...
" i have no idea... phone bhi nahi utha raha.." Shilpa tried to hide her smile... She can seeing how much all were scared of Armaan...
"Wase aisa kaun sa presentaion hai which is making you so panic???" Shilpa asked while serving juice to them... she was talking with sid to avoid any maa behen discussion with Riddhima and Anjali...
"Arre wo site presentation hai.." Sid sipped his juice..
"Lo.. uss mein kya hai?? wo to... One second Armaan ne tumhe nahi bataya k wo log kya expect kar rahe hain?? aur unka mind kaisa hai?? tumhe presentation bane mein madad mil jati usse.." Shilpa cocked her eyes...
"Nahi naa... Itna strict hogaya hai usse kuch poochte hue bhi darr lagta hai.." Sid made a face..
" Hahahaaha... darr lagta hai wo bhi Armaan se.." Shilpa burst out laughing...
"Tumhe hassi a rahi hai?? but he is... i wish Dad ne us din usse nahi bola hota k act professionally..." Anjali shook her head..
"Shilpa!!!" Everyone got up as they heard Armaan's voice and saw the door opening...
"Oh hi!!" Armaan greeted them...
"Yeh lo tumhara kutta..." Armaan forward a white fluffly small puppy to Shilpa...
"How dare you call him a dog??" Shilpa got angry...
"Kutte ko kutta nahi bolunga to aur kya bolun ga???" Armaan made face...
"Armaan!!" Shilpa glared at him...
"Kya Armaan.. tumhe pata hai, tumhare iss... kya naam hai?? haan shapaw, isse NewYork se yahan tak mangwane mein mera kitna kharcha hogaya?? Pata nahi kya pyaar hai tumhe isse??" Armaan made a bad face...
"Khair tumhari boriat khatam hui!!" Armaan took a sigh...
"He is so cute.." Riddhima smiled...
"What??? mujhe bohat darr lagta hai especially inse..." Sid hid behind Armaan...
"Abay. .. kya pagal hai??" Armaan scolded Sid..
"Nahii!!! lekin tum zaroor se kar do gay... mujhe site ki file do... warna kal presentation nahi di to tum jhar do gay sab k saamne..." Sid said sarcastically...
"Steve ko jaane do... i will be back to normal... Muskaan apne kuch cases mein busy thi, and some conferences were in pipeline for Atul, Dr Modi was busy with new delhi project as well and J.P ko kuch papers clear karne hain medical examination k liye so yeh sab poora time nahi de sakte thai that is why i had to keep them out from this project... raha sawal mere strict behaviour ka... to meine warn kiya tha... you guys chose professionalism now deal with it!!" Armaan raised his shoulders...
"Chup bay... Dr shashank ne bola tha yeh aur wo iss project mein hain nahi, bhugatna to humay par raha hai... to koi zaroorat nahi hai yeh sab karne ki..." Sid pouted..
"Really??? khair we will talk about this later on.. filhaal ek patte ki baat batata hun... iss presentation ko Atul se better iss waqt sanjivani mein aur koi nahi bana sakta.." Armaan winked at Sid...
"Huh??? " All the three passed a confused look at Armaan and Armaan smiled looking at Shilpa playing with her puppy...

Armaan was working on his laptop when shilpa came and hugged him from the back saying..."Thank You!!"
"Kis liye??" He wrapped her arms around his neck...
"Bus aise he..." She smiled kissing his cheek..
"Kya baathai??? aj bohat pyaar a raha hai.." He held her wrist and made her sit on his lap...
"Bus... aj mein bohat khush hun... ek to iss liye kyunki tum shapaw ko le kar aye aur doosraaa... buss yunhi..." She giggled...
"Yunhi???" Armaan narrowed his eyes...
"Haan Yunhi... Yeh project jaldi khatam karo naa... mujhe wapas jana hai, humari dunya mein, apni routine life mein..." Shilpa made a cute puppy face..
"Hmmm mein bhi yehi soch raha hun k iss jhamele se jald se jald kaise nikla jaye... Sochna pare gaa kuch..." He replied taking a sigh..
"Coffee piyo gay???" Shilpa asked sweetly..
"Nahi... juice de do ek glass... aur kabhi kabhar khud bhi ghalti se pee liya karo.. sehat k liye acha hota hai..." Armaan taunted...
"Pata hai..." Shilpa made a face on this taunt...
This thing about Shilpa Armaan never understands... she never ever bought juices from the marketing saying, drink fresh or don't drink and when its time to take out the fresh juice she felts too lazy to do it and always skips it if Armaan is not there to keep an eye...
She remembered that once after their marriage she got sick with typhoid and got so much weak... Since then he was always very concerned about her health and even scolds her if she did not pay any attention to it...
In this world there is no Husband and Wife who never fights and argues with each other and Armaan Shilpa were not any different from them, its just that they understands each other very well and their priorities were same... They both first think about their relationship with each other and then plans or decides anything else..
Armaan was very much possessive and protective about Shilpa and Shilpa was the girl who always wanted a Guy to keep a watch over her, should be that much stronger that he could scold her or make her scare with his anger but obviously for her benefit, to help her choose right path always... She wanted him to be kid with kids and respectful to elders... Who will understand her, handle her well and the most important thing.. he will always love her the way she is... "Armaan Mallik" was the one she got and how??? that was something she never wants to talk about...

" R U Serious!!! tumne vrat rakha hai??? aur tum mujhse keh rahi ho k mein tumhe abhi Gupta House drop kar dun subha k 10 baje???" Armaan asked still thinking it must be his illusion only...
"Tum yeh sawal hazar baar pooch chuke ho aur mein hazar baar jawab de chuki hun haan haan haan!!!" Shilpa shouted angrily...
"Aur tumhe deir nahi ho rahi Hospital k liye???" Shilpa frowned...
"Aur yeh Shapaw??? issko kahan choro gii???" Armaan cocked his eyes...
"Yahin ghar mein, meine uske khane paani ka intezaam pehle he kar diya hai..." Shilpa said putting shapaw down...
"Faaltu mein, meine isse yahan mangwaya yeh soch kar k meri biwi ka laadla hai, aur ab jab uska kaam khatam hogaya hai to wo ghar pe bore naa ho??? mere farishton ko bhi khabar nahi thi k bracelet ka dimagh durust ho jaye gaa... i mean Padma Aunty ko maa kehna shuru kar diya, unse baat bhi karne lagi hai aur aj to Gupta House bhi jaa rah hai...Bechara kutta bhugat gaya.." Armaan felt pity on shapaw they way he was looking at the two going outside...
"Khair iss sab se tumhari khushi jurri hai bracelet! aur tumhari khushi mere liye sab se zyaada important hai..." Armaan told himself starting the car...
...
As the car stopped outside Gupta House... Armaan waited for Shilpa to get out of it and go inside but she was sitting still and he can see the nervousness on her face...
"Ab kya hua???" He turned to her with a smile...
"Tum... tum cjhalo naa mere saath ander...mein, i mean meine koshish to ki hai lekin... u know..." Shilpa was feeling awkward...
"Mujhe pata hai... u are uncomfortable aur iss baat ko bagair kisi argument k maan lo..." Armaan said stretching his lips..
They both got out of the car and stopped going inside as Shilpa got more panicked seeing Sid and Atul's car there...
"Choice hai... ander abhi jana hai ya thodi deir baad jab yeh log chale jaein gay!!" Armaan put a way to make her comfortable..
" Matlab???" she looked at him with a confused face...
"Matlab yeh k abhi mujhe sanjivan jana hai aur phir do ghante baad Life Care.. tab chaho to tumhe yahan drop kardun.. kyunki uss waqt Dr Shashank, Champ, Anji, Sid aur Basket sab k sab sanjivani mein honge... aur nani aur Padma aunty he hongi sirf ghar mein..." Armaan explained her, he knew how will she get comfortable between them...
" I think Second Option zyaada better hai..." Shilpa chose to get back after few hours...
And Armaan was left with no other option but to smile squeezing her shoulders...
...
Shilpa was Sitting with Armaan in his cabin... she was busy on his Laptop sitting comfortably on the sofa on the other side of the cabin looking at the financial details of this project where as Armaan was working on some file...
"Hey Armaan!!!" Rahul entered in his cabin..
"Hi!!" Armaan waved Rahul...
"Oh..." He stopped looking at Shilpa but Shilpa seems to be lost...
"Usse kuch sunai bhi nahi de raha hoga... kaam k waqt dunya ko bhool jati hai wo..." Armaan shook her head and Rahul sat down on the chair opposite to Armaan...
"Yeh rahi report..." Rahul handled the file to Armaan...
"Yaar ek kaam karo... Jitne bhi log iss project se associated thai ya hain unhe conference hall mein jama karo 1:00 tak, mujhe kuch baat karni hai.." Armaan asked Rahul for a favor...
"Sure..." Rahul smiled and went outside...
"Bracelet!!" Armaan threw a flower at Shilpa knowing that she won't listen and reply if he will only keep calling her... This habit of Shilpa sometimes really irritates him... No Actually there were two things...
1. When she is busy in reading or writing something she will forget the world putting her whole concentration into it and wont even listen till you nudge her or shout in her ear...
2. She Loves to read a novel or something at Night hours while sleeping and Armaan needs all lights off while sleeping so this irritates him even more...
"Chh... kya hai???" Shilpa gave a deadly look...
"Chalna nahi hai??? ya plan cancel???" Armaan asked scratching his neck..
"Ab ruk jao paanch minute... mein aise adha adhoora kaam chor k nahi ja sakti..." Shilpa pouted...
"Great! enjoy your work! mujhe meeting k liye late ho raha hai... so i will drop you after attending that meeting!!" Saying so Armaan grabbed his car keys and left shaking his head seeing her again getting busy with the lap top..

Both Armaan and Shilpa were standing at the door outside Gupta House..
"Ab???" Armaan asked... One can get mad at the situation but he understands her feelings and insecurities that is why is was calm and very much supportive to her...
She finally rang the bell and Armaan took a sigh if relief...
Nani opened the door and her first reaction didn't go unnoticed by Armaan as he eyes came out seeing shilpa... It was hard for Armaan to control his laugh but still he managed...
"Shilpa! Beta tum kaisi ho???" Nani took her into a motherly hug which provided her warmth and the feel of being loved by her... Through out this session Armaan was quiet looking at the two... He was planning to get out of there as soon as possible or else he will not get any shock if shilpa will change her plan of staying there... He wanted to support her in her decision of accepting Guptas as her family and he knew it will only happen if she will get comfortable with them...
"Mein itna soch kyun raha hun??? Wo pehle bhi yahan reh chuki hai... i am sure bus ek baar koshish kare gi to asaani se apnalegi sab ko..." Armaan sighed...
Now Shilpa met Padma and seems to be quiet happy... The environment was geeting odd so Armaan thought to ligthen it up a little...
"Arre mein phir bhool gaya!!" Armaan blurted out...
"Kya???" All the there women looked at him with confused expressions...
"Tissue paper ka dibba... bohat zaroorat parti haina yahan uski.." He joked...
"Armaan!!" Padma glared at him...
"Ab mein kya karun... Mujhe bilkul bhi adat nahi hai apki beti ko rota hua dekhne ki lekin yahan to ab sab ki he ankhon mein ansoon hain!" Armaan pouted...
"Dhut!!!" Nani slapped his cheek lightly with love...
"Acha ab mein chalta hun... mujhe class leni hai baaki sab ki .." Armaan smiled and asked Shilpa through is eyes that is she ok??? and he can leave or not... To which shilpa just blinked her eyes with a smiled giving a sign or him to go and she is ok...
On the way back to Sanjivani he stopped at a mall to buy something when his eyes fell on a beautiful chain bracelet with pink shiny stones on it..
"Arre aj bracelet bhi dena bhool gaya shilpa ko... acha hua yaad agaya warna ekk ad taunt to par he jata aj..." Armaan thought... Now this was something for which only he was responsible of... he always gives her one each day and now she was used to it and today she was in a hurry and was busy so she forget it and he knew whenever she will realize it, a taunt would be ready for him...
Without caring about the price he just went inside the jewelry shop and asked the salesman to pack that bracelet for him... Its not that he buys everyday a new bracelet... its just that he maker her wear it everyday... They were so many that he keeps on repeating and she never realizes that its an old one or new one she is wearing
... The thing that matters for her is a bracelet from him... old or new she never cared about that... because it was the Love And Care they show for each other not some stupid greediness or something...Then he thought to look for something more as this is the first time she was keeping fast for him... He looked around all over the place to find something suitable for her but didn't saw anything like that...
"Kya lun??? jewelry bohat hai uske pass, dresses... nahi not a good idea... to mein lun kya???" He thought...
Still thinking about what to buy he looked at his watch and at once rushed out of the mall for sanjivani as he was getting too late for the meeting...
...
Shilpa was now much more confortable with Padma and Nani infact she was laughing while helping and chatting with them...
And when Padma told her about Armaan's fuuny pranks during his internship in the hospital, she really cracked out...
"Kyun??? tumhe itni hassi kyun a rahi hai??? ab pranks nahi khelta Armaan??" Padma asked...
"Ab uske paas time he nahi hai pranks khelne ka... Kehne mein ajeeb lagta hai lekin its tough to handle me!!" Shilpa giggled...
"Acha... jaise??" Nani asked with a smile while putting diya's in the mandir..
"Jaise k mein aksar kaam bigar deti hun... i mean kisi se bhi larr pari bagair soche k agay iss ka anjaam kya hone wala hai... aur, yehi sab kuch choti choti cheezein hoti hain jinhe mein bigarti rehti hun aur wo sambhalta rehta hai..." Shilpa giggled along with Padma and Nani...
They both can see how lively she is... She was a bubbly and full of life girl who enjoys every moment of her live but a little stubborn too for certain things... They can see how possessive she was about her husband unlike Riddhima and Anjali.. Maybe because their relationship was different and so as their nature... Anjali was a little bossy with a ttitude and Riddhima has another story...
When Nani asked Shilpa that how did her marriage happened with Armaan, her smiled faded away... Padma was in the kitchen but she also noticed that...
"Pata hai Nani! meine kabhi bhi kisi safed ghore pe ane wale rajkumar ka sapna nahi dekha tha... kyunki wo sapna dikhane wala, wo kahani sunane wala kyun tha he nahi mere pass... Lekin papa mujhse humaisha kehte thai, k agar bhagwan humay kuch nahi deta to uske peeche bhi koi na koi wajah hoti hai... mein maa ko bohat miss karti thi lekin wo wahan nahi thi... tab papa mujhse kehte thai k har kisi ki zindagii mein ek farishta ata hai, jo humay har dukh dard se bachata hai, humari saari pareshaaniyun ko khatam kar deta hai... Meine humaisha se bus ussi farishte ka intezaar kiya tha jo nahi aya... Wo mujhe mila to kai baar lekin mein usse kabhi pehchaan nahi pai..par ek din jab mein saari umeed kho chuki thi, uss ek pal ko mujhe laga tha k meri poori dunya lut jaye gi mein apna sab kuch kho dun gi tab usne a kar mujhe har dard se har musibat se bachaya... Wo meri zindagii ban gaya!! wo farishta mere liye Armaan tha! Aur isse zyaada mein bhagwan se kabhi kuch nahi maanga..." Shilpa smiled wiping away her tears which made Nani and Padma a little emotional and tears oozeed out from their eyes as well but still Shilpa didn't told them that how she got married to Armaan...

These moments were really special for Shilpa bcoz it was first time in her life, she can feel the love and warmth of a mother, She was learning new things which only a mother can teach... Nani was showing nothing like as if Shilpa is not her real grand daughter... she was same with her as she was with Riddhima and Anjali...
When Shashank returned home, it was a big surprise for him to see Shilpa there but he was happy... He can see that bubbly girl inside her which was a mixture of Riddhima and Anjali yet again so different from them... Her acts, her smile it was real, looks like it comes from the bottom of her heart... He was happy to see her calm and in a good mood unlike the last time when she was there forcefully!!!
Shashank was against Armaan's decision for sending her forcefully in Gupta House but now he was understanding that why Armaan did that... He smiled remembering Armaan's words.. "Sir! Koi cheez achi tab lagt hai jab usse dekha jata hai ya mehsoos kiya jata hai... Aur aj thodi si zabardati kal uski marzi ban sakti hai... mein uspe kuch force nahi kar raha... sirf usse ehsaas karwana chahta hun k jo wo miss kar rahi hai wo kya hai... gaya uski marzi hogi... lekin agar aj thodi si zabardasti nahi ki to wo shayad zindagii mein kabhi bhi un rishton ki tarah murr k bhi nahi dekhe gi... karwi yaadon ko mitaane k liye, nai khushaal yaadein banai zaroori hain... aur yeh meine app se he seekha hai!"
"Tum sahi thai Armaan... us waqt uski ankhon se gire Ansoon aj uske chehre pe muskurahat ban k bikhar rahe hain... Mujhe garv hai tum par! Aur iss baat par k meine tumhe na sirf apna beta mana bal ke uska darja bhi diya!" Shashank smiled to himself...
...
"Shilpa!!" Armaan called her on her cell..
"Haan... tum kahan ho???" Shilpa asked with a frown as everyone was there waiting for the moon except for him...
"Wo baad mein... pehle apni ankhein bund karo..." Armaan asked her to close her eyes...
"Kya??? kyun???" Shilpa asked with a pout...
"Arre karo naa..." Armaan again asked her ignoring her questions...
She closed her eyes and her again asked her..."Kya dikha???"
"Ek khoobsurat si jagah k beech mein jalta hua ek diya..." Shilpa spoke out with a smile...
"Thank you!" Armaan replied and ended the call...
"Arre????" Shilpa got angry at this unsuall thing... She was looking damn gorgeous in her
blue and green combination lehnga choli
that was the one which she bought along with Armaan while shopping as her wedding dress was not with her, it was in New York..
"Aur deir se a jate..." Shilpa taunted Armaan as she saw him entering Gupta House...
"What??? time pe aya hun mein... bus yeh kuch... ek ghanta late hun..." He smiled looking at his watch...
"Armaan!!" Shilpa whined...
"Arre baba phus gaya tha thoda sa kaam mein... aur Good News yeh hai k yeh project iss maheene k akhir tak complete ho jaye ga.." He smiled pecking her cheek..
"Ab chalein??? mujhe bohat bhook lagi hai..." Shilpa took a sigh...
"Ek minute..." He stopped her and putting her hand out make her wear that bracelet...
"Wase chand to nikla nahi abhi... aur ek baat batao, tumhe mushkil nahi laga yeh vrat rakhna???" Armaan asked while walking with her inside...
"Nahi... time kaise guzra mujhe pata he nahi chala..." Shilpa sighned with a smile on her face...
"Ahan!! looks like some body was enjoying everything... wase bhi tum to hawa pe zinda ho, kabhi yaad a jaye to khana bhi kha leti ho to... tumhare liye bhooka rehna to badi baat nahi hogi. haan pyaas lagi hogi bus thodi bohat!!" Armaan teased her...
"Agar ander kisi k saamne kuch bola naa to acha nahi hoga..." Shilpa warned her showing him her finger...
"Yeh jo bhi hai humare beech ki baat hai... why will i do it inside???" Armaan got irritated on this... Why she has to tell him everytime that don't say this or that which they never shared with anyone... why she thinks he will tell everyone publicly about it...
"Sorry!!!" Shilpa held her ears realizing the change in his tone and the thing she just said...
"Chand Nikal aya..." They both heard it from the roof and looked up in the sky where the full moon was shining like as if it was smiling at the two...
"Chalein??? aisa saalon mein hota hai k tumhe bhook lagti hai.." Armaan giggled..
"Chalo.." She held his arm and started moving inside...
...
Shilpa did the pooja as told by Nani and almost giggled when Armaan made her drink the water saying.." Lo aj paani ko bhi taste karo... truat mein isse zyaad meetha aur acha paani zindagii mein kabhi nahi laga hoga..."
He the made her eat a peace of pestry but when it was time for Shilpa to touch Armaan's feet it went awkward because something like this never ever happened in their life... Shilpa had no objections to do that but Armaan has, he simply can not imagine his wife touching his feet...so when Shilpa started bending down to touch his feet he held her by her sholders and said... "Meri zindagii mein tumhari jagah kahan hai yeh tum bohat achi tarah se jaanti ho... isliye iski zaroorat nahi hai... aur tumhara vrat to meine khol diya lekin agar mein ab paani nahi piya to i swear i will faint..." He made a face...
"huh???" Shilpa looked at him with amaizement realizing he didn't even had his breakfast in the morning... and must he hungry since last night as she ate her sargi but he was fast asleep at that time...
"Paani!!!" Shilpa made him drink some water and a tear escaped her eyes...
He kissed her tears one by one and whispered... " Ek yehi aisi cheez hai jo meine tumse kabhi nahi manngi... Aur aj yeh ansoon... bilkul nahi.." He smiled ans kissed her forehead...
Luckily no one watching it as everyone was busy with their own pooja plus Armaan and Shilpa were standing at a corner ...
After dinner, they bid bye to everyone and Armaan started driving the car... "Did i just told you that you are looking awesome today???" Armaan looked at her whereas she was turning pink...
"Agar meine tumse shaadi nahiki hoti naa, to aj pakka kar leta..." He made her go red... She looked in his eyes and then wrapping an arm around his arm rested her head on his shoulder and closed her eyes... Few minutes Later Armaan realized that she was fast asleep... he stopped the car and carefully shifted her whole weight of the pessengers seat pushing it dwon to make her lie and sleep comfortably... He just stared at her looking at his beautifull wife whose face was showing calmness and happiness which was missing after her encounter with the truth about her mother and sister...
Kissing her cheek, he again started driving the car after covering her with a shawal remebring how he fell in love with her...

Flash Back...

After telling everything about Riddhima to Shilpa, it was like Armaan never thought or felt anything again about her... And Shilpa too never asked him anything reagarding it and why will she ask, he told her everything by himself...
"Mein Armaan k baare mein itna kyun sochti rehti hun?? aisa kya hai us mein???" Shilpa asked putting Padma's photograph infront of her...
"Wo kyun mere liye itna khaas hogaya hai??? kisi aur ko tung karne ka, kisi aur se ladne ka ya kisi aur k saath kaam karne ka mann he nahi karta mera... Aisa lagta hai jaise meri zindagii ussi se shuru hokar ussi pe khatam hojati hai..." Shilpa asked her heart...
"Mujhe nahi pata pyaar kya hota hai... lekin jo mein Armaan kliye mehsoos karti hoon wo aj se pehle mein kabhi kisi k liye nahi kiya... yeh jaantehue bhi k ussne Riddhima se kitna pyaar kiya mera dill kyun chahta hai k wo usse bilkul bhool jaye... Mujhe Riddhima se kyun jalan ho rahi hai??? mein to usse jaanti bhi nahi...Lekin mein Armaan ko jaanti hun... ya shayad janna chahti hun, usse chahne lagi hun mein..." Shilpa looked up in the sky feeling the emotions building up inside her... Yes!! she was falling in Love with Armaan...
...
On the other side Armaan never realized where his destiny was taking him... He never realized that when Shilpa made a place in his heart and when she replaced Riddhima... She was a admiration for him... a girl full of life... A girl who wants to see him happy... Sometimes he felts strange that why does his hapiness matters so much for her...
He was happy with his life now... Every new day with full fun and masti with Shilpa was his life... he was changing... Old charming Armaan was getting back... just one thing was missing and that was the realization of love... Still he adored her as a friend soon turning into his life...
http://www.youtube.com/watch?v=-iB_KFgg0p4
"Sometimes you realize love when its going away from you!!!"
From th past few days Shilpa was behaving wierd... she used to steal glances of him... she feels scare to look in his eyes and that is what he noticed... the sudden change in her behaviour and her smile vanishing was making him restless... He asked her again and again but everytime she avoids and sometimes ran away aswell...
He had enough of it... "Wo mujhe itna avoid kyun kar rahi hai???" He asked him self...
"Shilpa!!!" Atlast Armaan blocked her way on the tearrace... he can se tears flowing down through her cheeks...
"Tum kyun bhaagrahi ho mujhse??? hua kya hai???" He asked holding her shoulders...
"Please Armaan!! let me go... mujhe jana hai..." she again tried to run away...
"Nahi... bohat hogaya... aj tumhe batana he pare ga k aisa kya hua hai? jo tumhe badal raha hai??? wo kya wajah hai jo tumhe mujhse bhagne pe majboor kar rahi hai???" His grip got tighter around her...
"Wo wajah tum ho Armaan Mallik!!...Anjaane mein pyaar kar bethi hun mein tumse... jaanti hun k tum sirf Riddhima se pyaar karte ho lekin mein nahi janti k mujhe tumse kab aur kyun pyaar hogaya hai,.. bus itna jaanti hun k aisa hogaya hai aur yeh bhi k tum mujhse kabhi pyaar nahi karsakte...I am sorry!!!" Blasting out at him she broke down infront of him and ran down...
He was left stunned for the moment still trying to believe what she just said...
"Meri zindagii mein pyaar k maine(meaning) he badal diye tumne shilpa... Zindagii mein doosra mauqa bohat kum logon ko milta hai aur ab jab yeh mujhe mila hai ti mein isse gawana nahi chahta... Mujhe nahi pata kab mere dill ne tumhare liye dharakna shuru kardiya lekin ab jab mujhe pata hai k tumhare dill mein mere liye kya hai? to ab mein apne pyaar ka izhaar karnbe mein bilkul deir nahi karunga...I Love You Shilpa!!! kum se kum mera jawab to sunti jati..." tears oozed out from his eyes as soon as he confessed his love for shilpa by his heart...

Flash Back Ends...

I wanted to write more but i think i have bored enough you guys by now so this is it for now...
Will pm everyone tomorrow...
Love,
Sameera