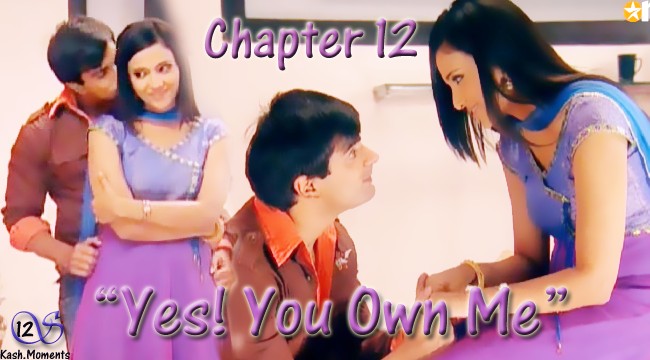 The way back journey till home was very quiet... Armaan was driving quietly with Shilpa beside him on the passenger's seat...
It was strange for everyone that as soon as Shilpa started talking with everyone, started getting comfortable in Gupta House, Armaan went there to bring her back.. What else does she want? She at once agreed to return back but wasn't getting why he did that...
"Tabeat theek hai??" Armaan broke the silence..
"Hmmm.." Shilpa replied looking away...
He suddenly stopped the car...
"Kya hua???" she asked turning her face towards him...
"Pichle kuch dinow mein bohat kuch hogaya... i was a little strict, u were rude and i think things should get clear out by now.." Armaan pressed his lips together turning his face towards Shilpa...
"Tum explanation dene ki koshish kar rahe ho??" Shilpa asked coldly...
"Nahi! Explanation dene ki mujhe koi zaroorat nahi hai... Tum jaanti ho meine jo kiya kyun kiya... Tell me seriously agar mein yeh sab na karta... kya tum ek baar palat k baat bhi karti unse??" Armaan asked..
"Mein..." Shilpa was about to say something when Armaan stopped..
"Soch k jawab dena mujhe... kyunki tumhari case closing application parh li thi meine... Tum laut kar sanjivani jaane he nahi wali thi..." Armaan looked in her eyes...
"Nahi! nahi karti mein unse baat..." Shilpa looked down playing with her hands...
"Shilpa!!" He smiled and took her hands in his...
" I wasn't forcing you! sirf itna chahta tha k tum ek baar baat to karo at least... Tum wahan rahi... sorry! thodi zabardasti karni pari..lekin uske forun baad mein tumhe lene bhi a gaya... kyun??? Kyuki yeh tumhara decision hai k tum kya chahti ho... and believe me.. tumhara jo bhi decision hoga usmein tum mujhe apne saath khara pao gii... lekin decision lene k liye zaroori tha k tum ek baar unhe samajhne ki koshish karo... jo tum karna nahi chahti thi.." He cupped her face with assurance...
She looked in his eyes with tears... she knew he was right!
"Mein darr gai thi Armaan... Riddhima tumhara kal thi... wo meri behen.. nahi!!" Armaan was hell shocked to hear about her insecurity, he never ever thought about that...
"Mein tumhe nahi kho sakti Armaan..." She looked at him with a fear in her eyes...
"Shilpa! Humne kabhi apne beech kisi ko nahi ane diya... I was proud of the relation we share... to phir aj tum insecure kyun hogai?? kyun yeh insecurity, yeh darr humare beech araha hai??" Armaan questioned her with hurt in his eyes.. He was badly hurt with this...
"Mujhe kabhi koi shwk nahi tha yeh sab karne ka... lekin meine kiya.. sirf tumhare liye... nahi chahta tha k kal ko uth kar koi tumpe ungli uthae k tumne sachai ka saamna nahi kiya, tumne apne bichare hue rishton ko mauqa nahi diya apne kareeb ane ka..." A tear escaped his eyes...
"Humare beech tumne Riddhima ko la kar acha nahi kiya... usse tum beech mein le kar i ho aur ab tumhi usse humare beech se nikalo gi.. i am not going to play any part in this..." He was angry and hurt.. he started the car and drove back to home...
It was true that what he did made her angry but there was nothing which would hurt her... He wasn't leaving her or doing something totally against her will.. He knew about her feelings.. he have heard from her before how much she craved for her mother's love.. But what she said was not even in his worst dreams... He was so sure and proud about his relationship with her that he cannot even afford to hear this...It was hurting him badly...
"Mujhe yahan wapas kabhi ana he nahi chahiye tha..." He thought...
"Armaan mera wo matlab nahi tha..." Shilpa knew what she has done and now she was cursing herself for this mistake...
"Meine humare rishte pe sawal kaise utha diya??? sab ek taraf aur Armaan ek taraf.. Mein soch bhi kaise sakti hun k wo mujhse kabhi..." She closed her eyes and rested her back on the seat...
He parked the car in the parking area and turned to see her in a deep sleep...
"Mom Dad ne apne aapsi jhagron mein mujhe khud se door kardiya... phir Meri zindagii ka ek panna Riddhima ne pane haathon se likh k palat diya... Wo tum ho jo mere jeene ka maqsad, meri kamyaabi, meri khushi aur mere zindagii ho... wo tum ho jo mere liye sab se barh kar hai... wo tum ho jis ke khilaf mein kuch nahi sunn sakta, wo tumho jisse kisi bhi cheez k liye tarapta hua nahi dekh sakta... aur aj tumhe ne???" A tear fell down his cheeks...
"I own you Shilpa! Isiliye kuch bhi karte hue kabhi kisi tarha ka darr mere mann mein nahi aya... Lekin tumhara mujhpe kitna aur kya haq hai.. kabhi socha nahi tha k yeh mujhe tumhe batana pare ga.." He kissed her forehead with love and getting out of the car went on the other side and picked her up in his arms...

It was great to be back home... Opening here eyes she found her sleeping next to him... Her smile vanished as she saw him sleeping but not with that usual smile on his face, He looked disturbed...
" I am sorry! But i promise.. chahe kuch bhi hojaye humare beech koi kabhi nahi aye gaa... Pata nahi kyun aur kaise yeh baat mere dimagh mein i aur dill mein ek khauf sa beth gaya... I Love You! And all what i care about is always you!" She whispered getting close to him and resting her head on his chest..
He encircled his arm around her while sleeping, pulling her closer to him...
She stayed in the same position till he woke up... He slowly opened his eyes and found her looking at him with her head on his chest...
"You feeling ok??" He asked checking her temperature by keeping his palm on her forehead..
"Kuch nahi hua hai mujhe.. i am fine!!" She said with a pout..
"Hmmm... Acha, let me go and fresh up.." Armaan took a deep breath and tried to get up pushing her head away lightly from his chest...
"Nahi!! stay like this.." She said authoritatively..
"Arre... " He raised his eyebrow..
"Kya arre?? jab tumhe nahi uthna hota tab tum mujhe bhi nahi uthne dete.. phir aj mere kehne pe tum lete nahi reh sakte thodi deir... wase bhi its just 7.." She said with a pout...
"I don't ask you! i just do it!" He replied coldly...
"Armaan tum ab bhi naraz ho..." She asked feeling guilty about hurting him..
"Nahi nahi! mujhe khush hona chahiye... bohat bara karmana anjaam diya hai na tumne..." He spoke sarcastically..
" I said i am sorry.." She placed a kiss on his cheek..
"Theek hai theek hai... acha ab utho i need to go.." Armaan said looking away..
"Nahi!!! the way you own me... I also own you!! Aur tum kahin nahi ja rahe.." She said possessively...
"Yes! You Own Me... and i am glad u do remember it!!" Armaan passed a sarcastic look..
"Armaan!" Shilpa whined...
"Bracelet!! yeh jo tumne abhi kaha... if u really mean that to phir from where the hell those insecurities came from???" He asked gently..
"Nowhere!! Tumne humaisha mujhe ek princess ki tarah treat kiya hai! lekin pichle kuch dinow mein jo bhi hua wo... I don't know... mujhe tumhare ilawa kisi se bhi kuch share karne ki aadat nahi hai... its only you who have all the rights to order me, get angry with me, to keep a watch over me, meri life mein jo bhi hai tumse hai... Mein kisi aur ko yeh haq nahi de sakti... mujhe kisi ki zaroorat nahi hai agar tum mere saath ho... " She sat down on the bed facing him taking his hand in hers...
"Exactly!!! Just like the way you want it...i want that too... You are my life aur meri life mein bhi jo hai wo tumse hai... Jab mujhe peeche mur k dekhne ka koi shawk nahi hai to phir tum kyun dekh rahi hai... The day i met you for the first time... uss k baad se mere dil aur dimagh mein Riddhima ka naam kabhi nahi aya.. Its only you! you!! and you!!! Meri life tumse shuru hokar tumhi pe khatam hojati hai.. You are Right! Yes! You Own Me! and that is what i like... This is what makes me happy!!" He cupped her face making her understand what she is for him...
"Aur bohat hogaya... Mujhe bilkul andaza nahi tha k ... yeh Gupta's k chakkar mein meri life ki watt lag jaye gii. so please ab yeh bilkul tumhara decision hai k tum kya karna chahti ho... I'll support you in anyways... Ek hafte baad humari flight hai.. we will leave and trust me! mujhe wapas india ane ka koi shawk nahi... i want to live our normal life... i want to us to be the same like we do.. and we are!" Armaan said pulling her into a hug!!
"I know!! and I am sorry!... Mein waqai maa se baat karna bhi gawara nahi karti agar tum yeh sab na karte... Shayad mein us waqt bukhar mein thi aur tumne yeh sab kiya isiliye... i never meant to hurt you!!" Shilpa confessed that what Armaan thought was right!
"Its ok.. even i am sorry! thoda harsh hogaya shayad!" He replied kissing her forehead...

"Armaan kahin bahar chalein??? I really don't want to cook.. Mujhe pizza khana hai.." Shilpa said taking the remote from his hand..
"Pizza?!! Order karlo yaar... its too hot today!" Armaan made a face...
"Nahi!! I want to dine in.. mujhe ussi mein maza ata hai.." She said resting her head on his shoulder...
"Acha.. lekin sirf pizza dine in.. seriously you look too pale due to weakness.." He said caressing her back..
"Fine!!" She said excitedly and got up to go to change...
"Ruko ruko!!" He pulled her down on his lap..
"Kya??" she asked with a frown..
"You never liked pizza that much k tum especially pizza khane k liye jao... i mean aj tumhe pizza khana hai???" Armaan gave a questioning look..
"Mera dill chah raha hai mujhe khana hai.." She replied instantly raising her shoulders...
"Ahan!! Waqai bukhar tumhare sir pe charh gaya tha lagta hai..." Armaan commented only to get a smack on his shoulder..
"Aaooo... " He he chuckled rubbing his shoulder...
...
The lunch was fun... Armaan was hell shocked at Shilpa's behavior... She was the girl who really didn't like pizza much... Even in NewYork it was always Armaan who sometimes wants to have it and she only accompanies him if he agrees to order her favorite sweet dish... Even she eats pizza very less but today she was eating it too much and that too happily...
"Araam se yaar! i am not snatching away your Pizza... why are you in such a hurry?? Aur tumhe kab se pizza itna pasand ane laga??" Armaan asked smiling at her with widen eyes..
"I don't know... bus aj mera dill chah raha hai.." She raised her shoulders and again got busy in eating her pizza..
They both were eating when Armaan got a call from an unknown number... He picked that up and after few minutes Shilpa saw his expressions changing... he was shocked and happy at the same time and even excused and went out in peace to talk...
When he came back she asked...
"Kya hua??"
"You won't believe it!! Goldwater (Coler-Goldwater Specialty Hospital from New York where Armaan and Shilpa were senior doctors) se phone tha... Doctors ke liye ek award function conduct ho raha hai worldwide ... where my name is been nominated..." He told her happily...
"What??? really!!!" She stood up with excitement..
"O my God! I am so happy for you! Congrats!" She hugged him at once..
" Yeah! i mean i am surprised..." He said hugging her back...
"Lekin there is a bad news as well..." He told her pressing his lips together...
"What??" she asked..
"Hospital mein kuch construction chal rahi hai.. jiski wajah se wo koi naya case nahi le rahe aur jo patients thai unhe bhi doosri branch mein shift kar diya gaya hai.. so, basically meri leave cancel karke wo chahte hain k yahan jo GoldWater ka naya project a raha hai usse mein handle karun..." Armaan told her the whole story...
"To??? Problem kya hai iss mein??" She asked..
"Arre yaar humay rukna pare ga yahan... And that project is not a peace of cake... it will take my breath away.." Armaan made a face...
"
Itna to chalta hai! Tum haan kardo.. i think it will be a good opportunity for you! Aur tumhari PR bhi kaafi hai so tum yeh project kisi aur k maqable mein zyaada achi tarah se handle kar sako gay!" Shilpa said what she thought..
"Hmmm lets see... filhal isse khatam karo aur chalo.. We have to get ready... raat ko ek baje board meeting hai, uski tayyari bhi karni hai.." Armaan smiled knowing what reaction he will get..
"Pagal ho??? raat ko ek baje??" She glared at him...
"Meine fix ki hai kya?? India mein raat 1 ka ek hoga lekin wahan to subha hogi na... And then we are board members as well to you know iss mein unki ghalti nahi hai.." Armaan said while taking a sip of his coke..
"Chhh... I hate online meetings...!" Shilpa pouted..
"Hahahaha
... pata hai mujhe.." Armaan laughed..
He still remembers their second meeting...

Flash Back..
Shilpa was asking everyone in the university about Armaan as her lucky bracelet was with him and she was searching for it since a week and then only realized that it must be with him as he was the only one who was with her that day when she was stuck...
A frustrated Armaan was working inside the laboratory cursing Shilpa under his breath...
"Ms Bracelet only because of you my project ruined... Wo stupit bracelet jab se mujhe mila hai uske chakkar mein kuchna kuch ghalat ho raha hai... pehle wo mere bag mein attak gaya aur usse nikalne k chakkar mein mera bag he phat gaya pata nahi kis cheez ka bana hai khud nahi toota mera bag phar diya... phir wo bracelet mere mobile charger k wire mein phas gaya aur usse nikalne k chakkar mein na sirf wahan rakha paani ka jug gir k toot gaya bal k saara paani mere documents par bhi gir gaya... ab sab kaam dobara se karna pare gaa... " Armaan grinned his teeth and started noting down the readings...
"Umm Dr Armaan??" Shilpa entered inside the laboratory in search of Armaan and by mistake closed the door...
"Arre darwaza kyun bund kiya ??? uss ka lock kharab hai!!" Armaan shouted..
"Huh???" Shilpa trembled on this sudden shouting...
"Ufff" Armaan hit his palm against his forehead and said...
"Ab yeh darwaza kaise khule gaa??" Armaan glared at her...
"Matlab??" Shilpa looked at her with the questioning eyes which increased Armaan's anger... He tried to cool that down and sat down on the bench...
"Dr.. Bracelet ya jo bhi tumhara naam hai... kyunki iss lab mein mobile allowed nahi hai isliya na mere paas mobile hai aur na tumhare paas hoga... secondly working hours khatam ho chuke hai isliye yahan door door tak humari awaaz sunne wala koi nahi hai... lock kharab tha tumne darwaza bund kar diya.. Ab mujhe sirf itna batao k HUM BAHAR KAISE JAEIN GAY?????" Armaan shouted at the end...
"Kya??? Darwaza kharab hai??" Shilpa's eyes popped out and she started twisting and pulling the lock which resulted as the lock came in her hand making both Armaan and Shilpa's jaws drop down their knees..
"Jab se tum aur tumhara wo bracelet mere paas aya hai tab se meri life azaab hogai hai...ufff ab yahan se bahar kaun nikale gaa humay???" He cupped his head in anger and closed his eyes...
"I am sorry mera aisa koi intention nahi tha... and yeah wo mera lucky bracelet hai... mein kab se usse dhoond rahi hun mujhe wapas karo mera bracelet.." Shilpa first apologized and then started fighting for her bracelet...
"Lucky??? kis angle se lucky hai wo?? aur yahan mein bracelet apni pocket mein le kar nahi ghoomta... mere ghar pe para hai aur mein ghar ja nahi sakta kyun ab hum yahan lock ho chuke hain???" Armaan passed a sarcastic comment...
"I don't know... mujhe bahar nikalna hai yahan se..." Shilpa yelled making a bad face...
"Jao niklo... kudo, bhago, kuch bhi karo... agar bahar jjaane ka koi raasta mil jaye to mujhe bhi bata dena... kyunki abhi shaam k paanch(5) baje hain aur kal subha aath (8) baje se pehle mujhe yahan se nikalne ka koi raasta nahi dikhai deta.. so tumse ladne se behtar hai k i should better get some sleep.." Armaan glared at her and rested his back on the wall closing his eyes...
"Nahi!! tum aise nahi so sakte... mujhe bahar nikalna hai yahan se..." Shilpa yelled at Armaan...
"To mein kya karun??? saari problem ki jarr tum... nahi tumhara wo bracelet... yahan i tum?? kyun apne bracelet k liye??? darwaza bund kiya tumne?? yahan hum phase hue hain tumhari wajah se aur tum mujhpe chilla rahi ho???" Armaan stood up in front of her and yelled..
"Khuroos kahin ka..." Shilpa pouted and sat down on a bench...
"Ajeeb musibat hai..." Armaan cursed Shilpa under his breath and sat down next to her turning his face in an apposite direction...
"Yeh kya ho raha hai Armaan??? Iss ladki se milne k baad se ab tak tera har khayaal, har baat issi pe shuru ho kar issi pe a khatam hoti hai.. phir chahe wo jhagra ho, koi musibat ho ya phir koi dill chu jane wali baat...Riddhima ka khayal ek baar bhi nahi ya..." His inner soul asked him...
"Nahii.." Armaan shrugged off that thought and stood up to go and see if he can find a way to go out...
"Kyun??? ab kya hua??? tumhe aise phirne se raasta mil jaye gaa???" Shilpa asked sarcastically as she saw him walking here and there...
"Shut up!!! Tumhari rai nahi maangi... jab se mili ho ek minute ko jo sukoon mila ho mujhe.." Armaan said grinding his teeth..
...
Few Days Later...
Armaan was sleeping at Night when his cell phone buzzed and he got the msg from hospital to immediately join Dr. John Louis in an online meeting...
"Ufff yaar kya musibat hai??" Armaan yawned and got up to open his laptop...
"Tum???" That is what came out of his mouth as he joined the online meeting and saw Shilpa there..
"OMG!!! You are that Dr Mallik jis ke saath mujhe yeh case handle karne diya gaya hai..." Shilpa made the same face as Armaan...
"Kaun sa case??" Armaan asked with a frown..
"Mrs. Jhanvi ka... She is an indian and will only get comfortable with indian faces.." Shilpa told him...
"Details forward karo..." Armaan said taking a sigh..
Whole Night they both kept on discussing their case... Mrs Jhanvi was suffering from brain tumor but it was on initial stage so it wasn't that much serious, she just have to go under a minor surgery but she was 7 months pregnant as well and that was the real complication in the case...
Only due to this case Armaan and Shilpa were supposed to work together for about 2 weeks and for that sometimes it becomes too late in the hospital that Armaan has to drop Shilpa home... They fought, they smiled, they learned so much from each other... Their work was amazing which impressed the senior doctors very much and that is how the new cases and assignments which some how were related to both of their departments were given to them...
"Agar saath zyaada hojaye to ek doosre ki aadat ho jati hai, lekin kisi ki aadat jealousy to peda nahi karti... To phir jealousy kab peda hoti hai????"


http://www.youtube.com/watch?v=uLmM01RL5aM

Sorry I got a little late because of Eid...
Happy Belated Eid To All Of You!!!
I hope you guys enjoyed reading this part...
Waiting for your comments...
Love,
Sameera