19/5/2011
Previous Episode
http://www.india-forums.com/forum_posts.asp?TID=1686185
Next Episode
http://www.india-forums.com/forum_posts.asp?TID=1687921
In all the commotion caused by Abhi's proposal, Naina has observed that Daksh has appeared forlorn and dejected. She has also not agreed with Abhi because she in in love with him, or has any great hopes in him, but only as a means to make her best friend Daksh, happy. She thinks or misjudges him, and has concluded from his ambiguous answers, something which is absurd, and she knows it. She wants to be sure, and so she goes to the unlit room wondering if he is in or not. She gently opens the door, and puts the wall switch on, and finds him, near the window, brooding. He turns at her, and wipes a tear from his cheek, and they face each other, Naina anxious to know how he has taken it, and Daksh, his face showing hopelessness and desperation.
Naina tries to find out from him, but he hides his true feelings and says that he is feeling
fine. She openly tells him, that it is a lie. (She thinks that Daksh is upset because she did not ask him about his girl friend to whom he was to propose). Daksh has told her that he did not fix a new bulb, and she says that she likes to help him, and goes to the cup board, to pick a new bulb. While she opens the door, some packet falls down, and Daksh warns her, and quickly picks it up. She asks whose picture it was, was that his girl friend? He evades and she does not want to push him further. Thinking that the picture was of his girl friend, Naina asks him, if he proposed to her. He tells her it is too late, as she has accepted some one else. Naina can not believe it and says, that he should not leave it at that and he should stop her and she tells him that the girl will regret her choice, but Daksh does not want Naina to be hard on her, as he wishes her well. Daksh is bent on self deceit, even though Naina shows in so many signs that he still has hope, but he can not see the light, as he has switched his inner mental light off. They fix the bulb and she goes to her room.
Akruti tries to call Ayush, and he gives her a yarn, that he has gone to Bangalore, and he will have to prepare for a meeting, and she should not disturb him. She denies that he had told her about it before, but he insists he did. She lets it go at that. She decides that she has to tell Daksh about it.
Abhi is in the kitchen, but his mind is else where. Shyamal comes and notices his
behavior and puts the gas off on the stove, and he continues absent minded, to prepare the food. He invites every one for the meal, and also invites Shyamal and Akruti to join them. They know that Kaka will not be there, so they reluctantly sit at the table. As each one tastes the food, they make faces. On tasting, Abhi too knows that it is not good and he apologizes. While Naina coughs both Abhi and Daksh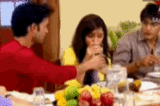 offers her water, and she takes it from Abhi, and Daksh puts his glass back on the table. Akruti notices that Daksh is unhappy. Her eyes follow both the reactions of Daksh and Naina, and she knows that both are unhappy with this situation, and can not get out of it. She wonders why? She wants to dig the whole thing out herself. At least this she can do in return for what they have done for her. Rohini has an axe to grind, and she finds one of the rotis (flat bread) is fully burnt, and she waves it in front of her and points it to Abhi. Abhi is apprehensive about Naina, and asks her if she has changed her mind, after tasting his food, but Rohini gives him the answer, and asks him, if he is afraid of her, even before getting married, and he tells her that it runs in the family, and looks at Sanket, and asks him, "Am I right, Sanket?" Abhi offers gulab jamun and Naina tells him that she does not like them, but he insists on giving her a half piece, and spoons it to her mouth. Daksh is feeling embarrassed, and he drops his spoon, and struggles to pick it up. After keeping the spoon back, he asks their forbearance, as he has to go out to finish some important work. Actually he wants to get out of this situation which is obvious to every one at the dining table.
Under the night sky, Abhi takes Naina out to the garden and as they walk, he tries to hold her hand, but she is a bit reluctant, and starts folding her hands, and she tells him, that things have gone too fast, and he should know about her past. Abhi is in the seventh heaven, and does not want to listen to her past, and neither does he want to know his past. He tells her that he will call his mother over, and can then introduce her to Naina, and also tell her about his feelings for her. But will the autocratic Mrs. Kulkarni, agree to make Naina her daughter in law, without knowing her past, and whether her conservative outlook can countenance it, and will there be a slip between the cup and the lip?
After Akruti called Ayush, we see him in a restaurant having beer with his friends, and
when they ask him about the call, he says, it was "time pass". Poor Akruti, is she being led to the slaughterhouse? She is more worried about her cousin, Daksh, and wanders into his room and opens the door. She does not see Daksh anywhere, and finds the window open, and she goes to close
it. With the breeze, a card made by Daksh for Naina falls on the ground, and she picks the card, washed out by the rain,and is surprised to see that he had made it for Naina. When Daksh comes in, she confronts him, with the question about his love for Naina. At first he denies tat he loves her, but when he looks into the piercing eyes of a sincere Akruti, he finally admits. She asks him, why he did not tell her. He is evasive, and Daksh tells her not to let Naina know about this, and puts her hand on his head, and asks her to take an oath. She looks at him for a long time, hesitating to say anything. When Daksh is waiting for her answer, in comes Naina, and she asks, "What oath is she taking now?" - Daksh is caught in the act,
In the pre-cap -
Akruti confronts Naina, and she tells her that she did not know how to deal with Abhi's proposal, and it is due to the guidance of her cousin, Daksh that she did what she did. The credit should go to him, and Akruti is baffled, at the behavior of her cousin, who loved Naina so much as to make a card for her, but gave her the wrong advice, even when she had not promised to marry him. Can she change the dice?


Edited by walquest2000 - 20 May 2011 at 4:10am