Happy Birthday Dushman!!
*keeps in mind to keep the hug light*
Yes, well since it IS your birthday i have to try and be nice to you.. *sighs* Anyhow I hope that you have an awesome birthday and incredibly good year... Guess there will be lows but here's hoping that there are more highs than lows..
Wish you all the best for your future, may all your dreams get fulfilled, study hard and make us proud!
What to say.. you are a crazy person but generally in a good way until you start to annoy me...
Yes, I swear I always like you better before you start to do that. And you do that
alot.
You should have warned me beforehand.. i would have stayed dead clear off of you.. Ahh what life could have been then...
Okay i was trying to be nice.. err anyway.. you are crazy but wonderful and definitely quite mature for your age though i will never see eye to eye with you on liking err Abhay.
I hope I can always be a good friend to you and will sincerely try to never let you down and be there if you ever need me... Though I'm not all that good with the advice stuff so you would do well to not approach me too much..
Well good or bad.. I will still always listen to you... So you can be assured about me never letting you down on that part.. Well atleast I hope I wont..
Let's err not expect too much on that level too..
You might be crazy, impulsive and short tempered like you say you are... But you should know that your friends WILL love you for all that and every good thing inside you that makes your faults worth the effort... And everyone deserves love and friendship and care and so do you. And I mean that. I know you only said such things to me once but I still want to tell you that everyone is worth that kind of effort. And those who don't make it with you well they simply dont deserve you then.
Oh and ummm.. you wanted a VM. And I dont have one ready. *clears throat and shuffles feet* I'm terribly sorry for not being able to make one.. I had a really hard time in finding some suitable music for a VM on Prithvi and now that i finally think that i have one my exams are around the corner. But I promise you once my exams get over, you WILL get your VM. I'll make one for you, just in err june. Can you please allow me to live till then? Please? *looks hopeful* I mean seriously you have to.. you cant kill me.. who will give you your VM then? *smug*
Happy Birthday again.. I wish that you get lots and lots of love and care. Enough to fill your heart and alot of smiles and laughter to along with it. Stay crazy and stay happy!
I dont know for how long we will be able to stand each other but to more years of bugging and annoying each other.
*makes a toast and throws the drink away* You can drink to us..
Lots of love and hugs,
Maham.
Hey Aparajhita..
Many many happy returns of the day!...
Hope you have a wonderful year ahead..and may it the best one ever..God bless
Hey di,
Wish u a very Happy Birthday. May all ur wishes cum true, and u get all d happiness in the world.
Enjoy !
Happy BirthDay Pridewaani
Hope u get all the Happiness,Love n luck in ur life
May God be by ur side in all ur endeavours

Keep rocking
God bless you, have a great time


Here have something dedicated to u sweety


Much Love Sia
(sofsunmannee)
Its another day 4 u. god picked another petals on your flower, wishing your flowers may bloom for year,
I send to you warm wishes,that your happiness will be as wonderful as the happiness, you have always given me. wish you happy birthday
Sending birthday blessings filled with love and peace and joy wishing sweetest things happen right before your eyes
(cool_tuli)
Heyy Aps... I noe m a BIGG stranger to u now... But I guess wishing somebody on a BIRTHDAY is a no big crime...
So just a small but lovable wish from me to u...

Instead of counting candles,

Or tallying the years,
Contemplate your blessings now,
As your birthday nears.
Consider special people
Who love you, and who care,
And others who've enriched your life
Just by being there.
Think about the memories
Passing years can never mar,
Experiences great and small
That have made you who you are.
Another year is a happy gift,
So cut your cake, and say,
"Instead of counting birthdays,
I count blessings every day!"

A yummy piece of cake or rather Muffin u can say only n only n only for u...
Njoy ur day dear...
Again... tomaye jonmodiner onek onek Shubheccha
Happy B'day Apsy di,
Wishing you many happy returns of the day, hope that you get all what you desire from life as well as after it
A bunch of short wishes i managed to find...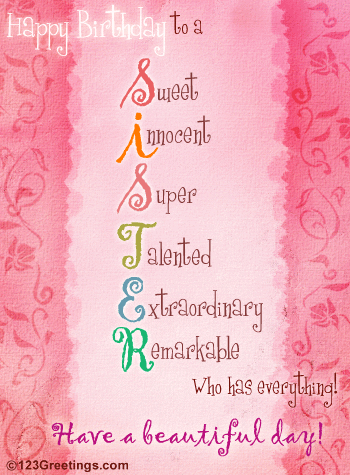 And these would be your birthday gifts...
An OS from Sid :
"I love you" he murmured in his sleep for the umpteenth time now, and though she had always wanted to hear those words from him but it was hard decipher that whom he was actually talking or rather sleep talking to. Or well. . . .seeing that there was no one else in the room it wasn't that hard, but then he didn't know that'or maybe he did. UGH!!! She just wanted to pull her hair out; even though they were something she loved the most. . . .after him of course. But not being able to know that whether he loved her or not had been hard enough before he had ended up with this chronic fever. And the hardest part from the last 3 days he had been in a semi-sleeping mode all the time and wouldn't let anyone come near him was hearing him saying those 3 magical words that he had never said to her. He was weak and needed some proper care, only if his dense self would relent to it. And boy, she was helpless, the only feeling besides being afraid that she had hated with core of her heart. Helpless against the fate when it had been so raining heavily since the past week and no doctor could reach them even when they lived right in the most effortlessly reachable part of the city.
He shifted in his sleep bringing her out of her reverie and reminded her that he was her first priority even if he didn't love her, and right now she had to take care of him no matter if she ended up being heart-broken. She reached by him to check his temperature when he caught her hand and pulled her to him, and even in his weak self, he was strong enough for her. "Sleep" his otherwise threateningly commanding voice broke out in a mere hoarse undertone but one could tell that it still was very firm and carried finality with it. But she couldn't give in either, not when he was at stake "you are sick and need care" she told him trying to get up from him, but his grip on her waist just tightened "I need you" he admitted in a small broken voice, that carried his pain but physical and emotional with itself. Shaken up totally, she didn't realize as he pulled her close and hugged her. "Just stay close. . . .i'll be fine" he said in a monotone as if it was the most basic fact of the world, maybe it was. . .in their world. And then he fell asleep again knowing that she wouldn't go away now, not ever. And like always he ended up being right. . . . .
(Kanchan.S)
Wish U a Many Many Happy Returns of the day Apsy
May God bless u with happiness n success
Have fun n enjoy ur day!!!!!!
(ashi.loves.ksg)
hey aparajhita...

i donno u..but still ur friends r on d mission to make ur bday virtually perfect..so why not make it a lil special more special by adding one more bday wish to ur kitty

so here it goes

may ur day be filled wid d scent of bday candles..may ur day be flooded wid joys of celebrating wid ur beloved people...may u get lots of gifts n greetings...
hope ur year ahead be filled wid happiness..prosperity..joy..success...love and whatever u wished for u may get it

have a great day...many many joyous returns on ur special day bday gal..keep rocking

lots of love
ashi
(amira_saeed)
Happy Birthday Apsy


~Amira~
And finally, it's Dada's turn...
Dearest Bon,
Remember the chat we had on the eve of my birthday last year? You were extremely tensed... worried about how you'd fare in making my thread. To pull your legs a bit, I was feigning to enjoy your discomfort, and thus giving you a tough time.
It was then that you retaliated by saying that I'd know what it's like when it'd be time for me to return the favour. Trust me... today, I've truly experienced all that you'd had to go through on 10/10 - the excitement, the butterflies, everything. Thread-making could be such a job, especially when you're doing so for a loved one.
Now that I have finished my dinner, and have finally got down to writing you a message at 1:45 in the morning, I would want it to be pretty long for your liking. But strangely enough, my hands don't seem to move over the keyboard. No, it's not mental fatigue... just that, there isn't a thing to tell you, that I haven't said before. I'll simply acknowldge the fact that the marks you leave on my life are indelible. You've been the sister I never had. Thanks for everything, Bon.
Your gift this year, is a siggie featuring your favourites.
(Have I said, I've furiously taken to siggie-making lately?
) Guess you should know... I had to search all day to find a decent enough picture of Viv Dsena... really, what all things you make me do. *shakes head*
Okay, before you take a furious leap in the air, and leave scratches all over my skin
, here's my little present -
Erm... I honestly don't feel it's one of my best works, but nevertheless I know that you'd love it.
Now that's some confidence.
Many happy returns of the day again, Bon!
Have wonderful times ahead!
[P.S. : Good gracious! You're such a big girl now! Me feels proud.
*chest swells*
]
Love,
Dada
A siggie from Dande-wali-Didi


Edited by Ishaan. - 19 May 2011 at 12:29pm