18/5/2011
Previous Episode
http://www.india-forums.com/forum_posts.asp?TID=1685362
Next Episode
http://www.india-forums.com/forum_posts.asp?TID=1687044
Rohini questions Sanket, as to why he wanted to give money to his uncle, and when he gave his reason, she told him, that his uncle is trying to extract money from him, and her husband tells her that it is not good to suspect people. He tells her that first she started suspecting Naina, and now his uncle. She says, that Naina is far ahead of his uncle in the art of treachery, and asks if he is for Naina. Sanket is fed up of explaining to his wife.
Daksh is getting ready to go to the office, and Naina asks him for a lift to Dadar, and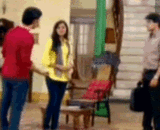 when Abhi too offers her a lift, she asks Daksh again, and he nods and then she takes his offer and the two go out. In the car, Naina is very pensive, and Daksh wants to know what she might be thinking. In the past she has been very assertive, but this time, she is very quiet. Naina is intrigued by Abhi's proposal. Her mobile rings, with Abhi's calls, but she switches it off. Seeing her silent, and thoughtful, Daksh asks if she is alright. She tells him, that she is fine, and does not want to talk about it. She tells him that she is exhausted thinking about it. Daksh asks if she has decided, and she says, that she has. He stops the car at the signal and asks, "What?" and her reply is, "The same thing which you wanted. In this, both you and I are expected to find happiness." Abhi at home is frustrated, and starts thinking if she has taken the whole proposal as a joke. Daksh has finally reached his office, and is just shuffling his files, and thinks of Naina telling him, that he is her best friend. He remembers how she asked him, what answer she should give to Abhi, and he evaded with an ambiguous answer.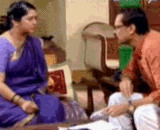 Kaka, is going through his accounts, and is worried, how to pay the money lender. The day passes on, and in the evening, Abhi is walking up and down, waiting for Naina. He has tried to call her many times, and sent her SMS but she has ignored all his calls and messages. He wonders why. He asks his aunt for her opinion, and as usual, she just smiles, and evades her answer, and the pity, is as a mother, she has not yet seen the anguish in her son, who is supposed to be very close to her heart, and is sitting right in front of her. How could this be, and why is she not noticing her own son? She warms up to her nephew, and it looks out of character to us, but there could be a reason, which will become clear as the story moves on.
All the family members are waiting for Naina and her answer. Daksh is there, and very reserved, and sad. Abhi is tense and waiting for Naina. Finally she comes in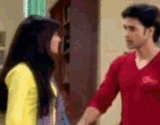 and Abhi starts to ask her what her answer is. He is unusually aggressive with her, in his anxiety to get her answer. The way he talks to Naina, itself should have shown her how immature he is, yet she makes a strange decision, thinking that it will make Daksh happy, when he will see that his cousin has found a match. She must be thinking that Daksh has another girl friend whom he loves. Abhi has been holding her hand, and she pulls it away, and tells him, that nothing is normal between them. From a joker, he turned to proposing to her, and it looked strange to her. Naina waxes poetic, and leaves everyone dumbfounded. Is she thinking that being illegitimate, her chances are few, and that is what makes her unsure? She makes a distinction between her dreams and the practical reality, and she opts for the practical. First she keeps him on tenterhooks, and finally she tells him, how could he have thought that she would refuse him. They presume that she has accepted, as she tells them, that it is on the recommendation of her best friend Daksh she has made up her mind, as this will make Daksh happy. Daksh is in shock, and does not know what has hit him. Abhi asks her again, to be sure, and she replies, "I have no problem of getting married to you." - a marriage of convenience, not out of love, but out of consideration of her friendship with Daksh, thinking that it is the thing which will make him happy. Absurd logic - but to be expected from young folks who have not been ground by the mill-stone of life. Abhi wants to leave with her, but she tells him, to thank Daksh who is their best friend, and due to whom, she made this decision.
They take the blessings of the elders. Rohini is annoyed, but relieved that Naina will leave the house and she will regain her prime position, but she is angry with Naina for snatching the chance of her sister. The effusive Vibha looks at Daksh and tells Naina that he gave her a good advice even as he appears distraught ! Instead of going with Abhi, Naina strangely tells Daksh to come with her, to her room. Kaka is upset, as now he knows that his golden goose is going and he will have to fend for himself for money. He asks his wife to get it from her sister in law, but she refuses to ask her. He shouts at Akruti, and tells her to mind her own business.
As they are going up to their rooms, Naina tries to disengages herself from Abhi and refuses his intimacy. He does not understand what she wants. In the darkness of his room, Daksh is alone brooding and shedding tears and Naina enters, and puts the light on. She asks him what is wrong. Daksh tells her that nothing is worrying him, as he wipes a tear from his cheek. She tells him, that he is telling lies. She knows he his sad and does not like her decision. He tells her that if it makes her happy, he is happy too. And she tells him, that she really
does not love Abhi
, but he loves her, and since he is Daksh's cousin, and he would be happy, by her marrying him, she accepted his proposal. Daksh is struck by her answer. Did his own ambiguous and vague answers to Naina dig his own grave? I do not think in this state of mind he is able to think clearly.
In the pre-cap
: Then Naina recalls, that he was to propose to his girl friend, and in this commotion, she forgot all about it. She wants to know how it went, and she goes to open his cup board, and Daksh tries to stop her, but something falls on the ground, and they both look at it.


Edited by walquest2000 - 19 May 2011 at 3:38am