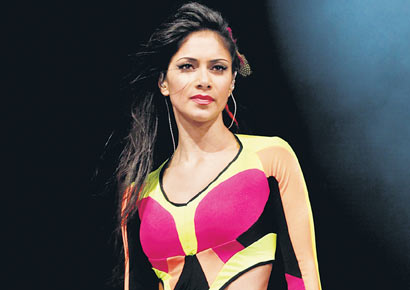 Nicole Scherzinger
Close on the heels of Lady Gaga who is incorporating a desi flavour in one of her albums. Pussycat Dolls lead singer Nicole Scherzinger is putting more than just an Indian touch to her next music album. The international pop singer, who collaborated with AR Rahman to lend her vocals for the Oscar winning song Jai Ho, is pretty excited to release another album which has dollops of desi flavour in it.
Nicole says that she feels proud if anybody thinks that she has Indian roots. "If people think I am Indian I am honoured," says Nicole, who is often mistaken for a Bollywood star because of her long dark tresses, eyes and skin colour.
According to Nicole, she does pick up a DVD of Bollywood film when she is in a mood to unwind and loves to watch those movies. She also says that the favourite among all the Bollywood movies that she has seen is Dostana. Her most favourite actor? Well, predictably, it's Priyanka Chopra. "What's up Priyanka Chopra? You're looking good girl!" she shouts as a greeting to the Bollywood actor. Nicole also confesses she loves decking up in Indian clothes, something she learnt while shooting for the Jai Ho music video. Nicole says that she "had the most fun dressing up for the Jai Ho music video, embracing the make-up, jewellery and clothes."
Talking about the album, musician DJ Loyd says that he had added 'Bollywood beats' along with her vocals to her album to lend that unique flavour to it. Nicole has created multiple Indian versions for in her new track Right There where she has worked with DJ Loyd and another popular desi band Culture Shock, who are originally from Canada.
"I added sounds of santoor, flute and table, while maintaining the originality of the track. I still felt that it was incomplete without using a singer to create a traditional Sufi sound combines with some Bollywood beats, so that's exactly what I did," says DJ Loyd.