17/5/2011
Previous Episode
http://www.india-forums.com/forum_posts.asp?TID=1684490
Next Episode
http://www.india-forums.com/forum_posts.asp?TID=1686185
As the story opens, we see Naina wandering through the house in search of Daksh.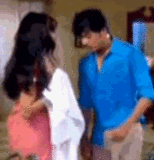 As she comes close to his room, she tries to call his number and it rings in Daksh's room, which tells her that he is close by, and she notices a light burning in his room, and she concludes that he has come home and she opens his door and enters, to see a forlorn Daksh brooding over something. She calls his name to draw his attention, and grudgingly he turns his face towards her. She tells him, that he is soaking wet, and goes to bring a towel to wipe him. She is concerned that he will fall sick. When she leaves he hides the Love Globe in his drawer. She comes back and wipes him, and asks why he did not take an umbrella, and that he should take care of himself. It looks as if, she does not notice that what is bothering him is his disappointment in her.
As she pours her heart to him, her best friend in this world, he is in a daze and does not hear a thing she says to him, (and neither do we !). Apparently, it has not
dawned on her, that the reason why he is upset, is that he really loves her, and now finds himself in a difficult dilemma, not able to let her know his true feelings. He gives evasive answers and tells her that he did not expect the rain, and so many times, when the weather appears to be fine, suddenly a storm comes, and something like that happened to him. She tells that similar thing happened to her, that unexpectedly Abhi proposed to her. Daksh realizes that she has not yet accepted Abhi's proposal, and she wants Daksh to advise her as to what reply she should give to him. He tells her that he was there. He leaves Naina to decide for herself, and find out from the depths of her own heart, what she wants. She wishes him good night and goes.
As she is entering her room, she passes Abhi and she ignores him, and enters her room, and Abhi is at a loss to figure out what is on her mind. He asks his aunt, who gives him a positive spin. She gives positive spins to every one, and even though her own son, is in deep depression, she does not endeavor to find out why it is so. She talks to him, gives him milk and treats him like a small boy, who does not know what he wants, and instead of finding it out, she talks to him about Abhi, her excitement about Naina accepting his offer, goes above his head and he might be wondering why his mother can not fathom his heart and its pain and that pains her son.
Abhi has prepared a grand breakfast for Naina, and he hopes he will win her heart. His aunt praises him, in front of her son Daksh, who is still upset, and his mother for the first time is insensitive to his feelings. Naina comes, and does not look at the others, but pours a cup of tea for herself, and goes to her room, and Abhi is disappointed.
Kaka is out in the garden reading a news paper, and the money lender's agent comes to remind him, of his dues. Kaka is upset, and as he goes up, meets Sanket, and asks
him for money. As he opens his purse to give some money to him, Rohini comes there and argues with her husband, and he has to balance his feelings for his family and his wife. They leave for office, as it is getting late. Kaka is expecting the worse, if Naina goes and marries Abhi, as he will lose his income. But he hopes that her business will remain with his daughter, and he hopes she will do well.
In the morning, Daksh is cleaning his car, and Abhi comes to him, and talks about what Naina might say to him. The egoistic young man, does not see how his cousin is in grief, and as is to be expected, gets a cold shoulder from his cousin. Abhi walks away and Daksh drops his wash cloth on the ground.
In the pre-cap
, Daksh is leaving for his office, and Naina meets him, and asks him to drop her at Dadar, but he does not say anything, and at this juncture, Abhi arrives and pokes his nose into their affair, and offers to give her a lift, but she is not shown as whose offer she is going to take up.


Edited by walquest2000 - 18 May 2011 at 3:26am