Hi everyone its me Tehzeeb again
,okey so i am writing this fic on AK but one of my KaSHian frd asked me to make it on ArSH version too so here you go
aish_loves_KaSh
i think you are happy now
.As i already updated 5 parts of this story on AK version ,i don't think there is any point now let you all wait for each and every part so am gonna post all 5 parts on 1st page.
INDEX
Part =1,2,3,4,5,6 Page=1
Part=7 Page=15
Part=8 Page=20
Part=9 Page=27
Part=10 Page=51
Beauty and the Beast
What would happened when a man who is used to get anything with the snap of his finger,who can get any women with his charms and big name(Armaan Malik)though he hates it when people call him by this name...He prefers to be called "Ammy Malik" instead of his real name which waz given by his mother,he hates his mother and because of her he hates other women,he doesn't knw the reason why his mother left him and his father,she left them that waz enough reason for him to hate her...
he is the most eligible bachelor,famous business tycoon. He never loved anyone,If u ask him about any women he would say"yes!they are for pleasure juzz use them and throw them away,Coz they only use men for their own good and then one day they will leave you penniless so don't trust'em,use them before they use you"...
He sleeps with different girl every night and the very next morning insults them and kick them out of his house,Everyone in the city knows about his bad reputation still girls go crazy over him,he's a "Player" a total "Casanova"...He would torture a girl physically all night,would be pleased by himself, satisfied with the torture he had given her,but he would never ever made luv to them...
what will he do when he'll see a very beautiful girl and would offer her to sleep wid him,she will be scared of him but yet she'd dare to slap him...His ego won't accept this defeat easily and he would make it a big deal...a question of his reputation perhaps,how can she refuse the great "Ammy Malik"...the girl will haunt his dreams laugh at his state,that he wanted her badly but he can't have her...
To teach her a lesson and to punish her he would end up marrying her forcibly... the night of marriage he will force himself on her...after spending so many wild nights wid her forcing her each and every night ofcourse,he would start realising,he waz wrong she is not like anyother women she is different maybe he waz wrong about judging her...but when he will start realising his mistake she'll leave him and he will become the bad "Ammy Malik" again n would make sure he finds her...in order to make her life living hell again...

Beauty and the beast
Part 1
Sitting in a big bedroom decorated with different kind of flowers,Specially the king size bed where she waz sitting waz decorated for special purpose...she could not believe her destiny,she waz his wife now in one night maybe she might completely belong to him,The man she feared to be with and hates the most waz her husband now...the man who entered her life 4 months ago like Tornado...
She thought(i can't believe i'm actually waiting for him and that too on his bed,today is surely my end he is not going to leave me,what should i do!run away yes!no he will find me,so what??if i stay here he'll eat me alive,he'll take full advantage of my weakness,no i can't let dat happend...but who will help me)looking in the room she waz sitting she saw only one person..
Her older sister who waz accompanying her till her beloved husband arrives,yes!she thought(only Shona(Shilpa)Di can save me yes she can save me,if she stays wid me tonight,chal Kripa bol de Di ko ka yahan ruk jaye werna wo rakshas pata nahin kiya keray ga)!!
(Shilpa calls her sister Krips n her sister calls her Shona)looking at her Di hopefully Shilpa said 'Kripa Di!plz ajj yahan ruk jaoo na meray saath plz Di mujhe akaila chor ke mat jaoo plz stay wid me tonight'.
Looking at her sister's pleading tone Kripa laughed at her childness'hahaha!Shona meri princess kiya hua nervous hoo?well can't really blame u,i totally understand jab meri shadi hui thi meri bhi halat asi thi,but u dun worry okay Ammy tum se bhout pyaar kerta hai'(Shilpa to herself'pyaar kerta hai my foot usay aik hi cheez se pyaar hai')he is my frd i knw he waz a big flirt,but when it comes to his responsibilities or his loved once,wo bhout care kerta hai...
Shilpa wid almost tears'Di plz mujhe yahan akaila mat choro plz Angad jiju ko bolo na woo ajj tumay yahan hi chor jain plz'
Looking at her sisters state Kripa thought(asa kiyoun lag raha hai ka Shilpa naa..its juzz my illusion)Kripa wid concern'kiya hua!princess wats wrong???bolo..
Shilpa'Di mujhe kuch nahin pata Aap yahin meray saath rukoo'
Kripa laughed again'haha!sweety i dun wanna die,i dun want my husband to be called widow at such young age,mai yahan ruki na tuo Ammy mera murder ker dee ga.
Shilpa to herself(aur agar Aap yahan na ruki na tu wo mera murder ker de ga)
As they were busy talking they heard door opened and here comes our hero the one n only "Armaan Malik" looking handsome n dashing aseva with the devilish smirk.
As soon as he entered the room Shilpa's heart started beating fast
Armaan smiled at the two sisters,Kripa saw him smiling at the door not cuming in she got the hint and started to leave the room,but Shilpa held her arm whispering in her ear'Di plz mat jaoo ruk jaoo'.
Kripa wid smile whispered back'Shona calm down kuch nahin hoo ga,Good Luck'kissing Shilpa on her forehead,she goes to armaan who waz standing at the door waiting for her to leave she smiled at him saying slowly so dat only he could hear'meri Behen ko ziada tang mat kerna,wahan dhood rakha hai(pointing 2wards the glass of milk)pee laina,all the best,bye saying so she left the room.
Armaan's gaze moved to Shilpa her half face waz covered wid veil but he could clearly see her lips,He shuted the door loudly fixing his gaze on Shilpa,he clicked the door lock making noise purposely,so dat she could hear he waz locking the door...
Shilpa bit her lips in nervousness she gulped,pressing her fingers.
Armaan saw her biting her lips n pressing her fingers,he waz enjoying her nervouseness or you can say her fear...Moving closer to her he removed his sherwani,thorwing it on the couch near by,he sat on the bed taking the glass of milk he drank in one breath...
He started moving closer to her while she started slithering back till her back touched the headboard of the bed,moving closer to her Armaan held her palm kissing it(while Shilpa closed her eyes)Armaan slowly took off her veil,looking at her close eyes armaan smirked enjoying her state, he slowly moved his hand to her chin caressing it wid his fingers then her cheeks...
he whispered in her ear(her eyes still closed)'told u one day you will wait for me in my bed,told ya one day you'll be mine,i promised you na!!ka one day i'll stamp my name on you,dat you are my property,i promise you sweetheart(caressing her lips wid his thumb) i'll write my name on your body tonight with my lips and there's nothing u can do to stop me now you are legally mine'looking at her curvacieous body hungerily making her uncomortable...
Shilpa almost crying she wanted to speak but her voice wazn't cuming out of her throat,after alot of trying her voice came back but as whisper she said slowly opening her eyes'Aa..rrmaan pplz...plzz don't ...plzzz give me some time to understand you,to understand your lifestyle!!i promise i'll give my 100% to this marriage,i'll make sure it works but plz give me some time...
Armaan'ohh!cut the crap Shilpa,how dare you call me Armaan?who do you think you are?huh!(holding her arms tightly their faces juzz inches away Shilpa could feel his breath)saying so armaan captured her soft lips with his hard once...Shilpa tried to push him away but armaan held her both hands behind her back wid his one hand n touching her body wid his spare one,deepening the kiss crashing her delight body underneath him...
Shilpa wazn't opening up n dat pretty much pissed armaan off he swore loudly n held her hair,she gasped armaan saw the opportunity n slid his tongue in her mouth she tried pushing him but he waz too strong for her...drinking her sweetness making her breathless,moving his one hand on her waist,stomach,...He moved his hand on her chest rubbing his palm roughly on her breasts,increasing his own need his hunger..
after a long kiss satisfying himself wid it while Shilpa waz in tears now but armaan wazn't done yet he started taking Shilpa's clothes off she protested but all in vain,it waz him Armaan Malik she waz dealing wid,he waz not at all easy to deal wid he removed her clothes tearing them apart,removed her jewellery roughly while she continued protesting
Shilpa'armaan plz choro mujhe plz' kissing n biting her neck,chest,face...she waz almost naked only in her undergarments she tried covering her chest wid her hands'angad plz leave me plz'
Armaan in dangerous angry tone clinching his teeth'i'm Ammy not Armaan'saying so he slapped her hard you can't hide yourself from me Shilpa,you are mine okay,pinning her down to bed he removed his own remaining clothes n her undergarments,'armaan plz nahin tum asa nahin ker sektay plz'
Armaan'ohh ya! watch me saying so he kissed her soft lips again n moving down he kissed her chest stomach holding her waist he slid his hand to her hips ,his legs pressing hers she panicked n tried every possible trick to remove him off of her but all in vain...
armaan in dangerous tone wat the f***'Shilpaa stop moving or i swear i'll make sure you cry in pain all night'
shilpa still trying to remove him from her body'armaan choro mujhe i hate you'crying hitting his chest wid her small hands.
Armaan you bl***y b**** slapping her again he pressed his all body weight on her holding her both hands in his one he touched her thighs ...her legs were crossed he held her one leg harshly aparting her legs,he entered her...
Shilpa screamed (it waz good thing armaan thought dat his room waz soundproof or other wise God knows wat would have happened...
he used her body all night mercilessly,she screamed cried all night pleading him to have mercy on her,but there waz one thing which wazn't right,the person she waz asking mercy for wazn't the right one to ask such thing ...

Beauty and the beast
Part 2

keeping himself busy all night with Shilpa made him tired and he fell asleep,Shilpa who waz feeling pretty much dizzy n unconscious somehow managed to remove his heavy body off of her,feeling sore,aching she walked to the bathroom and saw a big sheet on her way ,wrapping it around she entered the bathroom...
sitting underneath cold water wid sheet covering her body she poured her heart out,she never ever in her wildest dream thought dat her husband will force her on their wedding night,but if the husband case waz armaan then yes anything can happened,she still remember the day when she first saw him ...
(okay guys i'll give you a small intro of the characters here so you all won't get confused or anything)
Armaan Malik/Ammy Malik:28 a famous business tycoon,handsome,tall,blue eyes,gets anything wid the snap of his finger,never respected women coz of his mother who left him n his father when he waz 10...doesn't know the reason himself why she left,frds wid Kripa(only respects her) and Angad...Angad n armaan both were classfellows,Kripa waz their junior but angad n Kripa both fell in luv...
he's a big flirt girls go crazy over him,can do anything to get his fav thing or u can say fav girl,when Angad Kripa got married he waz out of country so he didn't attend their wedding,he doesn't knw much abt Kripa's family but knows abt angad's...
Shilpa Gupta now Shilpa Malik:22 recently completed her studies from london university,she waz very young when her parents died since thn she is living wid her Baray Papa n Bari maah(her taya g,tayi g)but she loves them alot like her own parents,she went to london for 2 years to complete her finals she finished her college n school in India,she's very shy a simple girl you can't say by looking at her dat she lived in England...
loves her Kripa Di she doesn't hv any male frds but she is close to only one man her jiju Angad...her baray papa wants her to join family business but she refused saying she want to do a job n they agreed...
Kripa Gupta now Kripa Khanna:26 doctor loves her family her husband,very possesive abt her younger sister(her princess Shilpa)coz she know Shilpa is kind of different cannot communicate wid people,she used to hold her when Shilpa had nightmares she would scream or would get up sweating in the middle of the night crying...Kripa is expecting now she's been married to angad up to an year...
Angad Khanna:28 he's also a businessman very handsome,tall,brown eyes,loves his wife very much they both were in the same uni but she waz studying medicine n he waz studying business wid armaan,he's also a big flirt but never crossed his limits...loves Kripa's family speciall his salli Shilpa she is like younger sister to him.
Shashank Gupta:Kripa's father loves his family,loves Shilpa as his own daughter never differentiated between her n Kripa,he's also a businessman doing some projects wid armaan nowadays.
Padma Gupta:she's housewife loves her family.
Flashback(4 months ago)
We see a big decorated Mansion,lots of people are coming in the hall congratulating a couple standing in the middle...
Then we see a man cuming from behind wearing Armani suit looking handsome aseva blind folded the girl standing with the man...
Man'hi beautiful
Girl wid smile'oh!my God Ammy you dog'(she started hitting the man)
Ammy'aray aray ruko maar kiyoun rahi hou,Kripa hosh mai aoo dosroon ka ilaj kertay kertay pagal hoo gai hoo kiya????
Kripa'shutup Ammy yeh koi waqt hai anay ka???
Man standing next to Kripa'guys mai bhi yahan pa houn'
Ammy,Kripa at the same time'tou'?
Man'kamal hai Angad Khanna ki value hi nahin rahi us ki biwi ki nazroon mai'
Kripa'oh plz Angad ab tum mat shuro hoo jana(they all laughed)
Angad'hi Ammy how are you man??????
Ammy'Good tu sunna kaisi ja rahi hai teri jail(looking at Kripa)
Kripa glaring at Ammy'kiya kaha shadi jail hai meray saath rehna jail hai??
Ammy'aray naa naa meri itni himaat acha sorry baba BTW happy first wedding Anniversary(saying so he hugged both of them)
Party waz in full swing people were dancing eating having fun
Ammy met Mr and Mrs Gupta they were very impressed wid his progress
He waz busy Flirting wid some girl when his eyes fell on the Most beautiful girl outside in the lawn trying 2 catch something,mesmerized by her beauty she waz wearing a nightsuit running after something but he couldn't figure out wat waz she running after,laughing jumping...
While he waz busy checking her out he didn't noticed a waiter passing by who accidently spilled some drink on him
Waiter:i'm so sorry sir i didn't mean to..
Ammy:its okaay its ok
Kripa saw him trying to clean his suit wid hanky
Kripa;Ammy wat happened?
Ammy:nothing waiter se drink gir gaya,where is bathroom/?
Kripa:tum uper ja ka change ker lo angad ki koi clothes pehen loo,upstairs 2nd to the left
Ammy after changing in to angad's suit he waz going down to join the party again when he heard some noise in the next room
He opened the door slowly n there he saw her standing beside room window looking outside at the moon, looking beautiful armaan swore he never saw anyone like her in his entire life.
he moved closer to her standing juzz inches away behind her,she jerked up,turned around n gasped... there standing behind her waz a man looking at her like he never saw any women in his life...
Back to present
Sleeping carelessly on the bed he heard water falling,he opened his eyes feeling tired 'God last night cat waz wild one but i wonder who waz she'??then last night events came across his eyes...Shilpa!!oh S*** he looked around he saw messed up bed n Shilpa's broken glass bengals her bridal dress all over the floor...
He saw where he waz sleeping,bloodstains on the sheet...it waz a sign of his victory he thought n smirked...
Beauty and the beast
Part 3
Tying a bedsheet around his waist carefully,he waited for Shilpa to come out,but she didn't after waiting for half an hour armaan became restless...
He thought why is she taking so much time,i think i should go check on her saying so he opened the bathroom door...
Hugging her knees tightly under the shower she cried her heart out,if armaan can force her once , he could do it again,thinking about her future wid him made her cry more the man who never cared for her emotions.Who married her forcibly ewho blackmailed her,if she won't marry him thn he'll cancel the business contract wid her Baray papa,which will lead their company to a big loss...
She never wanted that ,she married the man she never liked ,from the very first day in her bedroom when he waz looking at her hungerily,she waz thinking about her future wat happened last night when she heard the bathroom door open...
Armaan saw her sitting there hugging herself her face down sobbing,he went closer,sitting beside her he hugged her tightly,Shilpa hid her face in his chest sobbing louder,she started hitting his chest violently...
Shilpa'why!why did you do this to me?????why did u came into my life,why did you ruinned it,i was giving you a chance to make this marriage work then why??i hate you,i really hate you...still crying
Armaan tried stopping her'Shilpa listen to me'but when she didn't he held her both shoulders n shook her harder.
Armaan now yelling at her'shutup shilpa juzz shutup okay,juzz cut this emotional crap drama of yours...listen to me carefully(clinching his teeth in dangerous tone he said) for the first and last time,these tears(touching her cheeks wid his finger hard)they won't work on me,samjhi!
Armaan'today is our "Reception"n i dun want anymore drama,go n get ready saying so he made her stand but saw dat,she hasn't taken shower yet she waz juzz sitting under the shower ...seeing her wet body bedsheet hugging her body like her second skin..
He gulped he has a sudden urge to make love to her under shower(which he never did to any women before)Shilpa waz about to leave when he held her arm n kissed her forehead thn her closed eyes,cheeks moving to her lips he caressed them...Shilpa waz surprised wid his gentleness but as well as scared coz armaan can do anything...kissing her neck,caressing her bossoms n stomach,hips.He slowly removed the sheet around her body n made gentle passionate,tender love to her...
Shilpa didn't respond back but waz shocked to her wits from the time she had known this man,it waz a first time he waz being gentle.Why he is like that?one minute you know him n other you dun why is he like that??all the thoughts were cuming across her mind...Armaan kissed her lips n mumbled to open her mouth,she said 'huh'! she waz not listening to the words ahe waz saying she waz lost in her thoughts he slid his tongue in her mouth deepening the kiss...
Shilpa somehow waz enjoying it but she kicked her mind for thinking that,how can i forget what he did to me last night .How violent he waz...he doesn't love me juzz want to use my body...while she waz busy in her thoughts,ahe waz busy making love to her,they heard phone ringing in their bedroom...
Armaan jerked up looking at shilpa confused who waz blushing,he said'ahh tum shower lai loo mai baad mai lai leta houn'saying so he left...
Armaan in his bedroom thinking about what happend in the bathroom'dude wat were you thinking,making love to her oh God wat she might be thinking now???she will be more scared , she hasn't recovered from the night events yet,so why should i care isn't it wat i wanted from her????..his thoughts were interupted by the phonering
Armaan picking up the phone'hello!
Person'you dog i've been calling from since God knows how long where were you two'??
Armaan'kripa i'm sorry ahh wo mai ahh i waz sleeping n shilpa's in the bathroom'
Kripa'ohhh i see acha lovebirds i juzz called to remind youz ka its your reception today,if you two lovebirds get time so plz attend,be our guest'
Armaan'sure hum ready hoo ka hotel ponchtay hain'he waz talking to kripa when shilpa came out of the bathroom in his big bathrobe,he couldn't helped but laughed
Shilpa looked at him quizcally asking him whoz phone is it.he mouthed "kripa",hearing this she snachted the phone from him
Shilpa'di! n she started crying
Kripa'hey Shona Good morning then in a serious tone when she heard her sobbing,worried she asked her'princess wat happened tum roo kiyoun rahi hou?'
Armaan thought she is going to tell her sister wat he did to her he warned her wid his eyes giving her a(dun you dare tell her)look...
Shilpa'Di(looking at armaan scared)di woo...wo i'm missing you di(tears in her eyes of her helplessness),Armaan smirked hearing this he slowly made her sit on his lap more like pulled forcibly,hugging her kissing her neck while she talked on the phone uncomfortable..
Kripa'princess you scared the hell out of me,i thought Ammy nay kuch kaha hai'
Shilpa'jiju kaisay hain Di??
Kripa'your jiju is fine wo yahin hain tum se baat kerna ka wait ker rahay hain loo baat keroo.
Angad'hello salli g how r u????howz your elephant husband,ajj tu bhout khush hoo ga woo????when he said so kripa slapped his shoulder whispering in his ear(kiya keh rahay hoo wo pehlay hi humay miss ker rahi hai aur uncomfortable hoo jai gi stupid)copying her making faces,angad said hmm shtuppiiddd...
Armaan'angad i heard dat,i'm not elephant you are...i can say dat from looking at kripa's condition...
Shilpa looked at armaan disbelieving,open mouthed...
Angad'ohh ohh i'm 100%sure shilpa's condition will be worse...they were exchanging this talk(kripa n shilpa were both red wid embarrassment)
Kripa taking the phone from Angad'stop it both of you idiots shona tum ne breakfast ker liya?
Shilpa struggling to get out of armaan's grip which waz tightining more,she replied'nahin di'
Kripa shouting now'Ammy tum nay meri behen ko bhooka rakha hai you idiot isay kuch khilaoo,jab yeh breakfast nahin kerty hai tu she faints sometimes...
Armaan biting shilpa's earlobe he replied'okay okay phone band keroo hum breakfast kertay hain'
Kripa' you better werna reception mai sab k samnay meri sandal se tumay koi nahin bacha sekta get dat clear Mr.Ammy.
Armaan'aye aye captain bye'
Shilpa in requesting tone'di plz plz jaldi ana...
Kripa'haan hum loog jaldi aa jain gaay u take care bye love you..
Shilpa wid teary eyes'i love you 2 Di bye.
Armaan didn't leave her after the phone call ended,he waz still holding shilpa tight...
On the other hand kripa waz fighting wid Angad for the topic he and ammy were disscussing
Kripa looking at him angrily'kiya bol rahay thay tum ammy ko?????
Angad looking at her wid puppy face as if he doesn't knw anything'kon si baat madam g'hugging her from behind caressing her stomach
Kripa'nautanki kahin ka,waise angad mujhe shilpa ki fikar hoo rahi hai bhout chup chup thi'
Angad'kripa sweetheart us ki nai nai shadi hui hai,wo pehli bar apnay pati k saath baith ka tum se baat ker rahi thi,shy feel ker rahi hou gi'
kripa turning around putting her arms around angad's neck lovingly'haan hoo sekta hai ab Aap yeh batyin janab g ka Aap ko breakfast mai kiya khana hai?
Angad pulling her closer kissing cheeks'humay tu breakfast,lunch aur dinner mai kripa chiya...
Kripa blushing...
Angad' aww!maar dala saying so he slowly captured her lips...
Note:Part 4 is not at all suitable for under 18 there are adult contents in this part so its a request not to read this part if you are underage or if you are not feeling comfortable.

Beauty and the Beast
Part 4
kiss which started gently and smoothly turned passionate,he held her waist and started caressing it.Making her shudder in response she closed her eyes,angad broke the kiss he knew she needs to breath angad"are you okey jaan????"he asked with concern,Kripa smiling at him"i'm f9 angad i know you want me as much as i want you".Angad looking at her lovingly"jaan i know we have to wait until our baby comes out"kissing on her fore head he moves down to her stomach hugging and kissing there he said"Baby come out soon i can't stay away from your mum" kissing it again"Papa loves you".
On the other hand Armaan wasn't letting shilpa go...he was nuzzling in her hair and neck Shilpa gets scared as he will do what he did last night.Shilpa mumbled his name"aaarrrmaan plzzz don't"tears ready to spill,armaan"Shilpa why do you do that to me!!!!!! shilpa why????his temper rises"why don't you love me dammit!! why"????"holding her shoulders tightly his face juzz an inch away from her.Seeing tears in her eyes he softened his grip and whispered "why shilpa? everybody loves me ...you don't!!!!!! why???? now moving his hands sensually on her neck breathing on her ears,playing havoc on her womanly senses.He knew very well what effect he was having on her...caressing her skin with his breath shilpa closed her eyes yes that feeling again she thought (Oh y God whats happening to me,he raped me last night and now i'm enjoying his touch nooo)opening her eyes she pushed him on bed and got out his grip.Armaan looked at her suddenly anger took over (how dare she...how dare she pushed me),grabbing her arm
hashly he pushed her
on bed.
shilpa looking scared"arrmaann plzzz i i i didn't mean to...i swear armaan plzzz"before she could say any thing further he smacked his lips on hers stoping her from saying anything else,not gettng any reponse from her he bit her lower lip she winced in pain he slid his tongue in her mouth,kissing her hungerily sucking her tongue unknowingly shilpa started reponding.After 5 minutes she broke the kiss breathing heavily her eyes closed.
Rubbing his thumb sensually on her lower lip his gaze move down to her bossoms which were popping in and out due to her heavy breathing.He gulped as desire to touch her to feel her again came in his mind,he kissed her forehead moving down he kissed her on her nose then her cheek lingering his lips there for some time.He looked at her lips and capturing them his hands moved down to her stomach and he opened her robe belt moving back of his hand slowly he caressed her belly.Their desire was overpowering and in no time he laid her on their bed shilpa reponded back equally to his sensual kisses,sucking her lips slowly chewing them as he never wanted that moment to end soon.His body covering hers he slowly moved his hand inside her robe moving it aside from her shoulder he kissed her there and sealed his lips with hers.shilpa groaned with pleasure moving his hands up he slowly grabbed her bossoms shilpa gasped,he grinned at
her reaction breaking the liplock he bite her earlobe and removes the clothing barrier between them.shilpa with her eyes closed"aaarrmaan"she was now under his spell,while he slowly moved to her chin kissing her there then her throat moving his hands slowly and steadily on her body.shilpa held his hair moved her face up a bit for his better access,leaving trail of kisses on her face and neck with few bites he moved down to her Br***ts.shilpa was breathing heavily her one hand was in armaan's hair caressing,ruffling his hair and other was clutcting bedsheet tightly,armaan slowly cupping her br***ts kissed her cleavage.shilpa"Aaarrmaan plzz"he knew what she wanted ...teasing her he asked"what shilpa don't you want this?????????"rubbing his thumb on her nip**es while biting the other one,she groaned and presses his head more.His one hand on her back moving up and down his other moves to her thighs she gasped as need was increasing in her,armaan"bolo na shilpa"!!!!!taking her right hand he placed it on his
crotch and placed his right hand on her thighs very near to her femalehood she moaned she was hot with need.HE wanted to explore her beauty more he wanted her to say yes this time he was already in his heart feeling guilty for forcing her at night but still she was his wife and he has a right on her he thought bending down a bit he placed his hands on her breasts shilpa tightened her fist on his hair while he pressed his hands on her bossoms squeezing them.Not able to control any more she said"i i neesd you armaan "smiling
at his angel kissing her forehead rubbing her body he asked her slowly "are you sure?????"he was teasing her badly shilpa"yes ".Wasting no more time armaan parted her legs stroking them slowly kissing her lips while she was groaning with need and moaning with pleasure why wouldn't she he was making love to her which even he was unaware of...positioning himself in middle, she felt his warmth enter her body wih sudden gush making her shudder in pain"ahhh aaarmaan"she screamed his name.Digging her nails on his back love and desire which was pouring out from their bodies,their breath harder and heavier,their bodies became hotter climbing on top of her properly sucking hungrily on her breasts, bringing both nip***s together and taking them in mouth biting them, scrapping her skin by holding in his teeth sucking the nip**es in and out.Looking at her he found tears beaming out of her eyes moving closer he sucked her tears and sealed his lips with her kissing her hard biting and chewing her lips dragging her tongue out sucking it.Pushing his manhood in and out massaging her legs her whole body was trembling tears coming out of her eyes"aaarrrmaaan"clenching him to go out she had no courage left to do more she slowed down and then stopped.But armaan was not pleased with this bending down intead he kissed her lips hard deepening the kiss to its peeks he was still inside her pushing her more in the mattress he increased the length of his stroke pushing harder and faster.She screamed on top of her lungs" ahhh Aaarrrmaaann"Armaan "bolo shilpa" breathing heavily on her face his body sweating he said "bolo you love me".shilpa"armaan plz pllzzz choro"eyes closed tighly ,armaan"no you can't use me for your pleasure abhi jo kuch hoo raha tumhari merzi se hoo raha hai bolo you love me werna"threatning her pushing harder.shilpa cries hysterically "ii looove yooouuu aarrmaaann ..."i" sob "love" sob "you" she was screaming.Listening to her confession he stopped and came out of her she gasped and breaths
heavily tears coming out of her eyes.Armaan smiled and kissed her forehead ...
Beauty and the Beast
Part 5

Flashback
She was looking at the moon when she sensed the presence of someone behind her
the way he was looking at her scared her to death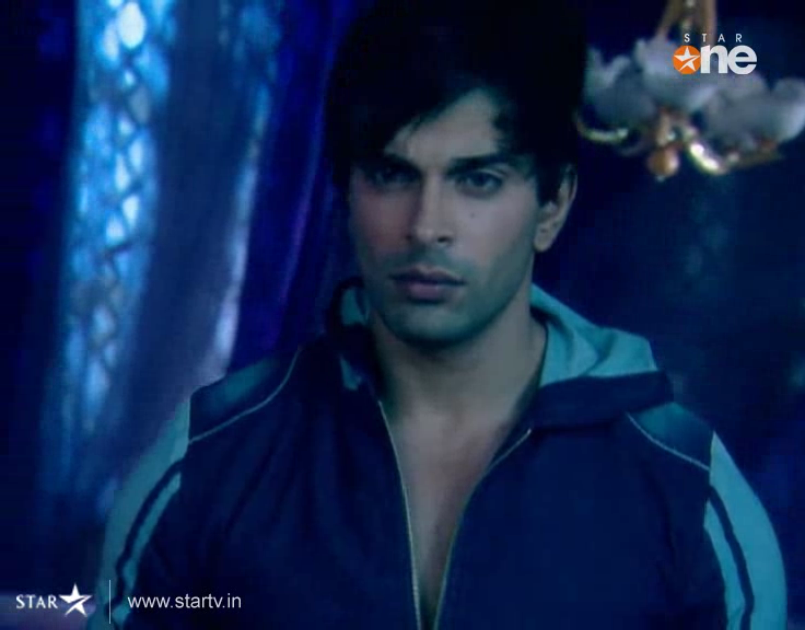 whereas Armaan was awestruck by the beauty infront of him.He couldn't believe such beauties exist these days well Kripa ofcourse he thought and now who is this? beautiful he mumbled...
Shilpa saw him moving towards her and she started moving back,she was confused as well as scared,who is he and why is he coming toward me??moving back she didn't saw the bed and fell on it.Armaan was so close to her when he saw her falling he was about to hold her hand and she fell taking him along.
Looking at her beautiful face,her fragnance which was as killer as her looks he thought.Her eyes were closed tightly,her hair were all over her face moving his hand up to her face he removed the hair strands to get a clear view of the beauty underneath him.He noticed her holding her breath when he touched her face and saw sweat beaming on her forehead with terror,she tried pushing him but man he was heavy she thought.Armaan was bemused by her action she is trying to get away from a hunk like me,if there was some other girl she would have happily done with him ,if he would have asked heck she would not have waited for him to say anything she would have done it herself and here this girl is sweating with fear.Before he could say or do anything he saw tears coming out of her eyes which were still closed he bend down and sucked her tears.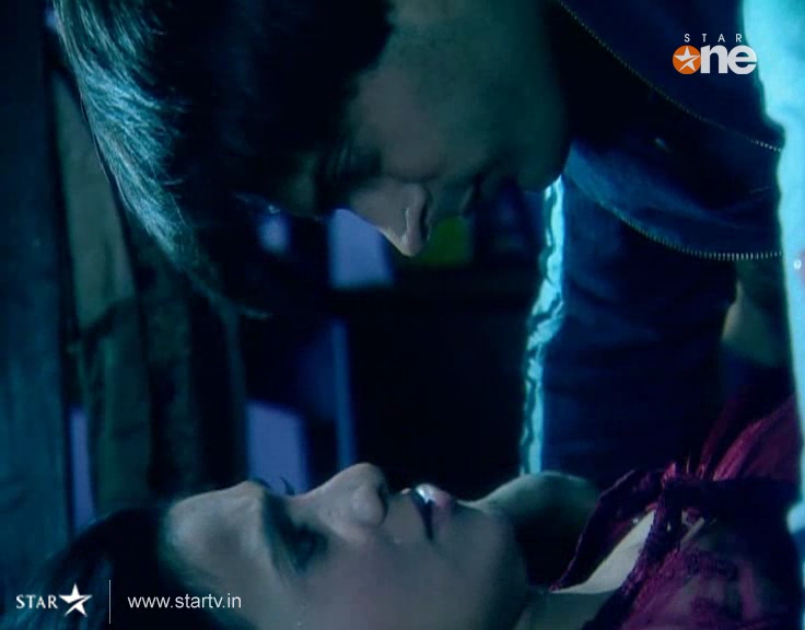 The intimacy they were sharing was killing him never in his life was he in such condition,a girl is actually scared of him.Does it matter to me if she is scared or not no i can do whatever i want to why should i think about her,she cannot do anything i will give her a good amount and she will never open her mouth.He was about to move down and kiss her when he heard someone calling his name,it was kripa who was looking for him.when he didn't showed up in the hall she started to look for him and she heard a little sniff from shilpa's room she went in and saw Ammy trying to pull Shilpa up from her bed,she was confused as what was Ammy doing in shilpa's room and why is he dragging her off from her bed and what the hell!!!! why is Shona crying?she moved to shilpa and hugged her,looking quizzically at Ammy.
Kripa:Ammy what are you doing here?and shona Princess why are you crying? Ammy'(she truly is princess)
Ammy'wo i was going down when i heard some sound from this room and thought could be some thief as all family members are downstairs,she got scared and fell down.Kripa understood what might have happened and laughed looking at shilpa's scared face shona seriously stop it he is my friend you don't need to get scared.
kripa'Ammy meet my younger sister Shilpa she does not like parties and stuff and shona this is Ammy Malik my friend i told you about'...shilpa not meeting his gaze knew he was looking at her,Ammy'kripa i think your sister is not happy to see me'kripa'its not like that Ammy shilpa takes her own time when she meets new people .Ammy'looking at Shilpa who was still looking down thinking about the close moment they shared...Miss shilpa nice meeting you he held his hand out.
shilpa'with shaking hand shook his hand as soon as he held her hand the way he held shocked her he moved his thumb on her fingers sensually,she pulled her hand back immediately,he smirked(i came back today and my new prey now,who i will pounce on soon)giving shilpa (its not over yet) look and winking at her he said to kripa i think we should go down.kripa'yeah you go i will join you in a minute'.
Ammy'his eyes fixed on shilpa moving his gaze up and down making shilpa more nervous than she already was he said 'okey and miss shilpa it was pleasure meeting you'he smiled and left.
shila was not able to sleep as when ever she close her eyes she would see his face.

On the other hand after leaving from party armaan went the bar after seeing shilpa today and the way she behaved he thought this one will be interesting to play with.But right now he needed someone to fulfill his need and desire he saw his ex-girlfriend natasha there he smirked another foolish girl,yeah she'll do for tonight.
Zaib'Natasha baby' spreading his arms 'where are you these days i missed you so much'.Natasha surprised to see him and showing that he missed her,her heart jumped with joy.Natasha'Ammy darling i knew it tum mujhe miss kero gaay.
This Bi*** is not even 1% of shilpa,she is so bloody slim and shilpa waow she was so perfect underneath me,her curvaceous body her smooth skin when he kissed her tears though she is quite short in height but heck I want her.
Next morning Ammy was smoking sitting in his bed and a naked Natasha moving her hands on his chest ,Ammy'stop it Natasha quickly change and leave he was angry for some reason,Natasha'what are you saying jaan and by the way what happened to you last night you were so rough and hard than usual,i think it will be hard for me to walk '.Ammy'irritated now this was the thing which irritates him the most when these bl***y S***s get the pleasure and ask themselves to do hard they start complaining the very next morning.I am hurt,i am this, i am that...
Ammy angry now'get up and get lost Natasha before i lose my mind get the hell out ov here'he shouted.Everybody knew what he does when he is angry he'd beat up a girl too he doesn't care and Natasha was on the verge of get beaten,She left cursing him underbreath.
He was still thinking about kripa and the fact that she was not with him last night this was making him angry and that is why he was hard with Natasha(lol).
Ammy recently took over a new company in Mumbai he called his office to get to know about his new PA ,they told him that they had given adds in newspapers and interviews are after two days.
Ammy thought what to do he suddenly thought of shilpa and called kripa
kripa'Hi Dog'
Ammy'waow what a way of greeting do you treat your huband the same way,poor soul must leave without getting a goodmorning kiss i bet'
kripa'ohh shutup okey i will see what your wife will do to you that will be a sight to see'.Ammy'yeah!whatever where is your puppy husband??kripa'he left for work a while ago and mind you he is not a puppy'Ammy laughing'really howz uncle aunty and everyone else'???kripa'they are all fine momz out shopping dad office and shilpa for her interview'.
Ammy'interview????? kripa'yeah she is looking for a job even though dad asked her to join his company but she said she wants to practise first and all'.
Ammy'really if that's the case then there is one job available in my office for the post of my PA'.kripa'Ammy thats really nice of you but she wants to get a job on her own,she will not agree'.Ammy'oh-ho but i am not saying i will give her a job like that ofcourse if she is qualified only then yaar.
kripa'ohhh tu ab tum meri behen ko qualified hai ya nahin tab job do gaay you mean person'Ammy'ohy what do you want tell me clearly na first you say she will not agree and now you are saying i should not be looking at her qualifications.
kripa'i was juzz joking i will talk to her once she comes back'
Ammy' do one thing don't tell her that i offered the job otherwise she will think you asked me too.
kripa' hey not a bad idea i won't tell her.Ammy'good girl'.
kripa' Ammy i think Shilpa is back i will talk to you later bye take care Dog.Ammy'your Husband is a Dog bye take care.
shilpa'Di Di where are you????kripa'Hey princess how was it did you get the job???shilpa sadly'no before i could even go in some one else got the shot.
kripa'awww don't be sad sweety i heard there is one Job available in Malik industries for the post of CEO's PA try there you might get that one.
shilpa' really di who told you'kripa' news paper' shilpa i will definitely try...Di am tired and hungry.kripa'mera bacha'shilpa pouting'di plz am not bachi anymore'
kripa'you are for me now go fresh up i will cook something'shilpa 'okey i love you' kripa'Love you too'


shilpa went for the interview in Malik industries wearing salwar suit and saw so many other girls in mini skirts and jeans she was nervous and somewhere scared she will lose this one too looking at the confidence and attitudes of other girls she thought this job will get out of her hands.

Soon she was called inside she saw someone sitting on the seat but wasn't able to see the person's face as his back was facing her,once the person was sure she was inside he pressed some button inside his table and faced her.She gasped horrified seeing him there,it can't be ...its him what was his name Armaan Malik yes she know his real name she did a research on him got to know that his real name is Armaan Malik and he is a ruthless person his casanova image and everything about him.She turned immediately and tried opening the door,armaan laughed at her obvious trick which he knew she is gonna use after seeing him so he locked the door with the button under his table.when she saw him coming to her she started shaking again yeah this was his effect on her,he was enjoying her nervousness and her antics to get away from him.
She saw him getting closer to her trembling she said 'i want to go plz'.Armaan'why??Aren't you here for a job, why you want to leave without giving your interview huh!moving his hand to remove her hair strand.shilpa closed her eyes not able to breath with the proximity,her heart was beating fast,'plzzz she mumbled she was actually crying by now she read the story about armaan beating up a girl... that is what was scaring her.Ammy'okey don't be scared sweetheart' moving his hand sensually on her arms'I will just get to the point straight sleep with me'i want to spend a night with you,eversince i saw you i am not able to sleep at nights,i want you badly'

Shilpa Shocked ...jerked his hand away and slapped him with her full power.Ammy angrily held her both arms and pulled her with force she bumped in to his chest'how dare you?how dare you slapped me huh!you wait and watch now shilpa Gupta i will teach you a good lesson'

saying so he pulled her hair and bit her neck she hissed with pain and pushed him with full force he fell down she tried opening the door but it was locked.
Ammy smirked'what happened babe' moving closer to her again.Shilpa'plz let me go plzzz'Ammy'noway you slapped me you will have to pay'Shilpa shocked'you want to slap me? she asked with such cute expression he could not help but smile at her.
Before he could say or do more his phone ring
Ammy'hello oh yeah i totally forgot okey bring the file in i will sign it now, he unlocked the door for his other employee to come in but saw shilpa leaving hurriedly.he smiled again and told his employee to ask the other people to leave who came for interview Shilpa Gupta has got the job,everyone at his office was shocked how can Shilpa Gupta get the job she was so not their boss's type.
But Ammy had something else in his mind

Okey Guys here i will post the pictures as well later
enjoy
...
Beauty and the Beast
Part 6
She went home cursing him,"how dare him touch me"...She was fuming with anger but as soon as she entered home,she calmed herself so that noone suspect at home what happened on the interview
her anger rose seeing him sitting with her sister and drinking coffee.
Kripa saw her entering and ran to her screaming"Ohhh my God ohh my God Shona i am so happy for you"giving her a tight hug whereas Shilpa was confuse (what is Di talking about and what the hell is he doing here giving me that stupid grin)Kripa"Shona i can't believe you got the job"as soon as she said that Shilpa looked at him surprised,Shocked(what the hell)Shilpa"Di yeh kis ne kaha?"Kripa"Ammy ne ofcourse dekho na wo khud batane aya hai how sweet na...i am so happy for you"Shilpa giving Armaan deadly glare only if looks could kill Armaan would have been dead...

Ammy"Shilpa i wanted to give this good news to your sister first thats why i ruined your surprise,i am sorry please forgive me"Shilpa screaming in her mind(i will kill you)Kripa"Shona you sit here and give ammy company i will go get you a coffee"kissing her forehead kripa left.
Shilpa angerily"work that too with you forget it and getout from here"...Ammy"and what if i don't,what will you do huh!"he laughed.Shilpa"i will never and never work with you,i know why you are doing all this ...just to get me in your bed isn't it Mr so not innocent Armaan"giving him an obvious look.Ammy hearing this went closer to her and held her wrist"what did you call me?????kya kaha tum nay i am not Armaan my name is Ammy did you get that?ang yeah what would you tell your sister that i won't work for Ammy coz he wants to sleep with me ha"angrily.Shilpa scared with his sudden change of mood"Cho...choro mujhe..leave..leave me".Ammy"why do you think i will do what ever you will say"...Shilpa getting her courage back
"Mr Armaan Malik leave me or i'll scream"Ammy become more anger"didn't you hear what i said"holding her shoulder tightly
"samaj nahin aya tumhey i am Ammy not Armaan".before shipa could say or do anything they heard footsteps Ammy left her pushing her two steps back.
Kripa"Shona here is your garam garam coffee"Kripa handed her a cup Shilpa"Di mai room mai jati houn"Kripa"okay you go and sweety congratz once again"hugging her"Thanx Di" glaring at armaan who was smirking and dancing in his mind for his victory.Ammy(its just a start sweetheart there's more to come)
Shilpa left for her room cursing him underneath(kya samajta hai apne app ko i will never let him win never)she was shocked with herself how the hell did i managed to answer that self-centred,arrogant jerk...her heart was beating fast since the time she saw him sitting in the hall chatting with Kripa(i will teach him a good lesson)
In evening Kripa entered Shilpa's room and saw her reading some book she sat beside her,placing her hand lovingly on her head"whats wrong Shona?mai dekh rahi houn ever since you came back home you seem lost somewhere,what is bothering you? you know you can tell me"
Shilpa hugging kripa"Di i don't know i am nervous and not sure if i will be able to work as expected from me" Kripa"shona don't worry i know you can do it we all believe in you" smiling at her lovingly.Kripa"okey mum and dad are waiting for you and here Ammy left these papers for you he said you forgot to take them when you came home and you have to be there before 9am tomorrow"Shilpa looking at the contract papers"i love you di lets go to Bari Maa and Baray papa"

When Padma saw her coming down she went to her hugging,shedding tears of joy"meri Bachi itni bari hou gai ab job keray gi"kissing her forehead showing motherly affection.Shashank came and giving her side hug he said"look at you Baby girl is all grown up"Kripa was going to say something too but shilpa signalled her not to utter a single word(they treat her like a small girl which sometimes annoy her and kripa and angad always encouraged padma and shashank to treat her like that to annoy shilpa more).They all became senti thats how Angad found them"wao whats going on here?"raising his eyebrow"someone's being treated lavishly"Kripa"angad Shona got the job"Angad"waoo really is that true Shilpa ohh come here"giving her a hug.Kripa poutingly"mai bhi yahan houn"angad hugged her too they had a dinner pampering shilpa.Kripa and padma made Shilpa's favourite food while shilpa showing gratitude towards them.
At night she was thinking about her coming days in that jerks office and she drifted off to sleep.
Next day she left for office early ,entering the building she saw all staff members gawking at her as if she murdered somebody,she nervously looked down.Senior staff member Mrs mehra was a warm hearted person she was showing her the office and telling her what Ammy likes in office and what not ,finally they were in Ammy's office Shilpa liked it the interior design,(jerk is jerk but i must admit his choice is classic and stylish,Impressive).Mrs Mehra"shilpa if you need anything you can ask me okey beta"Shilpa"thank you for showing me around ahh"hesitantly"can i ask you something if you don't mind?"Mrs Mehra"sure child go ahead what is it"Shilpa!"why was everyone looking at me strangely"Mrs Mehra laughed"ohh even i was shocked when i heard a girl with salwar kameez got the job,Ammy must have seen something special in you and now i am sure he did actually you will see all the female staff here are modern ,he always hire girls with short clothes that is why"Looking at Shilpa who was lost somewhere"beta they are
all nice and i am sure they will all become your friends in just a matter of time but try not to get close with Maya"Shilpa"Maya kon?"Mrs Mehra"beta maya is employee here ,she and Ammy dated for sometime but then Ammy met somebody else,maya is furious to make him hers again she was looking forward to take this post but you got it".
They were still talking when Ammy entered the office,he saw them both engrossed in conversation and shilpa smilling at Mrs Mehra ,Ammy clearing his throat to get their attention"Good morning mrs Mehra"looking at shilpa who was looking anywhere but him"Mrs Mehra "Good morning Ammy Shilpa i will go now if you need anything just give me a call okey"Shilpa nodding.when mrs Mehra left Ammy turned to face her grinning"sooo...miss Shilpa Gupta tum aa hi gayi"moving closer to her while Shilpa started moving back"do..don..don't come ne..near me"nervously,Ammy holding her hand"what if i do"Shilpa tried slapping him but he caught her hand just in time"ahh ahh not again babe"kissing her hand,she jerked his hand away looking at him
disgustingly"you will never get what you want"Ammy amusingly(nerve of this girl)"Ammy gets what he desires for by hook or by crook"she felt his breath on her face,moving his nose on her cheek whispering sensuously in her ear ,whereas shilpa closed her eyes tightly praying (God be it a bad dream,be it a bad dream.wake up shilpa)"my heart desires for you now and i will get you"hearing this shilpa quickly pushed him with all her force he fell down,shocked,angry with her sudden action he looked at her dangerously,he swore and getting up he held her hair arching her face and smacked his lips on her fragile petals.
Shilpa trembled slightly moving her face to break the kiss.he chewed her lips ,teething them sucking them hard,tears coming out of her eyes,he pressed his body hard on her kissing her vigorously .Showing who has got the power here,his eyes red with anger,arching her to open he bit her lips mercilessly punishing her for pushing him.But yet again getting her strenght back,she pushed him hard and before he could stand properly she slapped him with all
the power left in her(lol!he deserved that).shilpa crying breathing heavily with her bloodshot eyes"don't you dare touch me again or else i will kill you"she turned to leave but stopped at his door and said strictly"people don't always get what their heart desires for My Armaan Malik and yaad rakhna yeh job mai di k liye ker rahi houn so that she doesn't question me for leaving your job,just stay in your limits"saying so she left.Leaving him dazed and numb...


Edited by tehzeebkhan - 13 October 2011 at 8:44am