G 2 - What...?? Aisa bhi kya tha wahaan Jo, tum itni excited ho rahi ho...?
G 1 - Arre,Yeh poocho kya nahin tha wahaan... (visualized something n said in very dreaming way) But,special toh 1 hi 'cheez' thi.. .Haaaiii He is Damn cool n so Handsome Yaar...
G 2 - Who..? Tum kiski baat kar rahi ho...?
G 1 - Arre ! Hamare new 'Programming Head' ki...! Kya lagte hain woh yaar...! he is so...so...so... Sexy .
G 2 - Oh ! Phir toh rehne do... Tumhen toh Vivek Oberoi aur Tushaar Kapoor bhi Sexy hi nazar aate hain (she chuckled).

G 1 - No... This time 'Real' mein... Seriously, Kya personality hai unki...Haaaiii... Perfect Eye Candy... aur kya dance karte hain woh... I am toh totally gone ...Main toh un par puri tarah Fida ho gayi Yaar...! (acting as if,she was about to feint)

G 2 - Oh ! Agar itna keh rahi ho...toh kuchh toh baat hogi uss mein... waise,woh hai kahaan...? Lunch Break hone ko aaya par,Maine toh subah se kisi Sexy aur Handsome hunk ko nahin dekha...
G 1 - Kaise dekhogi...? Woh apne Cabin mein hain... Kab se wait kar rahi hoon...1 baar toh bulaaye... Aise Boss ke saath toh Non-Stop 18hrs. work kar sakti hoon..woh bhi bina kisi 'Complain' yaa kisi 'Overtime Charges' ke...
She was startled as she heard a grim and cold voice speak in a slightly high tone.....
"Thanks ! for your determination for work... par,mujhe aap sab ke 18 nahin sirf 8 hrs. hi chahiye... woh bhi full Determination n Perfection ke sath."
Both the girls quickly turned around... and both were left gaping... they were staring at the Handsome Hunk who stood in front of them. Dressed in a gray suit... striking, handsome features... ARNAV GREWAL looked HOT... DAMN HOT... but he had no smile on his face...a grim look... he had joined as the 'NEW PROGRAMMING HEAD' of "ERON INDIA". He had just returned from MELBOURNE .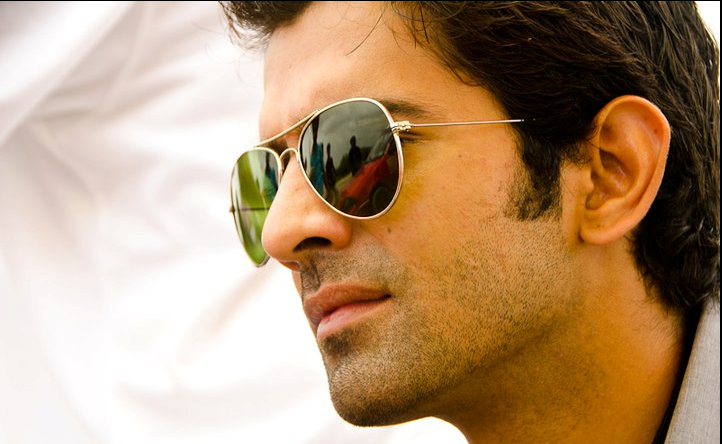 Both the girls were feeling embarrassed... he had heard each and every word they had uttered ... and maybe he had not liked it. His voice indicated his displeasure. Both of them looked downwards... trying to avoid eye contact with ARNAV. He walked closer to the girls and in the same, strict tone he said...
"This is First n last warning for both of You... Abhi Lunch Break hone mein full 8min. bache hain..aur,Tum donon ne abhi se apna 'Chatting Club' start kar diya...! This is Office hour... aur yahaan tum donon ko work karne ke liye appoint kiya gaya hai...Mujhe yaa kisi off-beat Topic ko discuss karne ke liye yaa nahin. Kal PARTY mein kya hua...? Yeh zaroori nahin hai... Aaj yahaan kya ho raha hai... Yeh zyada zaroori hai. I hope,mujhe yeh baat tumhen dobara nahin batani hogi...
Both nodded in affirmative... not able to speak a word... they were still not willing to look at ARNAV... meet his gaze... ARNAV looked at them angrily and left from that place...
-----------------------------------------------------------------
ARNAV entered his cabin and slammed the door shut behind him and on his face was a... smile. He stood in front of a large mirror that occupied one end of his spacious glass cabin and looked at himself... adjusting his tie and setting his hair, ARNAV looked at himself... with pride...
(( Not Bad Dude...! You are still Heart Throb... Girls aaj bhi mujhe discuss karti hain... Mujhe toh laga tha meri rough-tough image ke baad woh mujhe 1 different angle se hi dekhti hongi... par,Thank God ! Work ke over load mein mera charm nahin khoya...
And giving his mirror image a flying kiss, ARNAV sat on the chair, opened his Lappy and logged on. His smile got wider as he saw his screen saver... It had the picture of... GUNJAN...

she looked amazingly pretty in the pic... It was clicked at the wedding of his elder brother,ANKIT. She had looked so pretty that day... dressed in a light pink 'Lehanga' that had delicate silver zari work done, GUNJAN looked like a fairy... the minimal jewelry and little makeup ensured that her natural and flawless beauty was visible. The smile that played on her pretty lips was enough to make anyone's heart skip a beat. Her hair was neatly pinned up... with stray strands falling on her face. That pic was now displayed on his computer screen. He was speaking to her pic...as if it was GUNJAN who was there...
I wish,bas yeh charm tum par bhi chal jaaye...waise,hi jaisa Bhai ki marriage mein tumhaara mujh par chala tha... (blushed) waise maine 1 galti toh ki...Bhai ke saath-saath mujhe bhi phere le lene chahiye the... par,koi baat nahin...uss waqt nahin liye toh kya...ab le lenge... toh,Miss GUNJAN BHUSHAN...are you ready for your new Identity...? Mrs.GUNJAN ARNAV GREWAL. Agar ready nahin hain,toh ho jaaiye...2 yrs. tak wait kar chuka hoon... aur zyada nahin kar sakta... aur karoon bhi kyun...? Sab kuchh toh already set hai...phir,wait kya karna...?
Bas ab toh sirf Mom-Dad se kehna hai,aur sab kuchh Final. But,tell me... kya, tumhen kabhi mujhse milne...mujhse baat karne ka dil nahin karta...? Phir,abhi tak mujhe apna contact number,apna address kyun nahin diya...?? (with fake anger) Tumhaari images se toh baat kar main bore ho chuka hoon...ab toh mujhe tumse baat karni hai... waise,mujhe dekhna hai... apne hone waale Hubby ko aap kaise handle karti hain... bas 1 baar DELHI aao toh sahi... phir dikhata hoon...Office mein itna strict rehne waala ARNAV...real mein kitna Romantic hai...(smiled very badly) ))
He was lost in GUNJAN... her thoughts... thoughts of his future life with her... and suddenly... his cell buzzed. ARNAV came back to reality and checked the number on his cell... his Mom was calling... from DELHI. Just what he had wanted...to speak to his Mom... definitely a good sign, he thought. He received the call and excitedly spoke...
A - Hello ! Mom... Sorry,Kal raat woh aapse baat nahin ho paayi actually kal Office staff ne 1 party...
AM - Its ok beta... Koi baat nahin...main samajh sakti hoon. Tumne Join kar liya...yehi hamare liye 1 badi news hai... New Office...new Job...new environment..I know,kuchh zyada hi busy hoge...
A - Haan Mom...Yahaan kuchh zyada hi work load hai...anyway,kaise phone kiya...?
AM - Maa ko apne bete ko call karne ke liye kisi wajah ki zaroorat nahin...
A - I know Mom...actually,mujhe bhi aapse 1 zaroori baat karni thi...bas,soch raha hoon...kaise kahoon...
AM - (Cutting him off... as if trying to avoid 'something') Waise, mujhe tumse yeh poochna tha ki,tum ANU ki marriage ceremony attend karne DELHI aa rahe ho naa...?
A - (smiled but,said in little serious tone)Sorry Mom...! But,I don't think... main abhi aa paaoonga... Actually,Yahaan kaafi work load hai... some colleagues bhi leave par hain toh...
AM - (said happily)Oh ! I understand bete ! Work is more important then,other things... Don't worry...Tum sirf apne work par concentrate karo... Main yahaan sab ko samjha doongi...
ARNAV was little shocked((Yeh Mom ko kya hua...? Aaj unhen mere work se koi problem nahin...? Main DELHI nahin aa raha...issi bhi casually treat kar rahi hain...par,Kyun...?? Kya kuchh aisa hua hai jo,mujhe pata nahin...?? par,Kya...??))
A - Thanks Mom for understand me... But,I really want to talk you... Maine SUJATA Bhabhi ko phone kiya...par,woh meri call receive nahin kar rahin... maine Office number se bhi try kiya but,unhone meri awaaz sun ne ke baad call cut kar di... Bhai bhi kuchh nahin bata rahe... Kuchh hua hai kya Mom...??(asked in very curious tone )
AM - (little disturb..but act normal)Nahin...nahin toh...hona kya hai... Kuchh bhi toh nahin... ANKIT busy hoga..issi liye baat nahin ho pa rahi hogi...aur SUJATA...woh toh apne 'Maayke' gayi hui hai... shayad usne tumhaari awaaz pehchani nahin hogi...simple...Koi bhi baat nahin hai...Don't worry...
A - Par Mom...Maine unse GUN...
AM - (cutting him and speaking Immediately ) Bete...shayad tumhaare Dad aa gaye hain... Mujhe unhen Lunch serve karna hai... Main baad mein call karoongi...Ok... Bye. (and cut the call immediately)

As ARNAV kept the cell on his desk, his smile had vanished and a small frown had formed on his forehead. He was now very disturbed by these turn of events... (( Kuchh toh hai...Jo sabhi mujh se hide kar rahe hain... par kya...?? Jab se main INDIA wapas aaya hoon... Koi bhi Mujh se GUNJAN ke baare mein baat nahin karna chahta...par kyun...?? Mujhe toh yeh bhi pata nahin ki,woh abhi kahaan hai...? Woh DELHI se kyun gayi...?? Sirf apne Dad ke transfer ki wajah se woh apna MBA admission kaise cancel kar sakti hai...?? Aur Uncle ka transfer kahaan hua hai...? Koi mujhe kuchh bata kyun nahin raha...? SUJATA Bhabhi...!! Woh mujhe kuch bata sakti hain... par,woh bhi toh mujhe avoid kar rahin hain...? Achha hua jo Mom ko DELHI aane ke baare mein nahin bataya...ab jab DELHI pahunch kar unhen surprise doonga...toh hi pata chalega ki, Aisa kya hai...jo sabhi mujh se hide karna chahte hain... GUNJAN thik toh hai...?? Usse kuchh hua toh nahin...?? ))

He was now worried... for GUNJAN. What had happened that every1 was avoiding this topic?? What were they trying to hide from him?? He had to reach DELHI and find out soon. Staying away from GUNJAN was getting very difficult now. Yes... he had to find out where she was... how she was doing???


[D]
After she kept the receiver back in its hook, MADHU ( ARNAV's Mother) walked towards the sofa and sat down. She looked tensed. This was getting difficult by the minute. Lying to ARNAV was never easy. Her tensed look was not missed by her husband, Mr. KARTHIK GREWAL ... (ARNAV's Dad) though he pretended to read a magazine. He had to speak up... He did not wish to, but he knew he had to be strict... so he said in a serious tone...

AD - Tumne usse sab kuchh bataya kyun nahin... .

AM - Kya kahoon main uss se...? Hamare kehne par hi toh usne...
AD - (cuts) MADHU tum baat samajh nahin rahi ho... Ab ARNAV, MELBOURNE mein nahin MUMBAI mein hai...Hum uss se zyada dinon tak kuchh hide nahin kar sakte...aur phir,inn 2 saalon mein kaafi kuchh badal gaya hai... Kuchh bhi pehle jaisa nahin raha. Usse ab saari sachhai pata honi chahiye...
AM - Haan,Par...iss tarah...aur,phir jo kuchh bhi hua...uss mein GUNJAN ki kya galti hai...? usse toh...
AD - (cuts angrily) Galti kisi ki nahin...par,Tum kya chahti ho...? Jo ANKIT (ARNAV's elder Bro. ) ke saath hua wohi ARNAV ke saath bhi ho...? (said in very rude tone )

AM - Nahin,Main aisa nahin chahti...par,Yeh zaroori toh nahin... Main ARNAV ko jaanti hoon...woh,kitna ziddi hai...yeh Aapko bhi pata hai... Woh,isse easily accept nahin kar sakta.
AD - Usse accept karna hoga... woh koi bachha nahin hai...Usse yeh baat samajhni hogi... Iss Family ke liye kya achha hai...Yeh usse bhi sochna hoga... (said angrily ) Agar tum usse yeh nahin bata sakti toh,koi baat nahin...main khud uss se baat karoonga...
AM - (said in worried tone)Aap rehne den... Main Right time par uss se baat karne ki koshish karoongi. Waise bhi woh DELHI nahin aa raha...toh abhi iss baat ko aage badhane ka kya faayda...?? Jab woh aayega , GUNJAN yahaan nahin hogi... Hum uss waqt bhi toh uss se baat kar sakte hain...
AD - Thik hai...agar tum kehti ho toh...yehi sahi...par,jahaan tak main usse jaanta hoon ,woh DELHI zaroor aayega... Hum donon hi jaante hai ki,woh MELBOURNE se wapas kyun aaya hai... Iss liye, achha hoga...agar usse yeh Sachhai kisi bahar waale ki jagah kisi Family member se pata chale...His tone was strict... a no nonsense kind of tone... banging the magazine he was holding on the center table, he left the room. MADHU looked at her husband... tension seen clearly on her face...
After her husband left the room, MADHU shut her eyes. Her fingers were massaging her forehead as she thought... (( Meri toh kuchh samajh nahin aa raha , Yeh sab kya ho raha hai...? sab kuchh toh thik tha...Phir Yeh,hamari khushiyoon ko kiski buri nazar lag gayi... ?? Kaise baat karoon main ARNAV se... ?? Kya kahoon main uss se... ?? Aur, GUNJAN... ?? Uski toh koi galti bhi nahin...Woh toh pehle hi... 1 kabhi na khatam hone waale dard ke saath zindagi guzar rahi hai... Kya, woh 1 aur dard bardasht kar paayegi...?? )) As a Mother, she felt equally for GUNJAN as she felt for her son ARNAV. This decision was going to hurt both the kids... and as a mother, this was going to be difficult for her too.