PART 13 : (4/5)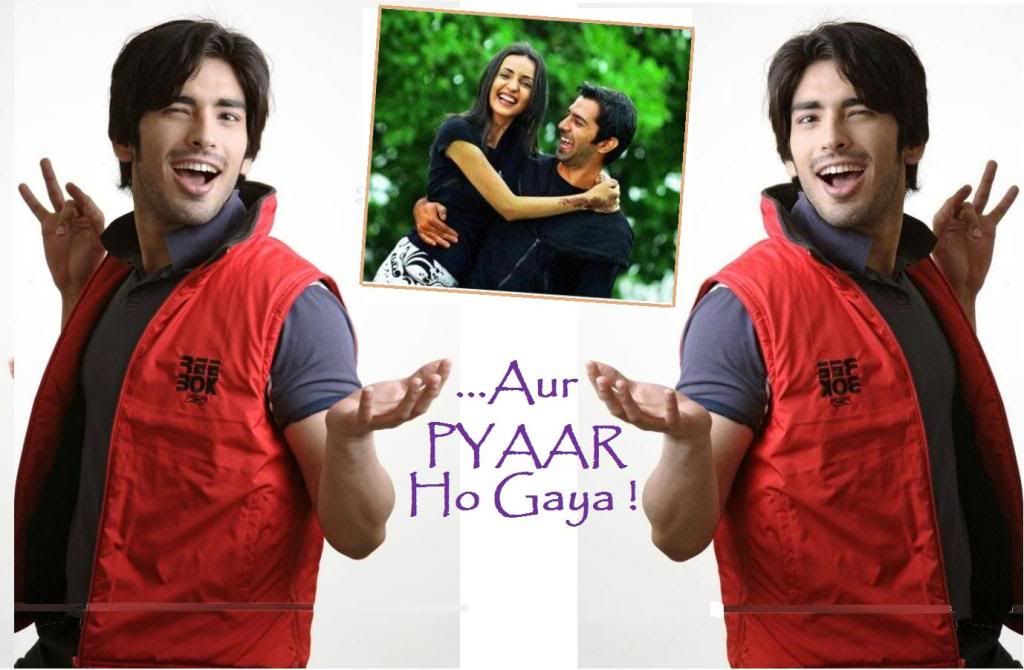 *Banner Poster:A S3J Creation.


[E]
SAMRAT smiled softly...n said in very relax tone... Oh ! Pehle Deal ke conditions toh sun lo...uske baad decide karna... and under our deal...Main GUNJAN se tumhaari koi complain nahin karonga... aur tum bhi uss se 'woh-sab' jhooth-jhooth nahin bologe...
T - Toh...?? Main bhi toh yehi keh raha tha...
S - No...Deal ka 1 second part bhi hai...aur woh yeh ki,Tum meri aur GUNJAN ki Friendship ko todne ki koshish nahin karoge...aur...aur naa hi usse mere against karne ki koshish karoge... Bolo...kya yeh conditions tumhein accept hai...??


T - (angrily) What...?? Look...! I told you naa...stay away from my 'Di'..Aapko meri baat samajh nahin aati...??
S -
(with fake smiling face) Aati hai...! achhe se aati hai...!! lekin,lagta hai tumhein meri baat samajh nahin aayi...toh ab mujhe tumhein achhi tarah se samjhane ke liye...abhi direct tumhaare ghar jaana hoga...aur Uncle yaa Aunty ko batana hoga ki, tum donon ne apni
SCOOTY
se hamare Car ki kya halat bana di...
phir, tumhein woh achhi tarah se samjhayenge... (said in threaten way) Main bhi dekhta hoon...woh kis par yakeen karte hain... (said happily) Kyunki,mere paas proof bhi hai...tumhaari woh
SCOOTY
...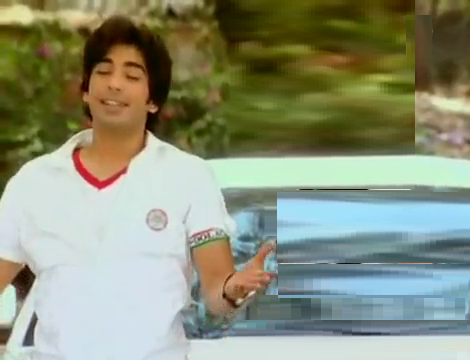 SAMRAT
indicated the direction of his house a she spoke...an open mouth
TINKU
looked over his shoulder and then back at
SAMRAT.
He quickly walked over close to
SAMRAT
before he could move and entwining his fingers, he begged... "Aap... aap... Please...hamare ghar par kuchh mat kehna... aapne kaha toh... " keeping his head on his entwined fingers,
TINKU
was appealing for all its worth...
SAMRAT loved the way he had turned the tables on TINKU... he was in complete control of the situation and there was no way he would allow TINKU to get away so easily... he continued... " WoW !! Ab chup kyun ho...?? Bolti kyun bandh hai...?? Kyun ab apni 'Di' se kuchh nahin kehna...? Well ab toh tumhein rok bhi nahin raha...jaao jo kehna hai kaho...I don't care...main bhi Uncle-Aunty ko sab kuchh sach-sach bata doonga..." his voice indicated his threat...
TINKU gave him a doleful look as he now had no clue how to get out of this situation... then he spoke, very innocently... and with hope, that maybe this would be a solution... " Ok... !! Agar main "Di" ko kuchh nahin kahoonga...toh aap bhi PAPA ko kuchh nahin bataoge naa...?? "
S - (said in full of attitude) No... Deal ki 2nd condition bhi maanni padegi... warna toh main... (threatening again)
T - (in totally irritating tone) Aap...aap...hamein pareshaan kyun kar rahe ho...? Humne...humne toh kuchh kiya bhi nahin...(said innocently) Aapki Car par scratch aaye...toh..toh hamari SCOOTY bhi toh damage hui naa...?? Uska toh pura front side hi tut chuka hai... aur phir 'Di'...?? Unka kya...??

Kal aapki Car se accident ki wajah se unke leg par kitna bada cut aaya hai... kitni bleeding hui... woh...woh... toh Jeans tak nahin pehan paa rahin... lekin, humne kya kisi se complain ki...?? Kya aapse kuchh kaha... in fact,humne toh kisi se kuchh nahin kaha...phir aap...
The smirk on
SAMRAT's
face disappeared and the carefree expression turned to a concerned one as he heard
TINKU
talk about
GUNJAN's
injury. He held
TINKU
by his shoulder as he asked him... "What...??
GUNJAN
ki injury tumne kisi ko nahin batai... Kya kaafi bleeding hui...?? Ab...ab toh thik hai naa woh...?? Tumne ...tumne pehle kyun nahin bataya...?? "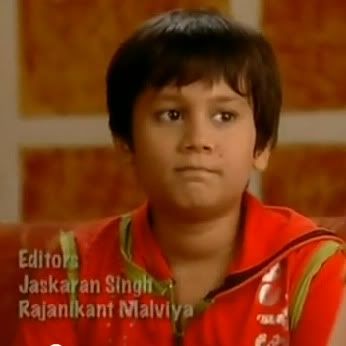 T - (in very innocent tone) Main kya karoon...?? Aap kuchh sunte kahaan ho ?? Kab se toh keh raha hoon... 'Di' ko bula do...'Di' ko bula do...par aap ho ki unhein bula hi nahin rahe... Agar woh abhi nahin aayengi... toh hum 'Dispensary' kaise jaayenge...? phir hamein apni SCOOTY ki bhi toh servicing karani hai... this time, TINKU's voice and expressions clearly showed the concern of a brother for his sister...
And SAMRAT was surprised to see this side of TINKU... the naughty, mischievous and loud mouth TINKU now looked so innocent, so sensible , so mature...and yet, he was but a kid... SAMRAT spoke to him...his voice gentle... " lekin...Tumhein Dispensary kyun jaani hai...? "
As TINKU looked at him, SAMRAT was surprised to see tears brimming in TINKU's eyes... then TINKU looked downwards, as he spoke... " Wo...woh...'Di' ne First Aid nahin lii naa...aur phir koi injection bhi toh nahin liya... Kal ghar par toh...'cut' par Dettol lagaya tha...aur phir Antiseptic bhi... lekin,phir bhi uski 'First-Aid' zaroori hai naa...? (asked innocently) Issliye toh unka yahin wait kar raha hoon...unse Promise kiya hai... iss liye toh andar bhi nahin ja sakta... (SAMRAT knew the tears were real as was his choked voice...)
S - (in very soft tone) Tum... tum apni 'Di' se bahot pyaar karte ho naa...??
TINKU said nothing as he looked at SAMRAT. he turned his face away to hide the tears that were now threatening to leave his eyes... and quickly wiping them, in a forlorn tone, he said... " Mr.SHERGILL ! Aap please unhein bula dijiye naa... mere paas bahot zyada waqt nahin hai... "
SAMRAT realised that TINKU was really upset. His words hit SAMRAT hard... he had to admit... this boy was a unique person... as he ruffled TINKU's hair, he said... " Don't worry...main abhi Market hi jaa raha hoon... GUNJAN bhi saath hi jaa rahi hai...Main wahin uski dresing karwa doonga... Tumhein tension lene ki zaroorat nahin... aur jahaan tak baat SCOOTY ki servicing ki hai... main apne Driver se keh deta hoon... woh usse thik kara kar le aayega... "
TINKU looked at him and quickly composed himself... setting his hair, he said... " Thanx ! But, Iski zaroorat nahin...V'll manage.. Aap sirf 'Di' ko bula do... Woh aapke saath kabhi 'Dressing' ke liye nahin jaayengi... Unhein Injection se bahot darr lagta hai...woh toh... woh toh Hospital jaana bhi pasand nahin karti toh... (And he trailed off, lost in his own thoughts...)
SAMRAT kept his hand on TINKU's shoulder as he spoke..." Maine kaha naa... Main uska 'First-Aid' kara doonga... so,Don't wory for her...yeh ab meri zimmedari hai... Tum sirf apni SCOOTY hamare Driver ko le jaane do...woh jald hi uski servicing kara kar laa dega...
TINKU looked at him and nodded his head ... and as soon as SAMRAT finished speaking, he said in a serious tone... " Servicing ke kitne charges honge...?? Aur aap Please... Apni Car ki repairing Bill bhi bata do... 'Di' ne kaha hai...woh re-pay kar dengi...
SAMRAT
did not know what to say...where just some time ago, this kid was an absolute pest, within minutes, he was perhaps the most mature kid he had ever seen.
SAMRAT
smiled and spoke, in a gentle tone... " Ok... Main woh Bill...
GUNJAN
se le loonga...Ab toh koi problem nahin...?? "
TINKU
was about to say something, when he saw his
Di
... as she was walking towards them.
SAMRAT,
who was waiting for
TINKU
to say something, followed his gaze and was mesmerized by what he saw...walking elegantly towards them was the most beautiful lady he had ever seen...so delicate, so pretty... as the gentle breeze played with her tresses, and her
'Dupatta'
... giving her a hard time... as she tucked the strands of hair behind her ears and adjusted her dupatta... her smile bringing with it calm and peace... but his heart... seeing her, his heart skipped a beat...
-::================::-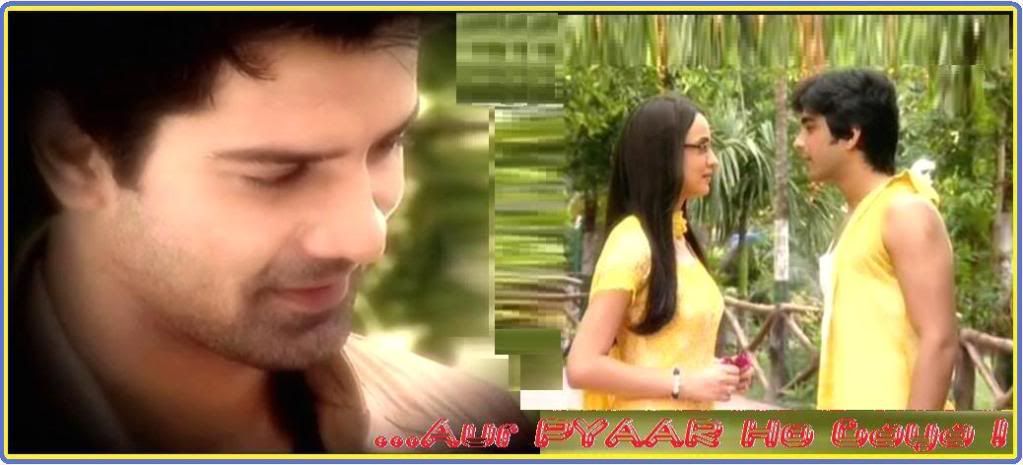 *Banner Poster:A S3J Creation.


[F]
ERON INDIA Office , Mumbai.
As he reached office, this once,
ARNAV
did not notice the girls in office drool over him as he strode over to his cabin. The telephone conversation with
RAJ
was still ringing in his ears. Everything seemed so meaningless now... all his dreams...vanished...without any indication that it would, a storm came and washed away all his dreams.
Upon reaching his cabin, he kept his lappy bag on the desk and flopped on the chair. Visions of his brother's wedding,
GUNJAN
... her smile, her eyes that could speak volumes...everything flashed before his eyes. And then in a split second,
RAJ's
words rang in his ears. He shut his eyes...and then after some moments, opened them. He took out his lappy from his bag and switched it on.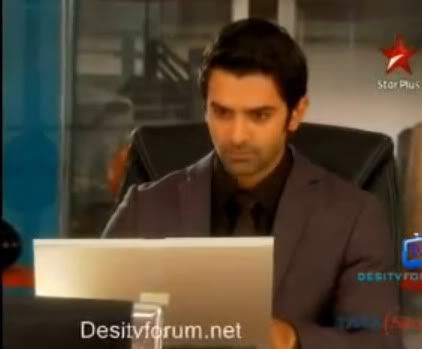 This time, as his lappy sprang to life,
GUNJAN
did not smile at him...the wallpaper was an inbuilt one. He used to see her pics...after the open of his Lappy ... He felt his eyes moist. Wiping them, he composed himself as he started typing an application for leave. As he was about to press the
PRINT
option, he stopped...and as an after thought, he picked up his cell and dialed
ANKIT's
number.
The call did not go through...
ARNAV
was upset...he leaned back as he thought...and then again he dialed, getting the same result... he continued trying... again and again..till finally, he heard a ring at the other end and finally, a calm and composed voice answered the call... " Hello...!!
ARNAV
...?? "
ARNAV was relieved as he heard his brother... and in the a serious tone, he said..." Yes Bhai !! ARNAV here... "
An - Hi ! Abhi call kiya...?? Kuchh khaas baat thi...?? Abhi toh tum Office mein hoge naa...?? Phir abhi...??
Ar - Haan ! Abhi Office mein hi hoon... just 'Leave' ke liye application type ki hai... (after a little Pause) Bhai...I am coming...
An - WHAT ?? (shockingly) ARNAV ...What is this...?? Maine tumse kaha naa...yahaan sab kuchh thik hai... aur...aur...ab GUNJAN bhi yahaan nahin hai toh...
Ar - (cuts quickly) I am coming for you...n my Family... not for GUNJAN... (said in very serious tone) Aap sab mere liye sabse zyada important ho Bhai... Aap logon ne mujhe 'Paraya' bana diya... lekin,main aisa nahin kar sakta...



An - ARNAV tum..tum...yeh...
Ar - (in very upset tone) How could U do that with me...?? Itni badi baat... Itni badi baat aap sab mujhse kaise hide kar sakte ho...Kya main iss family ka part nahin...?? Phir,aap sab ne kyun muje kuchh nahin bataya...??
There was no reply for some time and then finally ANKIT stammered... " Ye...Yeh...Tum kya soch rahe ho...?? Mujhe ...mujhe... kuchh samajh nahin aa raha...Maine...maine...kaha naa yahaan...yahaan...sab thik hai...
Ar - (Losing his cool...he burst out, his voice indicating his pain more than anger...) Bas kijiye aap...! Aur kitna jhooth bolege aap sab,mujhse...?? Now,I know ki,wahaan sab kuchh thik nahin hai... Mujhe RAJ ne sab kuchh bata diya hai...mujhe...mujhe pata hai ki...aap...aapka divorce ho raha hai... Aur...aur SUJATA Bhabhi ne hamari Family aur aap par jo allegations lagaye hain...uss case ki 'Hearing Date'...
An - (cuts in very anger tone) Don't call her 'Bhabhi'... wo... woh... tumhaari 'Bhabhi' nahin hai... she doesn't deserve any kind of respect... from anyone... tum soch bhi nahin sakte ki usski wajah se...usski Family ki wajah se hamari kitni baizzati hui hai... Unn sabne mil kar hamein cheat kiya hai... woh sab 1 jaise hain... big Frauds n Cheaters.
Ar - (asked softly) Bhai...lekin...suddenly...aise...?? Unke allegation...?? aur phir Divourse...??
An - Yeh saare false allegation unki planning ke parts hain... Apni Beti ki kartootoon ko chhipane ke liye unhone inn false allegations ka sahara liya hai... yeh Dowry ke liye Mental n Physical harrasment ka case... sirf hamari Family ko accuse kar...uski galtiyon ko chhipane ke liye kiye gaye hain...
Ar - Lekin Bhai...iss tarah toh...
An - Kuchh nahin...woh sirf yeh chahte hain ki,iss seperation ko 1 social acceptance mil jaaye...jis se phir kisi ka attention unki beti ki harkatoon par na jaaye...
Ar - Matlab...?? Kaisi harkatein...?? Aap... aap... kehna kya chahte ho...??
An - (sighed... and then, in a serious tone, he said...) SUJATA kabhi bhi...iss mariage ke favor mein nahin thi... Kyunki... kyunki...woh pehle se hi kisi ke saath committed thi... lekin,phir shayad unka kisi wajah se break-up ho gaya aur woh... kuchh dinon ke liye out of INDIA chala gaya tha... Yeh marriage usne sirf apni Family ke pressure ki wajah se hi ki thi... starting mein mujhe laga ki,shayad usse Adjustment mein problem ho rahi hai... but,aisa nahin tha...woh Adjust karna chahti hi nahin thi...
Aur..yeh kuchh hi dinon ke baad clear ho gaya tha... Tumhaare jaane ke baad toh situation bigadti hi chali gayi... Usse na toh Mom-Dad ki respect thi...aur na meri... Hum sab ne kaafi koshish ki... lekin woh kahin se bhi iss Family ka part banna hi nahin chati thi... phir... kuchh dinon ke baad... woh aur zyada badal chuki thi... Uske Office ka koi koi time-table nahin reh gaya tha.. kyunki... kyunki...woh phir se apne 'Ex-Boy Friend' ko date kar rahi thi...jo ab wapas aa chuka tha...
Mujhe kuchh shaq hua tha... lekin,main jaanta tha...usse kehne ka koi faayda nahin...uske paas apni iss un-balanced routine ko justify karne ke liye many false excuses the... lekin..yeh sab zyada dinon tak nahin chal sakta tha... Aur 1 din finally,unki yeh 'Secret Dating' bhi sabke saamne disclose ho gayi...maine khud unn donon ko 1 saath dekh liya tha. Ab iske baad naa toh uske paas koi excuses bache the... aur naa mere paas koi dusra option... aur woh option 'Divorce' ka tha... 1 wohi cheez hamein ek-dusre se azaad kar sakti thi.
Ar - (cuts quickly) Lekin...lekin agar sab kuchh itna simple aur clear tha toh... phir yeh allegations kyun...?? Woh silently bhi toh separation le sakti thin...??
An - Haan... ! Le sakti thi...lekin,aise mein unn logon ko society ko sach batana padta...unhein yeh batana padta ki,yeh separation kyun aur kiski wajah se hai... shayad iss liye,unhone apne khaandaan ki izzat bachane ke liye...hum par hi some false allegations laga diye...
But,don't worry... Hamare paas saare sufficient proofs hain... iss liye...Tumhein pareshaan hone ki zaroorat nahin... We'll handle this matter... (after a small pause) Humne tumhein yeh sab nahin bataya... kyunki,hum tumhein wahaan pareshaan nahin karna chahte the...phir bhi...maine 1 baar koshish ki thi...lekin uss din...
Uss din tum se kuchh keh hi nahin paaya...kyunki,tumne uss din pehli baar mujhe apni marriage ke plans baytaye...Tum INDIA wapas aane ke liye excited the... Main tumhaari woh excitement khatm nahin karna chahta tha ... Mere paas tumhein rokne ki koi wajah nahin thi... Main tumse yeh nahin keh paaya ki,jis ladki se shaadi ke tum sapne dekh rahe ho...uski Famili kaisi hai...?? (his tone was pitched high as he spoke...)
Ar - (cuts in mid) Bhai...!! main...abhi...
An - No ! ARNAV...let me finish first... B'coz,I really dont want that... woh ladki...yaa uske ghar waale again kabhi hamari conversation ka part banein...Left with no choice, ARNAV kept quite as he leaned back... to listen to his brother talk... as ANKIT continued... " Look ! ARNAV...uss waqt jis halat mein tumne marriage ke liye 'Haan' kahi... I can understand...

Main Dad aur unki zidd ko achhi tarah se jaanta hoon... agar uss waqt tumne 'Haan' nahin kahi hoti toh,shayad woh kabhi tumhein AUSTRALIA jaane ki permission nahin dete...aur uss short period mein shayad uss ladki se zyada better choice koi thi bhi nahin...
But, Today situation is different... tumhaare paas koi majboori nahin hai... In fact hamein toh God ka thankful hona chahiye ki un logon ne khud uss waqt 2 yrs. ka time maang liya tha...aur phir Dad ne tumhein uss 'so called' rishte ki wajah se permission bhi de di.
Socho...! Agar yeh shaadi ho gayi hoti..toh shayad tumhaare saath bhi wohi sab hota jo mere saath hua... Woh log iss kaabil hi nahin ki unse kisi tarah ka rishta rakha jaaye... Aakhir hum unhein jaante hi kitna the...?? Kya pata uss 'ladki' ke bhi 'Boy-Friends' hon...
ARNAV unable to hear anything against GUNJAN , he cut his brother midway... as he softly spoke... " Uss 'Ladki' ka naam GUNJAN hai Bro ! Aur main sirf possibilty ke basis par uss ke character par koi wrong allegation nahin lagana chahta."
An - Look ARNAV...try to understand... n be practical. After all hum usse jaante hi kitna hain...?? Sirf shaadi mein hi toh dekha tha...?? Iss liye maine tumhein kal kaha ki uss 'Rishte' ko seriously lene ki zaroorat nahin... Aur phir tum khud socho...agar woh iss rishte ke liye serious hote...toh,kya tumhein 1 baar uss se mila nahin sakte the...?? Kisi ko jaane bine koi shaadi kaise kar sakta hai...??
ARNAV replied in totally protective tone, " No Bro. ! Aisa nahin hai... Aap achhi tarah jaante ho ki,woh rishta kitni jaldi mein Final hua... Jab saari cheezein conform hui...tab toh woh yahaan thi bhi nahin...woh toh after her exam...apne kisi relative ke paas BANGALORE gayi hui thi...yahaan toh sirf Uncle the...In fact meri Pics bhi usse Mail ki gayi thin...
Aur Uncle ko hamari mulaqat se koi objection nahin tha... Woh toh 1 week ke baad aane hi waali thi...aur unhone mujhse kaha bhi tha ki,uske aate hi woh mujhe usse milayenge...lekin, shayad uss waqt main hi iss rishte ko lekar itna serious nahin tha...Mujhe toh kisi tarah Dad ki permission chahiye thi...

aur shayad,issi liye Urgent joining ki call aate hi main AUSTRALIA chala gaya... Wahaan jaate hi over work load n khud ko prove karne ke junoon mein aur kuchh yaad rakhna possible nahin tha...but...fact is...main usse hamesha...
An - (cuts in totally 'Not-intersted' tone) Anyway,ab inn sab baaton ka koi benefit nahin...Its a past. Now, Mom-Dad ne tumhaare liye kuchh achhe rishte dekh rakhe hain... I hope tumhein woh...
Ar - (He cut his elder brother off once again...his tone clearly indicating his disinterest...) Bro ! Please... This time I don't want to think about this matter.Main abhi itni jaldi kisi bhi new relationship ke baare mein nahin soch sakta...Mujhe sochne ke liye thoda time chahiye. Anyway,Main ANU ki marriage attend karne DELHI aa raha hoon. (said in totally 'this chapter is closed' type tone)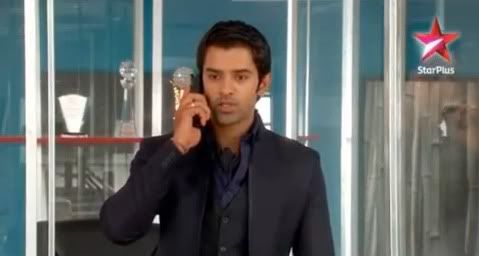 An - Koi baat nahin...take your time... Tum aao phir saari baatein detail mein karenge...
Ar - Ok ! Bye... and he disconnected the call. Then he looked at his lappy and after some thinking, he changed the date on the application and hit the PRINT button...
Aas he waited for the printer to complete its work, his thoughts continued unabated... (( Kuchh samajh nahin aa raha...yeh sab kya ho gaya...?? Suddenly,sab kuchh khatam ho gaya sa lagta hai...Bro. GUNJAN ke baare mein aisa kaise bol sakte hain...?? I agree ki,SUJATA Bhabhi ne jo kiya woh kahin se bhi Right nahin hai...but,GUNJAN !!
Woh mujhe zara bhi uss tarah ki nahin lagi... Maine shaadi mein dekha tha usse... Yeh alag baat hai ki hamari baat nahin ho paayi thi... Kyunki,woh ussi din hi chali gayi thi...shayad koi exams the uske... agar woh RECEPTION mein bhi aayi hoti ,toh definitely hamari mulaqat ho gayi rehti.
Aur agar uska koi 'Boy Friend' hota..toh woh shaadi ke liye haan hi kyun karti...?? Aur phir main uss ke father se mil chuka hoon...woh toh kitne simple n sober person hain... A very down to earth personality... loving n caring too. Jab maine unse GUNJAN se 1 baar milne ki request ki...woh toh without any objection maan gaye the... toh,Its clear ki, wahaan koi problem nahin thi... Lekin, phir mujhe hi urgent joining order ki wajah se AUSTRALIA ke liye jaana pada... Agar woh uss waqt DELHI mein hoti toh main definitely usse mile bina nahin jaata.
Lekin...ab...ab jabki,mujhe saari sachhai pata hai...ki,GUNJAN ke ghar waaloon ne hamari Family par kitne saare false allegation lagaye hain... Kya mera uske liye kuchh bhi feel karna right hai...?? Infact,yeh sab jaan kar toh mujhe uss se nafrat honi chahiye thi...lekin...lekin,main aisa nahin kar paa raha... Mera dil yeh maanne ko ready nahin ki,woh yaa uski family,Bhabhi ke iss jhooth mein kahin se involve honge.aur phir yeh zaroori toh nahin ki Bhabhi ki family ke false allegation mein unka bhi suppoort ho...?? Phir Bro kaise...?? Phir kyun...?? Kyun main usse wrong maanoon...??
He leaned back and shut his eyes as he massaged his forehead... his head was aching with all these thoughts... then suddenly, he sat up straight as he thought... No !! Yeh main kya think kar raha hoon...?? How can I behave like a selfish man...?? Abhi toh meri Family hi meri priority honi chahiye... phir,main yeh sab kaise think kar sakta hoon...?? woh already kitna kuchh suffer kar rahe hain...mujhe abhi meri family ko supoort karna chahiye...naa ki,apni feelings ke baare mein sochna chahiye... Abhi main aisa kuchh nahin kar sakta jise unhein takleef ho... GUNJAN jaisi bhi ho...Mujhe ab uss se koi matlab nahin... Hamare raaste alag ho chuke hain... Aur,mujhe yeh accept karna hi hoga... I am sure...woh ANU ki shaadi mein zaroor aayegi... lekin,ab mujhe uske aane yaa jaane se koi farq nahin padega... Main ab usse ignore karoonga... Uski taraf dekhoonga bhi nahin... Yes... this is right decision.))...



Though he was not happy with this decision, he had made it... for his family, who was the most important to him...even more than... He shut his eyes...His pain leaving his eyes in the form of tears. After some time, he wiped his tears... Before,shutting down his lappy,deleted all pics of GUNJAN from 'Folder copy'. He put it back in his bag and picking up the printout of his leave application, he stood up to leave... his family needed him and that was all that mattered.
Now,ARNAV was very clear about his decision...But,was it possible for him...?? Only time will tell...answer of this question...!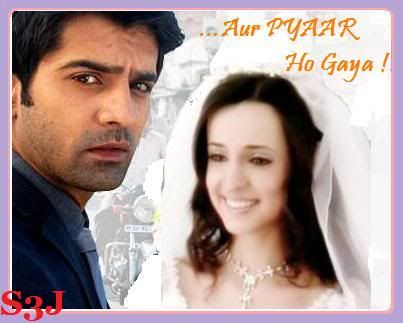 -----------------------------------------------------------------

: : - Please 'Press' Next or P-140 for Part-13 [5/5] - :