Dear Harshad,
wishing you a very happy birthday with many happy returns of the day. Just want you to know that you are my absolute favorite actor and you've outshone any actor that I had previously been a huge fan of...even Shah Rukh Khan, who I had been a fan of since I was basically born...all of them are only second best in front of you. Keep rocking forever and never doubt yourself because you are the very best!! Love you lots and God bless! ~Tejy

happy bday...may god gives u all d happiness in d world nd u r always showered wid d luv nd respect. i wish u a vry succesful year ahead nd may all ur wishes hopes cums true. dis day brings new hope for u..keep smiling always god bless u always
luv u harshad hamesha nd forever...i will always luv u...happy bday harshad hav a blast!!! wish u all d best for ur future luv u harshad

Wishing you A VERY VERY HAPPY HAPPY SUPER DUPPER BIRTHDAY Harshad!!!!
Many many returns of the day
GOD bless you and a long and blessed future!!!
You rock Harshad!!!
Love, Farah


With lots of best wishes and prayers
sugi

Happy Birthday, Harshad Chopra
Wish you lots of luck, love, success & happiness in your life.
May all your dreams & wishes come true.
May your special day be filled with memories and flowers, friendship and happy hours.
May ALLAH give you lots of joys & happy moments. May you live long & live happy. I wish you good luck. A nice & lovely life to come. Bright & joyful future.
I may not be by your side celebrating your special day with you. But I want you to know that I'm thinking of you and wishing you a wonderful Birthday !
God bless you !
Fly in the plane of ambition,
and land on the airport of success,
Luck is yours,
wish is mine
may ur future
always shine.
Happy Birthday!
Happy Birthday to you, Happy Birthday to you
Happy Birthday to dear Harshad Chopra
Happy Birthday to you
Big Birthday HUG from Hina
Love Ya.
I want to wish u the best birthday ever
Let me tell u dat I fell in love with u when I first saw u
My friend told me that there is a new drama on star plus it looks really good
And I was like oh ok... I wasn't that bother
But when I YouTube it and found the video where your get up was in pagal Onu, I really thought this actor is pagal in real life too, those expression, those expressive eyes, the whole body language was speaking and I couldn't take my eyes off u and I watched the promo again and again and again' I can't tell u how many times I watched the promo
Then the drama started but it was small kid's story I can't tell u how much I waited these kids to grow up
And when u were introduced as a grown up Onu' the whole sequence from the airport to taxi and the eating ice-cream was mind blowing
And u r the reason I became an active member in IF and met such a nice people
I have done my besti by lots of people just coz I was too busy drooling over u
I forgot to do my assignments, essays, homework and not even once I regretted it
Even I convinced my teacher to watch the show and let me watch it during lesson
I always use to rush home and just sign in on IF to find out what happened today in TL
Onu was the best role I ever seen in my whole life, you made us cry and laugh with u' as an audience you made us to watch it again and again and no one can do dat
I love everything about u but ur smile just kills me :P so please keep smiling all the time
We fan and mostly me miss u a lot and come back soon
May all your dreams, wishes comes true and may u reach ur goal' always be happy' I wish u success, wealth, health, happiness and everything
Love u loads
Sundas


OMG!!...So finally the day has cum'..17th may!! Don ,know frm when ws waitin for dis'..Used to calculate each day'.:P
Ok so frankly, I ws nt a gr8 kinda fan of u, bt the day I strted watchin TL'OMG!!..u r a killer, man!!!'''.i mean ur acting as Onu ws out of da wrld''.Onu's attitude, way of talking etc. ws mind blowing'..jus cudnt take my eyes of frm u'..N frm tht day I strted likin u sooo n soo much'.i guess will nt b able to define in wrds..
It ws tht day n tdy, my luv for u has just increased n increased n dis will continue ahead too''
Harshad, u r unlike any celebrity'''I mean being such a famous actor, u have never showed off nything
n always have respected ur fans''..The bst part of u is, u nvr make the fans realize dat dey r "jst fans"'''.Jst in luv with ur dis nature'..N wat to say abt. Ur choices'..OMG!!...frm ur fav. Car, to fav. Mob., to fav. Food''I luv ur pick ups''I luv foodies, n so I luv u'..So,
"A vry vry happy birthday to my dear Harshu"'..
May u get all wat u wnt in lyf, May god give u the strength to fyt all problems tht come ur way'..may ur fame keeps on increasing evry yr, month, day, hr, min sec of ur lyf''May u nvr get hurted by someone really special to u''..May u always stay happy'.God blesss u''Love u lots n may u always remain as u r (vry much down to earth)''. May this year be your best ever'..Not just a year older, but a year better''.Take caree JJ
"Wish u the treasure of treasure of happy yesterdays n gift of bright tomorrows



Harshad we Missing U a lot.Please come back Soon.Wishing U a Very Very Happy Birthday.God Bless.Hope your Birthday Is as Awesome as U are,and May all your Wishes Come True.You are always thought of in a very Special Way,and You're wished the finest things in Life today and Everyday.Happy Birthday...God Bless U Harshad..Mwhaa

Dear Harshad
Happy Birthday to you
Happy Birthday to you
Happy Birhtday to our dear Anurag
Happy Birthday to you
Hope this birthday is the best birthday so far, and you get all the happiness and success in the world. You have made us fall in love with you through your amazing potrayal of Anurag, and we are so proud to be fans of such a brilliant actor! You're acting onscreen and your persona offscreen is what makes us love you so much, and on your special day we just want you to know that your fans will always support you unconditionally!
Wish you all the best for your future projects, and InshaAllah they will be a great success. Thank you so much for making us fall in love with Anurag and TaAnu and Tere Liye so much, without your superb acting and dedication to the role, our beloved Onu and Tani's love story would not have been so popular! We miss you so much on screen and just hope that you return soon to conquer our screens!
You are a GEM of an actor and person, and wish you MANY Many Happy Returns of the day! May this year bring you all the happiness and success you have wished for!
Lots and Lots of Love
Your biggest fan Trina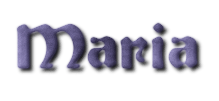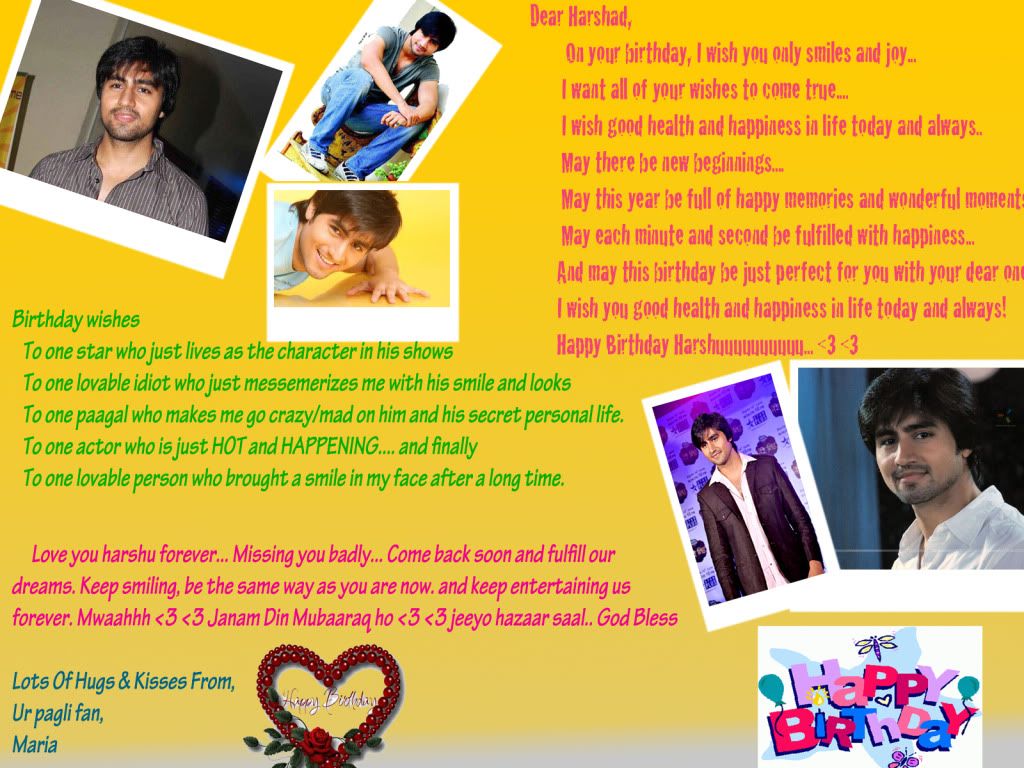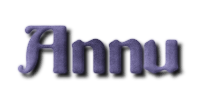 Many more happy returns of the day harshad.
may god give you all happiness and success to you and your family in personal and professonal life.
keep smiling always.
stay blessed harshad .
may this day brings happiness and joy to you always.
keep hardworking never give up
be kind to all be sweet to others .
love you lot harshad
god bless you
by
annu