16/5/2011
Previous Episode
http://www.india-forums.com/forum_posts.asp?TID=1684118
Next Episode
http://www.india-forums.com/forum_posts.asp?TID=1685362
At the end of the Pantomime, Abhi has a sudden plan to propose to Naina, and he takes out his ring, and makes a show, and kneeling down, on one leg, proposes to her, and asks her to marry him. Naina is stunned, as this was not in the script, and Abhi has introduced this out of the blue.
As they come to their senses, Vibha and Vidhyadhar come to the stage, and ask Abhi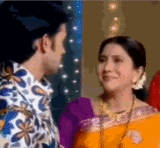 if this was a joke, and he says that he is serious. Daksh leaves the scene. When they are looking at one another with worried looks, Naina tries to bring some sense to the tense situation, and then gives her explanation to the situation. She tells them that he is doing it as fun, as she had challenged him, to propose to his girl, if he had one, in public. Abhi says that he accepted her challenge, and professed in public his love for her, and then she thinks what exactly she said to him, and he took it seriously, and used it against herself. When he directly asks her to marry him, Naina is unprepared for his move, and everyone has their own take on the matter. Naina has no comments at all. She stammers, and says she has to go, and leaves him hanging. When Abhi calls after her, his aunt tells him to let her go. She tells him, that in matters like this, people do not make their decisions on the spot, and she needs time to think of what he has said, and its implications. He accepts his aunt's advice and gets prepared to wait. and all leave the place.
Daksh has been cut to the core, and is despondent, and walking on the terrace with the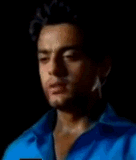 Love Globe in his hand, thinking he has lost Naina to Abhi. He has not waited to see the whole thing that unfolded, which would have given him hope. The background song, Tere Naina, makes it more poignant to the viewer and we empathize with him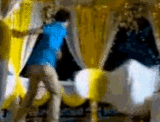 with the haunting music. Both Naina and Daksh have been giving mixed messages, unintentionally, to each other, and this is why, Daksh can not fathom, where he has gone wrong. The depth of love in the eyes of both Abhi and Daksh are on two different planes, and one can not meet the other. Daksh is too high for his opponent, and he does not realize how true he is and his love for Naina. Daksh sees only the external words of Abhi, and takes them as real love, and breaks down, and destroys everything he has prepared for his heart throb. It is like a tornado rushing from the depth of his heart. Nature too cries with him, as the night sky thunders and lightening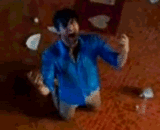 flashes across the horizon. The clouds can not hold their tears any longer, and they shed them profusely on Daksh and everything he loved, and he falls on his knees, and holds the ground with his hands, and lets out from the inner most recesses of his consciousness, a cry which pierces the still night. He calls her, "Naina..." but she is no where around to hear it, or wipe his tears. All his dreams are shattered like the ornaments littering on the ground.
Naina in her beautiful pink saree, is wandering in the corridor of the first floor, all alone, not understanding what is happening to her, and the innermost sinews of her heart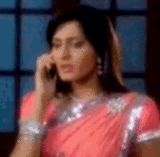 tearing her apart. In one way, she is drawn to Daksh, and on the other hand she has to deal with the dilemma Abhi has set before her, in the presence of the whole family which she esteems so highly. She hears Abhi in her mind, but thinks of Daksh, and then tries to call him on her mobile. How will Daksh hear her, as he is drowning in his sorrow, in the pouring rain, up on the terrace. Again and again she tries, and tells herself, "Daksh, take up the phone, I want to talk to you" - she has realized the different planes of these two men, Abhi's superficial nature and approach, and Daksh with his deep sense of dedication, and endurance in his love for others. Which should she choose?
Inside the house, Akruti and her mother are setting the house in order, and Akruti's phone rings, and she takes it up. Her father too watches her, as she looks at the phone and smiles. Both the parents are watching her, and she has a suddent change of behavior and becomes serious and tells them that a client has called. The father is suspicious, as it is night time, and a client calls her? The mother, brings with great concern for her dauther in law, a glass of warm milk, and asks her to drink. She is very tense and angry, and tells her that she does not want to drink it. Sanket tells her to drink, and again she tells him that she does not want it.
Kaka starts his taunt, and hammers out at Rohini, saying, "Leave her alone Sanket, her mood is off. Her sister who had to get down from the running train due to that girl, Naina, finally got a lift in Abhi's car. This poor girl, will be sad, won't she? " and he giggles and all the others stare at him. Then he tells his brother, that his daughter in law should be happy, that Naina is going away with Abhi. If she wants, she can bring Madhura back, and send her behind Daksh, to trail him. Shyamal wants her husband to back off, but Rohini finishes the fight, she tells her, "In his anxiety to hurt me, he has forgotten his own sorrow. See, once, Naina goes, his income from the paying guest will go, and so too the income from Akruti's work. Oh, how will he manage his expenses? " Kaka, coughs and looks down. As their arguments go on, Abhi steps in, and asks "Everything is o.k.?" Rohini says, "So far so good. We have to see what happens after Naina gives you her reply". Then when Vedant comes in they ask if they found Daksh and he says no, and they are anxious. He tells them it is raining, and then they all go to their own rooms.
Kaka stays behind and tells Abhi that he was too fast to propose, without knowing the background of the girl, who is just a paying guest in their house. Abhi replies, "In the language of love, there is no distinction of class and community", and Kaka says,"Let us see what your mother will say". Abhi starts thinking as his uncle leaves. Shyamal too asks Abhi if he has informed his mother about Naina, and he says no. I thought I will speak to Naina before informing her. Abhi goes to his aunt, and asks her if she will coax his mother, and she tells "Let us see when the time comes. First let us hear what Naina has to say."
As Naina is wandering in the house searching for Daksh, since she has an important
thing to tell him, someone puts her hand on her shoulder and says, "Naina !" and she looks at her and says, "Ayee?" She tells her that from the beginning looking at her face, she had known she is perturbed, and wanted time to think. When Naina tells her that she can not understand anything, she tells her that it happens with everybody, and gives her own example. She is so sincere and unselfish, she does not think of her own son, and his feelings, but plans how her nephew and his future will turn out. Naina too has concerns for Daksh's future, but it does not include herself in it. This is a paradox of human nature. When she tells her that she saw love in Abhi's eyes, Naina tells her that she did not see it, and she is blind to what Naina might feel. Before leaving, she turns back, and tells Naina, to talk to her mother about this proposal too.
Daksh finally gets up, and collects all the things scattered on the ground, and removes the curtains and thinks what answer he would give Naina, when she asks him. He is desperate, and has no answers. He is all alone, and his own parents are not aware of the agony he is going through. A SMS comes in and he looks at his mobile, and the number of missed calls he had, and says that he too wants to meet her, but has not answer to her. He has taken for granted, that just because Abhi proposed, she has fallen for him. Does he not know her nature as yet? She does not jump to conclusions so easily? Just then, as she calls his phone, it rings close by, and she walks towards the ring tone, and sees Daksh, and says, "Daksh?"
In the room above, Akruti is on the phone with Ayush, and she takes it out on him, and he apologizes and tries to win over her once again. They profess their love to each other, and she tells him, "I love you" and smiles and turns and there she sees her younger brother Vedant, staring at her. She treats him rudely, and wants to send him away, and keep him from interfering in her life.
Naina, has slowly wandered into the room of Daksh, and says, "Daksh is not in his room, but where could he have gone?" As she is about to leave, her eyes fall on the pink bangles he bought in Karjat, and she remembers them. She thinks he must have been wanting to give them to the girl he loved. Keeping the bangles back, she thinks whether he has gone to meet the girl without telling her.


Edited by walquest2000 - 17 May 2011 at 3:25am