Originally posted by savee_k
another beautiful dream sequence of the perfect couple...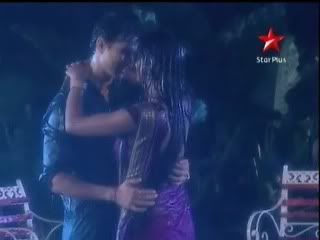 how about this song for them..
anmol...baarish mein hum tum dil se poocho kya karein..
ragini...mausam ki hein saazish dil mein darr hein kya karein
anmol..dil mein baase ho mushkil hein doorie ...
loved their slow dance in this scene.
Beautiful !! He kept her like a flower..
Even the minute expression of them was clearly visible
Gawd. We are truly realizing the impact they have on us
imagine just 4 months of angini , completely zero roamnce in terms of that mushy mushy romance, but more intese beautiful extraordinary something .. I have ran out of words gives us goose bumps..
credit goes to Apurva some how he fitted the role of Anmol, he floored us with his chemistry with Parul and she also got elevated in her role of Ragini to match Anmol
The rain dance is exclusively Angini and all copyrights inclusive for their sizzleing performance in it !!
I have watched many such rain dance but their slow dance and his arma sn cupping ragini's face was just soi beautiful !