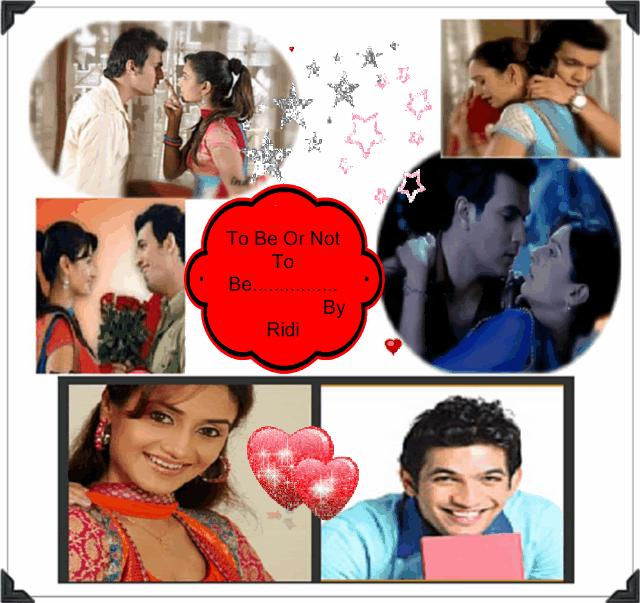 Chapter Twenty Five
Nupur was sitting in her room…..she was looking extremely beautiful in her bridal attire…ya today was her weeding….of course with Mayank…the love of her life….she was looking at the mirror and thinking about Mayank….how he proposed her before everyone in Rahul's weeding…….
Flashback
Nupur was standing with Rahul and Sneha on the stage…..suddenly she heard a voice. It was Mayank……
Mayank: hello everyone…app sab samaj rahe honge ki main yaha kya kar rahi hoon…..actually main yaha kuch batane ayi hoon……wo kya hey na kisine mujhe kaha ki agar main usse sabke samne propose na karu toh shadi ke lie ha nehi kahegi….
After hearing Mayank's words red color crept on Nupur's cheek. She knew what was going to happen…..actually she expected that but when it happened she couldn't help her blushing……Mayank was staring at her…….
Mayank: so I'm here to propose her…….so can I carry on?
Everyone gave Mayank permission….some people cheered him…..
Mayank: thanks everyone….so here I go….
Mayank started walking towards Nupur……and finally he reached before her….Nupur was blushing badly….Mayank tried to catch her eyes but she lowered her head…..Everyone was looking them……
Mayank: Nupur…..maine apne zindegi main kabhi nehi socha tha ki main kabhi kisiko aise kuch kahunga…..panch saal pehle jab mom ne mujhe kaha tha ki usne mere liye ladhki dhundha toh maine bhagban se ye pray ki kuch bhi karke ye shadi rokdo….aur jab maine suna ki ladhki bhag gayi toh main itna khush huya tha ki main tumhe bata nehi sakta (hearing these a smile came to Nupur's lips…she reminded that memory) uske baad paanch saal baad tum mere office main ayi…..mujhe dhantne….uss din mujhe pata nehi tha ki ye wo ladhki hey jisse mom ne mere liye panch saal pehle choose kiya tha…..uss din tumhe dekke mujhe aise laga ye kaun musibaat a gayi…..uss din maine ye pray kiya ki please god iss ladhki se dobara maat milana…..par aise lagta tha tumse milna mere kismet main likha tha….hujm phir mile….aur iss bar phir se ek alag style main……. As usual tum chilla rahe the…..uss din maine socha ye ladhki sirf chillate hey kya…..phir tumne mujhe bahut kuch sunaya….aur pata nehi kyun tumhare batein mujh par bahut effect kiya…..aisa nehi ki kisine mujhe kabhi kuch nehi kaha.mere dad toh roj bolte the..par kisiki baat par mujhpar5 koyi asar nehi huya….para pata nehi tumhare baat par itna asar kaise ho gaya ki main khud ko proof karne pe lag gaya….aur uske baad mujhe duniya ki sabse badhi khusi mili….apni success…..tumhari bajwa se mera zindegi badal gaya..meri zindegi ko ek maksad mil gaya….phir hum dost ban gaye….hum ek dusre se apne zindegi share karne lagi…aur hum ek dusre ki life ke part ban gaye…….aur ab meri ye zindegi tumhare bina adhora hey….so miss Nupur Gupta will you share your whole life with me? Will you marry me?
After hearing these Nupur became dumbfounded because of happiness…..Mayank's every word express that how much he loved her….Nupur was not able to utter a word….tears came from her eyes and she was smiling…..she only nodded her head in yes….after that she only remembered that she was in Mayank's arm and people were applauding…..
Flash back end
Sneha came to Nupur's room to inform her that priest was calling her downstairs……
Sneha: Nupur chalo.pandit ji bula rahe hey…b/w aj toh Mayank ke liye ambulance bulana padhega….aise hi bechara tum par se apne najar nehi hata sakte aur aj toh tum itna khubsurat lag rahe ho ki mujhe daar lag raha hey ki wo kahi behush na ho jaye…..
Hearing Sneha's teasing Nupur was blushing……but she was Nupur…..so she had to answer her….
Nupur: phir toh assa hoga…shadi cancel ho jayega aur main bach jayungi….
Hearing Nupur's answer Sneha was shocked……
Sneha: tum bhi na Nupur……assa chalo….nehi toh Mayank yaha a jayega…
Then Sneha took Nupur to the mandap. Mayank was sitting there…but his eyes were searching for his Nupur …..Suddenly he saw her…she was looking breathtaking……it was too tough to take away his eyes from her…… Nupur sensed that Mayank was staring at her…..she felt red color crept on her cheeks……and this color made her more beautiful….Nupur sat beside Mayank and priest started the weeding rituals…….they were attending every rituals with so much happiness and respects…..after all rituals priest declared them as husband and wife…..and then it was time for bidai….it was really painful though going with your beloved ones…..leaving the world which was her identity a days ago………leaving those people who was your own….Nupur felt that she was leaving one of her part…. She never cried…even not that time when she left her house to fulfill her dream…..because that time she knew one day she would come back….but today she couldn't control her tears….seeing Nupur in this condition Mayank felt so bad…but he couldn't do nothing ..It ought to be happened….but he could try to share her sorrow…..he stretched his hand towards Nupur….Nupur saw Mayank's hand and looked at his eyes…there she could saw lots of love and promises……promises that he would love her entirely…..he would take care her…..he would keep her happy….he would never allow tears coming in her eyes…Nupur hold his hand tightly……
Mere Haath Mein Tera Haath Ho Saari Jannatein Mere Saath Ho
Tu Jo Paas Ho Phir Kya Yeh Jahaan Tere Pyar Mein Ho Jaaun Fanaa
Mere Haath Mein Tera Haath Ho Saari Jannatein Mere Saath Ho
Tu Jo Paas Ho Phir Kya Yeh Jahaan Tere Pyar Mein Ho Jaaun Fanaa
Mere Haath Mein Tera Haath Ho Saari Jannatein Mere Saath Ho
Tere Dil Mein Meri Saanson Ko Jagah Mil Jaaye
Tere Ishq Mein Meri Jaan Fanaa Ho Jaaye
Jitne Paas Hain Khushbu Saans Ke
Jitne Paas Hothon Ke Sargam
Jaise Saath Hain Karvat Yaad Ke
Jaise Saath Baahon Ke Sangam
Jitne Paas Paas Khwaabon Ke Nazar
Utni Paas Tu Rehna Hamsafar
Tu Jo Paas Ho Phir Kya Yeh Jahaan
Tere Pyar Mein Ho Jaaun Fanaa
Mere Haath Mein Tera Haath Ho Saari Jannatein Mere Saath Ho
Rone De Aaj Hamko Do Aankhen Sujaane De
Baahon Mein Lene De Aur Khud Ko Bheeg Jaane De
Hain Jo Seene Mein Qaid Dariya Woh Choot Jaayega
Hain Itna Dard Ke Tera Daaman Bheeg Jaayega
Jitne Paas Paas Dhadkan Ke Hain Raaz
Jitne Paas Bundon Ke Baadal
Jaise sahaq Sa Chanda Ke Hain Raat
Jitne Paas Nainon Ke Kaajal
Jitne Paas Paas Saagar Ke Lehar
Utne Paas Tu Rehna Hamsafar
Tu Jo Paas Ho Phir Kya Yeh Jahaan
Tere Pyar Mein Ho Jaaun Fanaa
Mere Haath Mein Tera Haath Ho Saari Jannatein Mere Saath Ho
Adhoori Saans Thi Dhadkan Adhoori Thi Adhooren Hum
Magar Ab Chaand Poora Hain Falak Pe Aur Ab Pooren Hain Hum……. It was beginning of their story which was started five years ago. They both tried to escape but destiny brought them together again. They again tried to escape. But their every road was going towards each other. They always thought
to be or not to be
but it was always happened what ought to be happened…..
love
ridi



Edited by ridi_onasis - 27 June 2011 at 8:35am