hey frnds...here i'm coming with an update...i hope u'll like it nd plz forgive me for my mistakes...guys i know its quite short...bt i'm so tired that's why it's short...luv u all...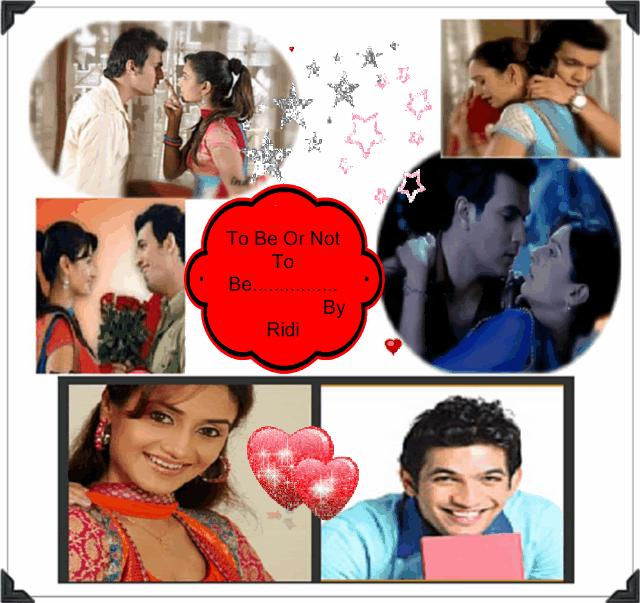 Chapter Twenty Two
It was Rahul's home….everybody was busy in weeding preparation……….and Nupur was hell busy……….actually she was the in charge of every preparation……..Mayank entered into the home while Nupur was shouting on someone……..
Nupur: ye sab kya hey? abhi tak kuch kyun nehi huya? Tum log ya kam karne aye ho ya phir time pass karne………
Mayank heard this………..some memory came in front of him………and a smile came on his lip………
Mayank: jhansi rani is back……….pata nehi kiska shamat a gaya………
While Mayank was smiling and lost in Nupur Rahul came to Mayank. Rahul observed that Mayank was smiling and staring at Nupur……….
Rahul (to himself): wow yaha toh puri love story chal rahi hey…….(to Mayank) arre Mayank tu yaha khare khare smile kyun kar rahe hey……..
Rahul's word brought Mayank back to the earth……he felt awkward…….it seemed he was caught at red hand……..he was trying to avoid this…..
Mayank: main kaha smile kar raha hoon…………
Rahul: assa..tu smile nehi kar raha tha……..shayed meri ankhe hi kharab ho gaya hey……
Mayank could sense the teasing tone in Rahul's voice. He again tried to change the topic……
Mayank: aisa kuch nehi………dekh mujhe bahut sare kam hey…..main ja raha hoon…
Rahul: ha chal kam kar….waise bhi Nupur bahut gusse main hey……..kam nehi karenge toh pata nehi kya karenge………
Mayank: toh chal na…….ya khare khare kya kar raha hey….
They both went to do some works. On the other side Nupur was busy in her work but she was thinking about something else…….suddenly she bumped to someone……..it was none other than Mayank…..
Mayank: samabal ke Nupur…….
Nupur: Mayank……tum kab aye…..
Mayank: jab tum kisiki class le rahe the…….pata hey Nupur gusse main tum bahut cute lagte ho……….
After hearing Mayank's words Nupur's cheek got warmth…..Mayank was watching the change……..he could something different in Nupur behavior…….he was so happy to see the change…..suddenly someone called Nupur……..Nupur went away…….Mayank was again smiling…….Rahul was observing that……….
Rahul: Mayank tu phir se smile kar raha hey………aur iss bar maat kehna ki main galat dekh raha hoon……
Mayank: Rahul……tu meri smile ki piche kyun para hey……teri shadi hey…..tu apni shadi ki bare main soch na…….
Rahul: wo toh main soch lunga………par teri shadi ka kya?
Mayank: meri shadi? Rahul hum tere shadi ki preparation kar rahe hey isme meri shadi kaha se a gaya……
Rahul: janta hoon…..par tu shadi kab kar raha hey ye bata? Kyunki maine suna hey ki Nupur ki mom uske liye ladhka dhund rahi hey……..
That was a bomb for Mayank………Nupur's mom was searching a boy for Nupur……how could she……
Mayank: kya? Aise kaise ho sakta hey…….
Rahul: kyun nehi ho sakta hey?
Mayank: matlab Nupur ne toh shadi ki bare main kuch kaha bhi nehi……..
Rahul: shayed bhul gayi…….b/w tu itna tensed kyun ho raha hey?
Rahul was looking at Mayank. Mayank was so tensed….Rahul was observing his facial expression and enjoying that………actually Nupur's mom was not searching any boy for Nupur…….Rahul told a small lie to irritate Mayank……but Mayank took it seriously……so Rahul decided to carry on this lie…….may be this lie made him to confess his love to Nupur…….
Rahul: hello kya huya……..kaha kho gaya hey……
Mayank: kahi nehi…..Rahul main abhi aya……….
Mayank went to the garden……..and was thinking about Rahul's words………
Mayank: OMG…ye kya ho raha hey………Nupur ki mom uske liye ladhka dhund rahi hey………aise kaise ho sakta hey………Mayank kuch soch……..kahi aisa na ho ki tu yaha khare rahe aur koyi aur Nupur ki doli le jaye……..kuch karna padhega……..par kya karu……..Nupur ko bata du……..par kaise……….agar uske mom nehi mane…….don't forget Mayank…….panch saal pehle unhe tumhe Nupur k liye choose kiya tha…….par ab toh nehi kiya na…….Mayank tujhe kuch karna hoga……..Nupur ki mom kisiko uske liye dhunde usse pehle tujhe unke pass jana hoga……..par aise kaise jayu……..idea…. mom ko bhejti hoon…..mom jake unse baat karegi……..par isse pehle mujhe mom se baat karna padhega……..kya baat karu…….yaha ek problem khatam nehi ho raha hey dusra samne a raha hey……….Mayank don't worry…..sab thik ho jayega……mom k pass chal aur unse baat kar……..it's simple………aur waise bhi unhe toh Nupur bahut pasand hey………so don't worry…….ja aur jake mom se baat kar……..
Mayank was going to his mom to talk about Nupur. Mayank reached Oberoi Mansion and went to his mother's room……
Mayank: mom……mujhe apse kuch baat karni hey……….
love
ridi