Friends its May and in California unusual rain at this time of the year when its suppose to be end of spring and beginning of summe.. As I watched the rain drops from the window I was thinking about Angini and the song which they played when he dream t about her "Ishq kay hai ajab Imthehaan"... An OS came to my mind thinking for Anmol Sareen and Ragini Sharma. Who became Mr and Mrs. Sareen A part of it was written earlier I have just blended them together as it seemed apt. Do give your feedback. The pictures are relative to the situation.
A Smile In The Rain
It was raining.
Anmol Sareen sat in the back of his sleek black Mercedes, which was stopped behind a road block. The severe rains of the monsoon had caused a land slide, thus cutting off all access to his destination. While he appreciated and respected his Bua's desire to build hospitals in rural villages for its inhabitants, did she always have to choose the places that had literally one road to and from the village?
He was supposed to make a pit stop to simply check the site before signing off on all the contracts so that work could begin on the hospital. After that he was supposed to catch a flight to New York for the new project he was pitching for. Now, with the blaster rain, his plans had been severely derailed.
Of course it didn't help matters that he could barely get a signal out here in the middle of nowhere, and to top it off his batter was dying. He'd only managed to let his vice president of operations, Jai, know about his delay before his phone completely died.
"Damn !" he yelled as he punched the seat in front of him. "Isse bhi abhi marna tha!"
For this very reason, he hated the rain ' he hated rain with a passion. Rain was good for nothing but causing havoc everywhere it went. He hated it'he hated it'he simply HATED it.
Hope sprang into his heart as he saw his driver running back to the car after having talked to the people ahead of the road block.
"Saab'" he called as he opened the door and got in. "Aage ka raasta kaal subha se pehle nahin khulega."
All hope died as Anmol failed to suppress a groan.
His driver started the car and began backing up. Other than them, there were only four other cars on that road.
"Peeche ek dhaba hai aur lodge bhi hai," the driver said. "Kuch kha lijiyeh Saab, main room ka intezam karta hoon."
Soon the car was parked across from a small eatery named 'Jaspal Da Dhaba'.
"Pehle tum khalo," Anmol instructed. "Baki hum baad mein dekhnge."
------------
Anmol didn't know how much time had passed because he'd been too busy running through his presentation on his laptop. It wasn't until he heard a car rumble near him that he was brought back to reality. Anmol turned his head, through is dark windows he watched a family quickly shuffle across the road towards the dhaba. He could see the older male holding an umbrella shielding two little girls from the rain the best he could. Following them were two ladies ' one dressed in a saree, the other in a churidar. Anmol brought his focus back to his work as the family disappeared inside the dhaba.
A short while later, his driver was back.
"Saab, aapko kuch khaana nahin hai toh kam se kam ek cup chai toh pilijiyeh," he said.
Anmol glanced at it watch ' he didn't know why he did that, not like he was going any where.
"Tik hai, tum chalo main aata hoon,kuch kaam baki hai I'l just finish it " Anmol asked him to leave as he was saving his Ppt .
Turning off his laptop and placing it back in its bag, Anmol pulled on his coat before stepping out.
The moment he left the warmth of his car he was bombarded with big fat rain drops soaking him from head to toe as he ran towards the dhaba.
"Stupid barish," he cursed as he entered the dhaba.
Anmol began wiping the water from his face and clothes the best he could.
"Saab'chai," his driver said as he held out a cup to Anmol.
"Hmm'Thanks.." Anmol said as he took it.
He hated to admit it, but the warm cup against his palms was exactly what he needed. It wasn't cold, but he hated being wet. The weather was still rather warm ' just like it usually was during the monsoon season.
The dhaba was no five star restaurant, but it had a homey feeling. Everyone there was eating, laughing and some even dancing to the music that blasted. The people there were trying to make the best of the horrid situation they were in the middle of.
Sitting down, he finished his chai in record time. Ordering a second cup, he walked over to the far end of the dhaba that out looked the road. Anmol simply stared as the rain continued to fall from the dark clouds in the sky. Someone brought him is second cup of chai when Anmol heard a distinct sound from somewhere behind him.
Turing in the direction of where the sound came from, Anmol stood shocked.
The sounds were coming from payals that adorned the feet of the girl he'd seen a short while ago with the family. As Anmol took in the girl he now saw she was dressed in a red and green saree, jhumkas on her ears, chudiyaan on her wrists and payals on her ankles. Her blouse had a deep open with strings tied perfectly knotted.
He watched as she slowly attempted to leave the dhaba. She turned back once, and then quickly stepped out into the rain. Once in the middle of the road she turned her face up to the sky, spread her arms out and just simply stood there.
Anmol watched, horrified, as she let the rain over take her and soak every inch of her.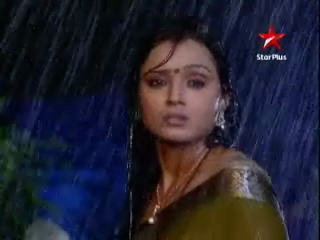 Slowly, she turned ' this is when Anmol saw the smile on her face.
Anmol was in such shock that he hadn't seen some scantly clad kids join her in the rain. Anmol watched mesmerized as this lady gracefully danced in the rain with the kids dancing around her. She smiled and laughed, causing the children to do the same.
"Ragini'Ragini'" a woman called.
Anmol snapped out his revere to see the elderly lady he'd seen earlier ' the one in the yellow saree ' standing a few feet way from him.
"Ragini andar aajao, we are here!" she yelled.
"Nahin maa, aap bahar aaiyeh. Bohot maza aa raha hai its really nice," the young lady said.
So her name was Ragini.
"Ragini'unhone dekh liyah toh'" the woman continued.
Suddenly, a man called out, "Ragini!"
It was the same man that helped the two little girls cross the road earlier.
Looking back at the lady ' Ragini ' Anmol noticed that she'd stopped dancing around and stood frozen on the stop, her arms in the air as if she'd stopped in the middle of a step.

"Ragini," the man said.
The young lady turned around. Her hair was sticking to her face and her clothes was sticking to her body.
"Andar aao Ragini listen to me," the man ordered.
"Magar Bauji'" the young lady began.
Anmol heard the man sigh and say, "Beta sardi lag jayegi.. aur phir kal kaam pay jana hai humay jaldi nikal na ha..I hope the rain stops " before heading out into the rain himself.
Anmol watched as the man went up to the young lady, took her by her wrist and pulled her back towards the dhaba.
"Didi'Didi'" the children called.
"Bauji please'" she pleaded.
She immediately became quiet when the elderly man asked her to get ready and finish her coffee.
"Ragini, tu aab choti nahin hai'badi hogayi hai and you are acting like this ," he said.
Anmol suppressed a smile as he saw the young lady roll her eyes in unhappiness.
"Bachoon jaisi harkatein maat kiya karo," he admonished as she was jumping and waving at the kids again.
Anmol watched in surprise as the young lady raised her free hand to her ear wiggling her fingers while sticking her tongue out at her bauji.
"Teri shaadki ki'" her bauji was saying as he turned around.
Immediately she brought her hand back down to her side, put a somber look on her face and looked to the ground.
From where Anmol sat, he saw her bauji's narrow his eyes. Clearly he knew his daughter all to well.
"Teri shaadi ki umar hogayi hai aur tu abhi bhi barish mein nachti hai bachoon ke saath, you are just taking too much of my love and affection " he complained. "Kya karunga mein tumhara?"
The young lady, paying no heed to her fathers disappointment and his repeated requests, threw her free hand in the air and once again began dancing to the tunes of the music that played. The children behind her cheered and began doing the same as they too threw their hands in the air. As her father gave the ultimatum and final call he walked to her and finally for the last time pulled her back into the dhaba, the girl turned around towards the kids and blew them a flying kiss.
This time, Anmol couldn't suppress the smile that spread across his face.
------------
1 Month Later
Anmol was on the phone with his New York contact as he made his way through is office towards his car. There was one last meeting left before they began work on this new project. As he approached his car, his driver moved to open the door for him.
He hung up as he sat down. He instructed his driver to hurry up because he the meeting had been moved up and he didn't want to be late.
As the driver pulled out of Sareen Enterprise's parking garage, drops of water hit the windshield.
"Hmm'bin mausam barsath'" his driver said as he turned on the wipers.
It was raining ' again.
Anmol looked out his window towards the sky as the big water drops fell to the earth.
Instantly the memory of the girl named Ragini flashed before his eyes. Her smile, her masti, her eyes, her dance'everything.
His mouth tipped upward and there was nothing he could do to stop it. A simple moment he'd witnessed brought a smile to his face ' a smile in the rain.
Maybe the rain wasn't so bad after all.
----------------------------------------------------
1 Year Later
Ragini stood in the entrance to the sports room built in the outhouse,watching her husband.
There was vigorous practice going on and the squash ball made its way back and forth on the wall in successive collision with the racquet.
Anmol was doing his regular workout for a Sunday game. A faint smile played over her face as Anmol went once more through the series of movements, his racquet hitting the squash ball back and forth. She knew there was no chance he'd missed her presence, but he was completely focused, every muscle moving deliberately as he pivoted, bringing the racquet through the air in a side-stroke that made her breath catch with the liquidity of the movement. He was truly an awesome sportsman added to all his other qualities.
After a moment, he bowed to an imaginary opponent and turned to face her, the faintest smile touching his face.
"You been waiting for me long?" he asked, placing the racquet on the stand.
"No, not long," she answered, moving slowly, languidly, into the room. "I just thought since I was done with my work I will check on what you were doing. ", she came towards him, and along the way passing the tall tinted windows and looked outside , the moon was slowly appearing clearing the sky the clouds made their way out.
"Achha I thought you were busy so I came here for a quick practice, got quite exhausted , but now saab thakaan chala gaya when I saw your beautiful face..!" He picked up a small towel and wiped the sweat from his sideburn. His eyes never left her face.
Ragini shrugged. "It's a beautiful night," she answered evasively. "I just thought it'd be nice to go for a ride." again taking a peak outside.
Anmol nodded. "Sure at your service mam," he said, as he bowed and coming to her. He put his hands on her waist, drawing her in for a kiss. Ragini wrapped her arms around his shoulders, reveling in the feel of his slightly-damp, exercise-warmed skin under hers, feeling the muscles ripple with his shiver when their lips were inches apart. She teasingly placed her finger on his lips.
Finally, reluctantly, he broke the closeness. "Give me five minutes to shower."
"Ok." She smiled.
"I won't keep you waiting," he gave a short smile with a promised.
Ragini waited in the living room as Anmol came down the stairs in casuals, while Ragini was dressed in a beautiful purple saree with a gold border, and a few diamond shaped design with small mirrors studded on it around the saree.
He put his hand around her beautiful thin waist and they walked out to the drive way as Anmol tossed his keys in the air and smiled at her, and she blushed all along.
The moonlight bounce off the pavement.
Making her take her passenger seat , Anmol sat in the driver seat and off they drove.
The countryside looked beautiful that night, the hills were singing the night songs while the trees were swaying in the cool breeze..
Ragini pulled down the window to inhale the night fragrance flowers which were blooming on the road side..She took deep breaths at regular intervals.
Anmol paused a moment in the shadow of the moonlight, watching Ragini all over again. She leaned against the window, her long black hair curling around her shoulders. She was wearing a beautiful saree and one of his favorite colors.' he took his left hand freeing it from the steering wheel and placing it on her right hand and inter-winding his fingers he took it close to his mouth and placed a soft kiss..making sure his eyes were on the road.

Ragini smiled at his gesture , these sweet moments used to make her heart skip a beat.
"Are you enjoying ", he asked noticing her lit up face. "Hmm its a lovely night ", she replied with a smile

After a short distance he stopped for a minute and turned to her..

"So, what did you have in mind?" he asked, meeting her eyes. Her smile told him she'd noticed his appreciative gaze.
"I thought we could just drive around a bit," she said. "Get out, see the lights' maybe drive down by the river'"
"Sounds good." he smiled to heal at her request.
Anmol settled back in the seat,wore his seat belt watching over the incoming traffic and rolled gently out back on the road along the countryside.
He drove them to a secluded place, near the river, where they could walk along the grass.
All along the way soft music was playing in the radio.
He stopped the car .
"It's a beautiful night," said Ragini, leaning back against Anmol and looking out of the window from the stationary car. Turning to look at him she noticed at his eyes which were tracing her face.
"Lets go out", she broke the silence, and opened the door. She walked around and stood in front of the car..
It was indeed a beautiful evening, and drawing into a even more beautiful night. The sky seemed clear with just a few scattered clouds. The moon had made its way out nice and bright. Her purple saree looked stunning as the moon spotted the work on it and shone in its fullness.
She drew her hands out and looked up at the sky, again the fragrance which drew her all the way there was still by her side as she inhaled the aroma down her flared nostrils.
Anmol still in the car was enjoying his beautiful wife's gestures, which always brought a smile on his face , thinking that he was one of the luckiest man to have been embraced by this wonderful lady.
Still enjoying herself with open arms , she felt a few droplets on her nose. That didn't matter to brake her concentration as she was in wonderland..
A few more drops fell in quick succession on her face was when she realized that it had started to rain..
Meanwhile in the car Anmol who was dreaming or rather lost seeing his beautiful wife enjoying herself the natural aroma and moonlight started getting some blur vision .. Finally the realization stuck him that the window in front was getting covered with rain drops. He started the wiper to clear the droplets falling on the window shield.
He quickly opened the door and called out "Ragni come inside its started to rain,jaldi andar ajjaoo.."
"No no way its beautiful I love it , you must also come out Ayyena plzz", she screamed with her hands still wide open to fell the fresh droplets falling on her palm..
She started humming a tune she had heard earlier on the radio during her daily household chores.
The humming slowly turned out to singing as she took a spin around herself...with her open arms
Beheta hai mann kahin, kahaan jaante nahin koyi rokle yahin
Bhaage re mann kahin, aage re mann chala, jaane kidhar jaanu na
Beheta hai mann kahin, kahaan jaante nahin, koyi rokle yahin
Bhaage re mann kahin, aage re mann chala, jaane kidhar jaanu na

Anmol nods his head and a grin runs across his face as he opens the door, and gets out allowing the rain drops falling on him, closing the door behind him, he leans against the car and watches Ragini dance in the rain ..She lifts up her saree a little to toss away her sandles and then starts splashing the water which had made a puddle in front of her..
Looking up she sees Anmol standing and watching her different moves in the rain. Her saree was clinging on to her beautiful body slightly, her waist exposed and her pallu swaying in the rain ,her blouse was stuck to her body with the beautiful upper curves it showed, with her back well exposed like a round window only tied well by the dorries and a half inch strip below, to hold the blouse in place.
She called out to him , but he was happy where he was standing enjoying his beautiful lady dance to her own tunes with the raindrops as the background score.
Water drizzled down his face as he stood in the rain. It seeped into his clothes and hair, soaking him.
She reached the high notes effortlessly, as she began to dance in the music born out of the muffled fall of the raindrops onto the ground, blissfully unaware of anything else, wishing for the moment to never end.
She was enjoying the rain, but whats this enjoyment alone she thought. The love of my life is standing in front of me , but not being a part is not what she would want to miss out
Continuing singing she walked to him and drew her hand out, He had to give in, he had no choice, she looked so beautiful with the wet hair , her face was full of millions of droplets, and the saree cling on to her slender body, just for him to hold and sway along.
Aa...haan'aa'
Ho'chale thhandi hawa'ho'sang mann bhi gaya
Dhhundhhu main kahaan usko, batlaaye koyi mujhko
Ke haan haan haan re
Bhaage re mann kahin, aage re mann chala, jaane kidhar jaanu na
Beheta hai mann kahin, kahaan jaante nahin, koyi rokle yahin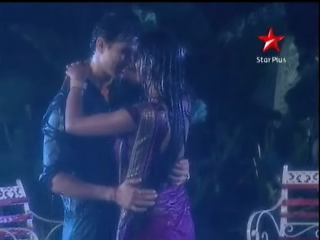 Facing each other he drew his right hand out and and she placed her left one gently on it and he place her right on his shoulder and he placed his left hand around her slender waists.
They swayed with the music back and forth with his right leg in between her left and they went in a repetitive manner.
He pulled her closer as they spun together slowly, reveling in her trust in him. The way she moved at his signal, light in his arms. The way the moonlight sparkled in her eyes, even thought the rain was quite visible.
Haan'haaye aisa sama'hmm'phir hoga kahaan
Jee loon main isse khulke, saawan bhi zara khulke
Arre sun sun sun
Bhaage re mann kahin, aage re mann chala, jaane kidhar jaanu na
Beheta hai mann kahin, kahaan jaante nahin, koyi rokle yahin
Bhaage re mann kahin, aage re mann chala, jaane kidhar jaanu na
He released his hold on her and she spun like a top around him and got back to the same position. Then he held her by he waist while she placed her hands on his shoulder and they went back and forth with her right leg between his and they swayed again with the music.
The street light played the role of spotlights with the moon under the dark sky
Bhaage re mann kahin, aage re mann chala, jaane kidhar jaanu na
Beheta hai mann kahin, kahaan jaante nahin, koyi rokle yahin
Bhaage re mann kahin, aage re mann chala, jaane kidhar jaanu na
She left his shoulders and went around him singing away to the song while his hands followed her face by holding her head around and finally he held her by her shoulder while she placed her hand on his waist and their heads collided. They laughed aloud to finish their dance looking up at the clear sky and the rain had come to a complete hault.
There was silence again. She looked at Anmol and the way he looked at her; his intense gaze felt nothing less than a caress. She wanted to look away, and break into a fit of giggles, but managed neither and remained captive of the dark black eyes capturing her gaze.
He tighten his hold on her as he wrapped a protective arm around her waist, drawing her closer.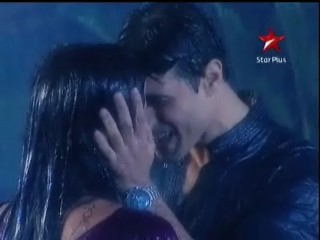 Her damp body draped in the saree was resting on his chest which was acting like a temperature modulated wrapper. His one hand was gripping her hands while the other slowly went up to her face to move her soaking damp hair lock from her face and placed it behind her ear..He wanted to run his hands down over the material. His arms felt incredibly warm, even though the chill cut through the bones, as they held her beautiful slim waist line..
She looked back into his eyes and spoke ,"The rain has stopped don't you think",
"Yes, it is," he whispered, inhaling her scent even through the dampness of her body.
"Will we melt, do you think?" She grinned impishly up at him.
"Yes we will, so we need to head back don't you think", he lifted her chin to trace her face and look at her beautiful well defined lips..
She looked back at him gazing into his eyes and answered "I think you are right we'll melt or freeze in these wet clothes..which maybe for today I wouldn't mind..."
Biting the edge of his lips Anmol nodded his head as his wife was much in a mood to stay there all soaking..
He reached out, brushing his finger against her temple, and tucked a ringlet behind her ear. Ragini smiled, glancing at him.
He lifted her chin up and holding her by her arms very gently placed a tender kiss on her lips. The kiss lasted a good couple of seconds, as as they parted she blushed and moved away,
Two strong hands held hers firmly and the hold pulled her against his chest, he placed another gentle kiss on her nape , turning her around he pushed and dropped her on his right hand lifted her off her feet.
"What are you doing?, "she wondered holding on to his neck for support.
"Taking you home sweetheart otherwise you will catch a cold, and then we cannot go for our candlelight dinner tomorrow", he winked ..
"Whaat.. when was that planned?", she questioned
He opened the door of the passenger seat with one hand still holding her in his arms.
Places her on the seat and pulls up the seat belt. She smiled at him for these beautiful gestures..
He went and took his place in the drivers seat , brushed out his damp hair with the towel which was placed in the rear seat, while Ragini ran her hair through her damp hair smiling away in thoughts..
He looked at her and traced her face with his finger and she turned to catch his gaze...
Neither of them spoke for a long while, preferring the listen to the steady drip-drip of the last rain on the car roof top and the roar of the last thunder at a distance. Anmol said something she couldn't hear over the roar of the thunder.
"What?" she asked.
"I'Well'It's just that'" he stammered. "I love you."
She smiled, her insides going all warm and fuzzy. "I love you too, Anmol." I really, really love you.
As he drove along he spotted the dhaba on the same highway year and a half ago.
The car screeched and stopped pulling Ragini a little forward.
She wondered what made him stop at this location. He looked at her and smiled. "Lets go !"
Both got out and Ragini walked around to Anmol and they walked together towards a lighted hutch shop
Putting his hand around her slender waist and as they splashed in the puddle " Mainey Pheley baar tumhey isis dhaba pay dekha tha aur us din bhi barish hoyee thi aur tum in bachon kay saat isi tarah naach rahi thi "
She looked at him and wondered as she recollected the incident when her bauji said she was as childish as the kids who were playing the rain.
"Who din aur phir aaj what a con incident "Waise I must say Rain is after all something special and with my lady love its just beautiful"
He lifted her again in his arms and placed a kiss on her forehead, and walked closer to the hutch
He placed her on the bench and sat next to her. "Saab ji kya lengay kitney din kay baad you have come here!" came a voice from a middle aged man.
"Yes is baar with my lady love Ragini ,"Anmol said smilingly.
He lit a candlelight and brought two cups of masaledaar chai. The steam from the chai was warming her breath and Anmol placed his hand around her shoulder as they sipped their coffee..
"I like this candle light chai " she said. As she rested her head on his shoulder.
"So see I saw you here for the first time aur phir aaj hum phir issi jagah pay saat bait kay
" he showed her pointing to the kids who were dancing as a few droplets were still falling from the streetlight.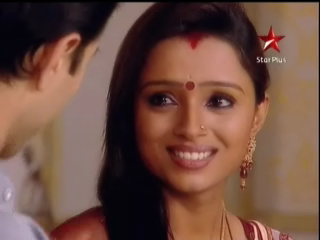 That day he told himself, that rain is beautiful after all and the lady beside him had made way into his heart, and their love gathered a million droplets to make a stream of love which was flowing right next to them.
Finishing their chai, she wiped some droplets falling from Anmol's hair on his cheek with the corner of her pallu and they walked hand in hand towards the car. He opened the door for her and helped her with the seat belt again and placed a kiss on her forehead, "Aab we will defiantly head home "he whispered and winked and she nodded her her with a smile.
She held his arms by wrapping her hand around. And he carefully kept his eyes on the steering and the road with the other free hand.
And they finally drove back home after the lovely drive along the country side and the rain dance.
---------------------------------------------------------

I hope you liked it. Please give your feed back !


Edited by shanti05 - 15 May 2011 at 2:32am