Looks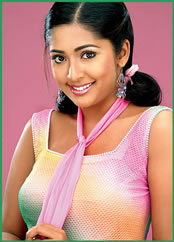 like Navya Nair is soon to enter marital bliss if reports from Kerala journalists is true.
Navya made her debut in Tamil movies with 'Azhagiya Theeye.' Since directors felt she would not suit glamour roles in addition to she also agreed with them, one can count her Tamil movies. It has been a long instance since Navya acted in a motion picture. She has turned down Tamil as well as Malayalam films without giving reasons.
Now the reason is being indicated since her parents are planning to get her married. Since call sheets would be messed up if a marriage date is fixed, Navya has not been accepting any films.
So, is it an arranged wedding or a love marriage? A wave of gossip indicates the concluding. Navya says, "It's true I have been turning down film offers. I'm demanding with impressive important, so I took this decision. I can't speak on the subject of that now."
source : bolegaindia.com/gossips.html