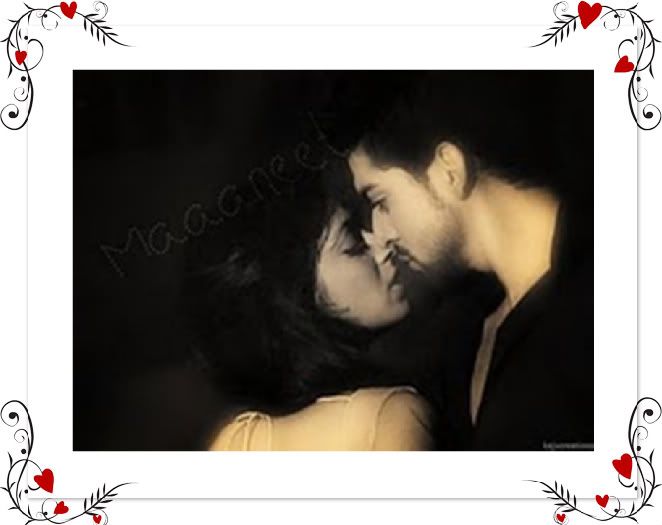 T
hank you Raaz D.: Thank you for these superlative and enchanting episodes being aired now. They definitely convey the rich endowments of Telly World's Star One Channel with its fresh and flowing contemporary theme "LOVE".

Your touch, your master stroke to these episodes
with the help of your CV team, complement the cinematic form. We "yearn", "desire", and finally "surrender" to our heart + eyes and you give us Landmark Episodes. Thank you for the heart
stopper episode today - M&G's consummation but oops! - was it c o m p l e t e?? The 'crave-o-meter' in us makes us rant and echo for more
... Raaz D. Hey, the RTM passion was hot hot hot and sensuous...
but the imaginative fervour in us, in the last barn scene in the Maha Epi. was far more. We were left to imagine the ultimate consummation in its most
"feverish"
coming together. Thank you darling Vinu. I have'nt stopped imagining every few moments...The details of seduction were fabulous from when they hid in the trench (a flashback..) to their restful hug in the open field, till when Maan carries her to the barn and with gentle understanding allowing such space for her to say "yes"; fabulously depicting a slow, graceful and imaginative love-making scene. Hey the Monday is still to come...na..a continuation longed for and the fabulous days after their con...
I especially loved her shy quick movement to run and Maan gripping her surrender by a gentle pull back,
"the loosening of her hair" depicting a wild slow ecstasy to the pre-con, the momentous seductive brush and touch of his mouth to her shoulder, his gaze that always wants a reaction to his closeness..ultimately the figurative undressing
.. every other scene through the maha epi. was just a build up to M&G's sensual portrayal of a complete surrender to one another
. The song was melting and freezing time...
MAAN & GEET's STORY in Lyrics (courtesy Elvis P.)
I bless the day I found you, I want to stay around you
And so I beg you, let it be me.
Don't take this heaven from one, If you must cling to someone
Now and forever, let it be me.
Each time we meet love, I find complete love
Without your sweet love, what would life be.
So never leave me lonely, tell me u love me only
And that you will always - Let it be me.


Edited by lovetheserial - 15 May 2011 at 9:25am