13/5/2011
Previous Episode
http://www.india-forums.com/forum_posts.asp?TID=1681717
Next Episode
http://www.india-forums.com/forum_posts.asp?TID=1684118
The story starts in the dining room, where the whole family has been sitting together for their meal. The two people who are not belonging to the Patwardan family by birth, are Rohini and Naina, and have strikingly different natures. The former is suspicious, cunning, vicious, and has a malformed mind, while Naina, an orphaned girl, disowned by her step mother, in search of a mother figure, having found it in Vibha, has identified unselfishly, with the family, and as a result has endeared herself to all. Rohini has been detesting Naina right from the beginning, for usurping her place in the hearts of the family, for reasons hidden in her own heart and has made a cause celebre, to offend and humiliate Naina, in every possible way, but her logic is beyond the comprehension of the rest of the family.
The story comes out strong and painful at times, as Rohini starts her vituperation, and unfounded accusations against Naina, having judged from what she saw cursorily on the terrace, and has built a whole complex explanation to justify her stand. The polite family, is patient with her, and she thinks the more of herself, because of their silence, concluding for herself, that they are with her.
Sanket objects to his wife's behavior, and she pounces on him, for interrupting her thought and flow of her strong verbiage. She has been hurt, that her plans to get her sister into this family, have floundered. Instead of finding fault with herself, and her own cunning misadventure, she palms it off to Naina, who is a scape goat for her vindictive imagination. One by one, the family members find their voice, but all are timorous, in their approach, afraid to offend a pregnant daughter in law, afraid of the possibility of losing the child for whom they are anxiously waiting
Naina makes a feeble attempt to stop Rohini from hurling her accusations. She asks
Ayee to intervene and explain to her that what she says is wrong. She politely informs her that what she has seen is not what she has concluded, but she rudely puts her down,
and then Daksh puts his foot down, and tells her not to insult Naina, who has professed to be his friend. Rohini feels bad, that he has chosen Naina over her. Sanket asks Daksh to be polite to his wife, and he tells his brother, to mind his wife, and stop her from hurling unfounded accusations on Naina. Rohini asks Daksh why he should get affected if she humiliates Naina, as she is after all only a friend. This cheap woman does not know the difference between humanity and greed. When Daksh wants to tell the truth, to Rohini, Naina stops him, saying she does not want to be the cause of family disunity. She values the love and friendship, she has received from their house, and she does not want it to be vitiated by Rohini's accusations. She takes the higher moral ground. Finally the father speaks up, and Naina leaves the table, followed by Daksh. Soon all disperse, out of disgust to Rohini's behavior.
Daksh, ponders how Naina took an oath by placing her hand on his mother's head, in which she confessed, that she was only a good friend of her son, and did not have any other ulterior motive of enticing him with her love. This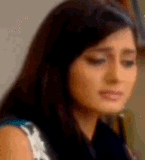 shatters Daksh. The mother expresses her deep confidence in Naina, and tells her that she is truly like her own daughter, which annoys Rohini. Daksh goes wandering in the woods, thinking of Naina, and his feelings for her. He finally finds Naina in her room, sobbing bitterly, and he tries to console her, and tells her that Rohini's opinions do not matter to him, as he knows her, and she knows him, and both understand each other. She warmly looks on at him, with confidence.
Again we see the family gathered at the dining table, and we see all except Naina, Akruti and Shyamal. Rohini is eating as if nothing has happened in the house, and she wants her mother to serve, her while every one is upset with her, and she ignores their feelings with her indifference. Abhi too is there, and is finding it very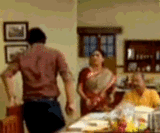 uncomfortable with the attitude shown by Rohini. All are waiting for Naina, and when Akruti comes without her, the mother asks why she did not come. Akruti explains that Naina told her that she was not feeling hungry, so, she did not want to come. Vibha can not understand why she is not hungry. At her mother's concern, Rohini gets worked up, and her viciousness springs out with her ugly thoughts, and every one is uncomfortable with her behavior. They stop her from saying more. Daksh puts his spoon back into his plate, and gets up and walks away in disgust of his sister in law and her retarded thinking. When Daksh has gone out, again Rohini demands like a pampered child, that her mother pass her some of the food, and the mother and the others stare at her and her arrogance. . When Rohini realizes that they are angry, she wonders how any one can find any thing wrong in her who is perfect in all respects in her own esteem, she gets up in a huff, saying she can not have a decent meal in this family. The mother is distressed at the disintegration that is creeping into her family because of her daughter in law and her egoistic behavior which her son, Sanket .is incapable of arresting.
-----------------------------------------------------------------
PLEASE NOTE
: On Sunday, 15/5/2011, Star Plus is going to broad cast a "Maha Episode" of Sapno Se Bhare Naina, at 8.00 p.m.
-----------------------------------------------------------------.


Edited by walquest2000 - 15 May 2011 at 9:56am