12/5/2011
Previous Episode
http://www.india-forums.com/forum_posts.asp?TID=1680929
Next Episode
http://www.india-forums.com/forum_posts.asp?TID=1682603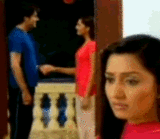 On the terrace, while Naina is drying up her washed clothes, Daksh happens to come up and starts talking to her, and the topic revolves round how a young person can propose to a girl. Naina was satisfied, that he told the truth to Madhura, and now she wants him to do the rest of his duty, to the girl he loves. She tutors him to say, that in simple words like "I love you" he can accomplish the job. They hold hands and Daksh pronounces the words, and says, "I love you, Naina"... and just then near the terrace door, Rohini is listening on them. As usual she arrives at her own conclusion, and without waiting to hear the rest, leaves to her bedroom, upset. She attributes Daksh rejecting her sister to Naina. She is now bent on taking her revenge.
Naina after staring at Daksh congratulates him, on his good performance, and warns him, not to call her name, when proposing to the girl, or he may land in greater trouble, and she laughs and goes to remove the dried clothes from the clothes line. Daksh wants to know, if Naina too is in in search for love, and she says, that she will tell him, he will not laugh like some typical boys, and she tells what her expectations are and these are of any girl and Daksh listens to her carefully. They agree to meet Daksh's girl the next day over coffee, and he asks her to be there too, while he proposes. She tells him in fun, not to ask her to do the proposal at the last minute. Rohini is sitting on her bed and Sanket finds her pensive, and when he asks her she tells him a vague answer, which he misunderstands as referring to their to be born baby, but in her mind, she is planning something for her virtual enemy.
Akruti tries to call Ayush early in the morning and he is annoyed with her for disturbing his sleep,. Akruti apologizes, and then she asks if his parents have come, and after hesitation, he tells they are there, and when she says, that she wants to meet them he avoids and tells her that he has to close the call, and switches the phone off. Akruti ties to explain to herself, the good reasons Ayush might have had to dismiss her. (The fate of wishful thinkers ! ) Shyamal happens to pass by and notices Akruti is holding her phone and so she says, if she has been with a client so early in the morning. She lies to her, and the mother warns not to confide very easily in people she does not know well, as she does not want her to suffer. She assures her that she trusts her, and knows she is old enough to know right from wrong. She ponders over her mother's warning for a long time.
When Naina is preparing to go to the office, Abhi comes in and cracks some jokes,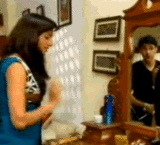 and she asks him, if he is ever serious about anything. He does not know how to handle his emotions, and covers them up, always in jokes and with a happy go lucky facade. He reminds her that today they have planned a grand rehearsal, and she asks him which ear rings will match her. He fumbles for an answer and walks away saying that he will meet her in the evening and then he calls a little later from his car, pretending to be the father of a bridegroom. She takes down the names, and the name is of Abhimanyu Kulkarni, and she starts remonstrating with him. He cuts the telephone, and then tries to call again and again, and each time, Naina puts him off, with some excuse. She remembers that he has taken her phone. She tells him to switch it off and give her the same in the evening. Finally she gets one more call, and this time, she starts, and tells the caller thinking that it is Abhi, to stop pestering her. She hears a woman's voice at the other end, and when she asks who the caller is, she is told to call Vibha. Ayee is there, and Naina gives the phone to Ayee, and the caller happens to be Abhi's mother.
While Ayee is on the phone, Rohini calls all of them from breakfast, and she has got up early and made a special breakfast, with the intentions of bringing the whole house down on Naina. She makes Naina sit next to Daksh, as she has in her mind a special show for the family. As they arew having their breakfast, Daksh has a coughing fit, and Naina pours water for him, and then gives him a spoonful of curds, which her mother says is good for the cough. Rohini does not like this concern of Naina, which she misreads. She fans herself, and then asks how a girl like Naina who lives in the hill country, does not feel the heat of Mumbai. Then she answers her question herself by saying that she goes to the terrace to enjoy the cool breeze. She is so insidiously vicious, that the rest of the family has no answer to her, as she goes on telling him, how Naina has taken possession of the terrace and now their favorite son, Chintu too has been captivated by her. The decency of the Patwardhan family does not allow them to stoop as low as their daughter in law, and do not respond to any of her allegations.
She wants Naina to take an oath, what her intention was, when she "proposed to Daksh" (that is what she thought and thinks it is a certain fact) , and he just looks on, and the scene ends, for us to wait for one more day.


Edited by walquest2000 - 13 May 2011 at 3:36am