11/5/2011
Previous Episode
http://www.india-forums.com/forum_posts.asp?TID=1680229
Next Episode
http://www.india-forums.com/forum_posts.asp?TID=1681717
Akruti has changed over to her own clothes, after they have been dried, and she looks intensely at him and comes rushing to him, and hugs him.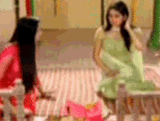 At home, Rohini is trying to pacify Madhura, who is sobbing and wants to go home. Rohini blames Daksh, and pities her sister, and wants her to stay, but she has made up her mind. Sanket comes and gives her some words of wisdom, and immediately, his wife takes over and puts him in his place, and she shuts him up, when he tries to give what is on his mind, but he gives up. Ayee then comes with some food, and Rohini takes her anger on her She too walks off. Madhura runs away from the room crying, to pack her things, and her Aunt and Rohini run after her.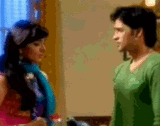 Naina is in her room with tears in her eyes, thinking of the insult Daksh had to listen to, from his sister in law, and Abhi comes for practicing his play. She tells him to come tomorrow, and then he sits with her, and tries to console her. He offers her his hand kerchief, to wipe her tear, and then he goes. Abhi notices that Akruti is not in the room, and then Naina too realizes that she should have been back by now, and wonders why she has taken so much time.
Madhura is packing her things, and Rohini is there to help her and persuade her to change her mind, when Kaka enters, and starts his taunts. He blames Rohini for putting the cart before the horse, and says it was good it broke off, before it started. He tells that Madhura will never come back to Mumbai. Rohini is exasperated, and has no words in reply, but a bitter stare.
Naina is going down the steps, and Akruti is climbing them, and as they come face to face, Naina asks her why she came so late, and Akruti responds to her comtemptously, and tells her she does not care for the opinions of any one, neither, her father or mother, or even Daksh. Naina reminds her that she was told by Daksh not to meet Ayush, but she says, that Ayush is more important for her, and then Naina tells her that she is grown up to make her own decisions. When Akruti tells her that she can tell every one that she is in love with Ayush, she tells her back, that she is not interested and as she is capable of making her own decisions, she can do it herself.
As she enters her room, her father sees her and again she shouts at her, and asks if she was again with her clients, and she says "Yes". Kaka wants to settle this matter with her boss, Naina.
On the terrace, Naina is drying clothes, and the night breeze is blowing, and Daksh comes up, and they start speaking. Naina is pleased at the decision which he made, but he tells her that it broke the hearts of many. It is better this way, rather than break lives later is Naina's view. Then she asks if he has prepared to tell his real Love, that he cares for her, and then she tutors him how to go about it. As they have this romantic talk, they have a visitor, Rohini, who spies on them, and when she hears Daksh telling Naina, "I love you", and she too responds the same, the cantankerous lady, walks away, and tells her husband,Sanket, what the following day has in s tore for them.


Edited by walquest2000 - 12 May 2011 at 3:46am