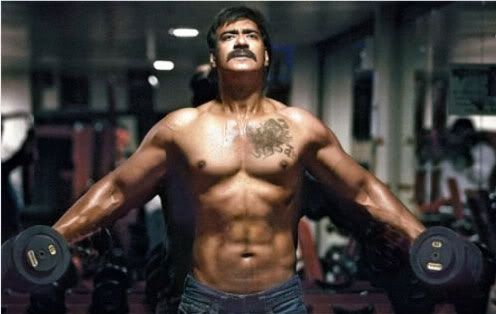 ROSHNI K OLIVERA, TNN | May 9, 2011, 12.00am IST
Ajay Devgn shows off his hot new bod and reveals why he's allergic to six-pack
Ajay Devgn's got a new look. It's not the conventional six-pack, it's a more realistic, brawny physique that the actor's carved for himself. Clearly, Ajay's not interested in short-term gains, he is in this too, for the long haul. "That's what I have always believed in. At 65 and 70 too, I would like to lift the same kind of weights."
A six-pack helps in sculpting your body and it makes you look strong, but you lose out on power, he says. The actor's got a fantastic response to his new 'power-packed' appearance (see pic) from everyone and it's just perfect, with raw manliness oozing out for his role in Singham of a tough cop from a village. The Shiva tattoo on his chest, which he'd got done last year, further enhances the look.
Celeb trainer Prashant Saawant, who's helped him get to this point in three months, says Ajay went through rigorous combination of weights and circuit super sets that incorporated all techniques including pushups and pull-ups, along with a high-protein low-carb diet. "He is absolutely disciplined and fantastic."
sorry dont have the soruces.. but found it on bollywoodkonnection