Hi Guys,
I am Ritika !!!
As you can see, I am a newbie here so that will be a very big put off from reading my FF. But no worries, I have written FFs earlier on another site.
My friend told me about IF. So thought of making a ID and posting a FF here too.

Do read ' give it a try (if you like the concept)
This FF is basically on two characters ' that is: Arman and Ridhima from Dill Mill Gaye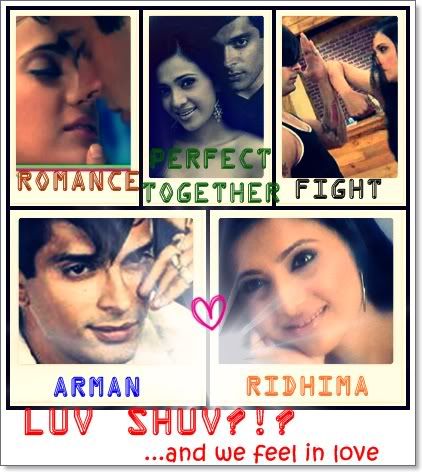 Introduction
What is 'Love' shuv?
A question which comes across our mind... some day!
So, what is luv shuv?
Shuv is just a rhyming word but what is 'Love'?
Some feel love is life
, some feel love is their world
. For some youngsters Love is a trend - "we are 16/18 so bf/gf banana tho banta hai, boss!!!"
And some feel love is a filmy movie.
Yeah !! Love is all this and much more !!!!!!!!!!!!!! and much more deeper !!!!!!
This story is about two (strong headed) teenagers:
Arman Malik and Ridhima Gupta
They met then it rained/stormed/some background music and they feel in love.
And then the going got harder in life. They had many clashes due to difference in opinions, habits, life style etc
Kehte hai pyaar mein marna ashaan hota hai par pyaar mein jeena uthna hi muskil - Its easy to die for your love but its difficult to live with your love.
So will Arman and Ridhima's love stand strong thru all the ups and downs? Or will they break off? Or will they grow and learn what is Luv shuv?

Characters Introduction
Arman Malik: yaaro ka yaar.. harr ladki ka pyaar. Cool, smart and stud type
But a really good guy
His Besties:-
Jenny:- tom boyish, bindas and lovable.
Shaan:- Samaj lo arman's twin brother
~ ~ ~
Ridhima Gupta: Sensible, practical and everyone's favourite
A loving and sweet girl.
Her Besties:-
Veer:- A good hearted person, serious yet cool guy
Khanak:- a total kid- innocent, sweet
~ ~ ~
They all study in the same college - St Xaviers, Mumbai

Do let me know if you liked the concept and should I continue????


Edited by Ritika007 - 10 May 2011 at 7:20am