10/5/2011
Previous Topic
http://www.india-forums.com/forum_posts.asp?TID=1679450
Next Episode
http://www.india-forums.com/forum_posts.asp?TID=1680929
Daksh has taken Madhura to a restaurant, and she praises the venue, and asks him, if he comes here often, for which she gets a negative answer. As he wants to initiate the conversation, she diverts the topic, and puts the cart before the horse, and tells him, what she likes, and what she would do once she is married, and what clothes he should wear, but he politely allows her to speak, and then tells her that he has called her here, because he has to tell her something which is relevant to their lives.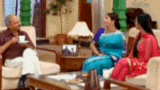 Naina at the dining table is very sombre, and Ayee offers her a cup of tea, and before she can ask her what is bothering her, she gets called out by Rohini, and she goes to meet her in the hall, where she is sitting with her father in law, and is concerned, that her sister and Daksh have taken a lot of time, to come back. Rohini is counting her chickens before they are hatched and wants the opinion of her mother, who nods out of politeness, but the daughter in law, is bulldozing them. Naina has joined them, and listening to Rohini's chatter. The way Rohini goes on, Naina feels that she is up to receiving a shock, as Daksh has told her that he does not love her. She has a worried face. The father and mother are defensive, and Ayee asks for Naina's opinion. She tells them that Daksh is about to come, and suggests they wait for him, and find out his opinion.
As Rohini is thinking how to counteract Naina's influence, they see a sobbing Madhura enter the house, and ask her sister, why bad things happen only to her. She blames all of them for raising false hopes in her. As she blames her elder sister for misleading her, she tells that Daksh does not love her. Rohini feighns surprise that he has rejected her. Naturally, the speed with which she was road rolling them this was inevitable, as all she was doing was to put her dreams into reality mode. Madhura on the other hand is so worked up, and as Daksh comes in, she is hysteric, and says, she can not stay in this house a moment longer, and Rohini can not bear to see her dreams crumble, and runs after her.
His mother is surprised at her sons decision, but he tells her that he did not want to hurt her, but he can not marry her. Daksh puts his views in front of his mother, and Rohini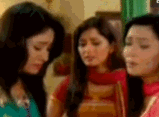 still ponders ways to bend the situation to her advantage. She taunts him, that it is his profession, to play with words. When she asks him forcefully, the mother comes in and tries to calm her down, letting her know that getting angry like this is harmful to her child (her grand child). When Rohini tries to emotionally black mail Daksh he looks at Naina, which angers her more. She misdirects her taunt on Naina, and says indirectly, that he liked Madhura earlier to someone changed his mind, and she looks at Naina, with her venom filled eyes. The mild mannered Mr. Patwardan looks from one person to another, and does not raise his voice or opinion. Daksh calmly points out that there was no one who interfered with his decision, but Rohini can not change her mind, once she has made it up. He tells her that he wanted to tell her before, but he was afraid, it would hurt her and her sister. Rohini leaves them and goes up, amidst the pleadings of her mother, as usual, she is disturbed that the peace in her house has been vitiated.
Ayush welcomes Akruti, who is in high spirits. He has decked the house with decorations, to pep up the drooping spirit of Akruti, who is beguiled by his charms. She is flabbergasted, by the arrangements he has made, and she gets a welcome: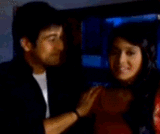 "Welcome to your home, Akruti", he tells her. When she asks, where his father and mother her, he tells her that they are out of station. When she asks, if he has any servants, he tells her, that they have got a holiday. He had told her earlier, that he is used to telling lies, to get his way, and the gullible girl has ignored all this, in her euphoria. He is already hinting at her, that he will be expecting her at home, waiting for him, and the reason is, "because, it is what HE likes." - the girl does not read between the lines. Then he goes to show her, HIS favorite place. He takes her to his "relaxing room" where he will tell her what he did, and she will tell HIM how much he was missed by her. This is a mansion fit for a MNC executive, and this young man, how he has reached the top, is left for us to guess, but Akruti can be excused, as she is immature, and he is adept in his art of getting what he wants. Her clothes have been wet, in the fountain, and he tells her to change her clothes, and that he will give her other clothes.
At home Daksh is expressing his regrets to his mother, of what happened due to his lack of courage to tell Madhura from the start, He did not want to hurt her. His mother as usual, is putting his clothes back in the cup board. The mother is understanding and tells him, that telling someone the truth from the start is always the best policy, but feeling the way he felt was due to his nature. She tells him, that she will not put pressure on him, and allow him to marry the girl of his choice, and he thanks her for that. Mother wants him not to spend the rest of his life alone. He tells him to marry. They hug each other.
The other clothes which Ayush has given Akruti, are his own and tells her that his clothes suit better on her, and she looks appealing to him. His amorous hormones are rushing through him, and he caresses her, and makes his advances, and the girl is absolutely vulnerable, and has no inkling of the consequences to her, never having mixed with boys in her life, and taking his first experience so seriously against the advice of her best friends. Her parents have not had time or inclination, and Naina and Daksh had cautiously warned her, not wanting to hurt her. Ayush silences her concerns, and what he wants to do is left to the viewer's imagination.
Back at home, Daksh and Naina are togther. He tells her, "I love you Naina" and Rohini overhears them, and is stunned.


Edited by walquest2000 - 11 May 2011 at 3:40am